It's Spring-time and after a long winter, many dog owners are keen to get out and enjoy the countryside, so we thought it was a useful time to highlight the countryside code and what it means for responsible dog-owners.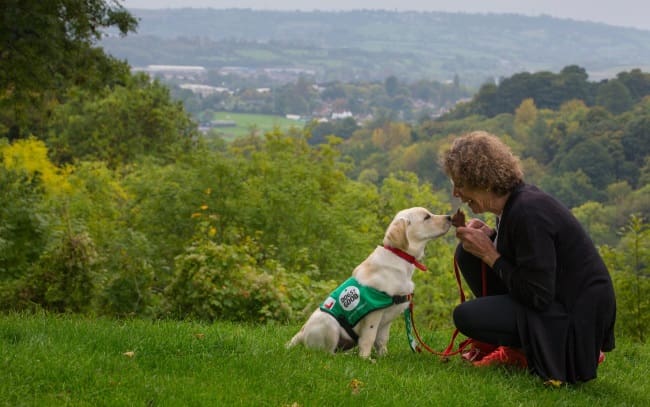 Right now, lambing season is in full flow and ewes and their lambs are a common sight in the fields. One purpose of the countryside code is to help ensure the welfare of livestock – it's vital that you consider the needs of livestock and keep your dogs on a lead when out walking. Unfortunately there are sheep worrying cases each year where ewes miscarry and lambs are killed by dogs that are not under control. Sheep worrying is considered as attacking sheep, chasing them in a way that may cause injury, suffering, abortion or loss of produce or being at large ie. generally not on a lead or otherwise under close control, in a field or enclosure in which there are sheep.
Whatever the time of year, your dog should always be on the lead around livestock. But even if your dog is off-lead in an empty field, it should still stay on the footpath and be within your sight – you should be confident that you can call it back otherwise, it should be on the lead. If you can't see what's in the next field, always put your dog on the lead, there may be livestock in the field ahead and at this time of year, farmers may be moving livestock that has been inside over winter, so even if there is a field that you regularly walk in, please be aware that the situation may have changed.
While most responsible dog owners always pick up their dog mess, it's still just as important when you're out in the country. Dog mess can carry risks of infection, such as worms, which can be passed on to livestock so remember to regularly worm your dog.  Make sure you dispose of your dog mess in a poo bin, or if one isn't available take it home.
Look out for special signs when you're walking your dog too. Dogs may be banned from some local areas to protect livestock or wildlife.  The access rights that normally apply to open country and registered common land (known as 'Open Access' land) require dogs to be kept on a short lead between 1 March and 31 July, to help protect ground nesting birds, and all year round near farm animals.  The only exception to letting your dog off around livestock is if you are being chased by cattle or horses, in this case, it is safer for you and your dog to be off lead
Guidance has been produced that promotes responsible dog ownership and aims to reduce livestock worrying:
The Farmer's Guardian Take the Lead Campaign raises awareness among the British public about livestock worrying. The campaign is helping farmers to take the lead and address the growing problem, and urging the public to take the lead and keep control of their dogs.
There is a section for dog owners on the National Sheep Association website with lots of advice to help dog owners and their dogs have fun and safe days out without disrupting the important work of sheep farmers.
It is a criminal offence under the Dogs (Protection of Livestock) Act 1953 if a person's dog worries livestock on agricultural land. In fact, a farmer may shoot a dog which is attacking or chasing farm animals without being liable to compensate the dog's owner. Dog owners can find information about their legal obligations on The Kennel Club website.
If dog owners follow the guidance it will ensure that the welfare of farm livestock is maintained.  Let's help ensure that the incidents of injured and killed livestock decrease and everyone will be able enjoy the wonderful countryside.