Breed focus: The loyal and loving golden retriever
The affectionate and ever-popular golden retriever has been sharing the world with us for over 100 years. How did we ever manage without them? They are kind, gentle, intelligent and even-tempered dogs and their unwavering loyalty is legendary. Read on to find out more about this breed of dog and whether it's the right one for you.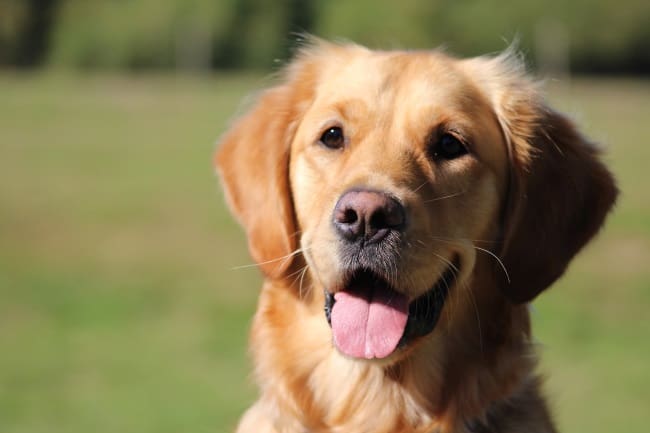 Experts believe the golden retriever breed originated in Scotland and they are classified as a 'large' breed – growing to a sizeable 30-40kgs in weight.
Very well-mannered and sociable dogs who greet adults, children and other dogs politely, golden retrievers are generally very steady on the lead. They hate being left on their own for long so be prepared to include them in as much as you can.
Golden retrievers are, unsurprisingly enough, great at retrieving! Members of the gun dog group, they are very motivated to pick up and carry things in their soft mouths. They deliver the item gently, without marking or damaging it, which is one of the reasons they make great assistance dogs for our clients.
Dogs for Good trainer, Clare, is a big fan of goldies: "They're incredibly loving, kind, and gentle and they form really strong bonds with people.
"They don't forget who they've given their love to, either – there are golden retrievers I've trained and then see years later who still remember me and greet me like a long-lost friend."
Things to consider before getting a golden retriever:
Golden retrievers need lots of exercise and regular grooming
Drawn to water – always best to keep a towel on hand when walking a goldie near a pond!
They don't like to be left alone. Find out more about separation anxiety.
Training needs to be very structured – one thing at a time!
Training golden retrievers
Trainer Clare says: "From a training point of view, they need to be made to feel that everything you're asking them to do is their idea.
"You need to make things a lot of fun, so they don't 'know' they're in a formal training session. Also ensure that you don't ask them to learn lots of different things in one go. Teach them one thing at a time, to the point of success, and you'll have a happy, motivated goldie."
Learn more about how we train our assistance dogs, including golden retrievers.
Known health issues in golden retrievers
Joint problems similar to Labradors such as elbow or hip dysplasia
Eye problems such as progressive retinal atrophy
Uveitis – an inflammation of the uveal tract
Skin problems – ichthyosis is hereditary. This causes dandruff and makes the goldie more prone to skin infections
Heart problems such as subaortic stenosis (narrowing of the aorta). Regular vet checks should pick this up.
Help support our life-changing work...
Imagine if everyday tasks were so challenging or physically demanding they affected your quality of life. For many people living with a disability of families with a child with autism, that is their reality. Now imagine if a specially trained four-legged friend could restore your, or your family's, independence.
The demand for our services is high and we can't help as many people as we would like to without more funding. Please help us continue making life-changing differences for people with disabilities through the power of expertly trained dogs.
Every contribution, whatever size, is important and helps us make a difference.
Support us by
Sponsor a puppy
Donate now