Adorable Labrador puppy Diesel is a laid-back boy who loves exploring. By sponsoring Diesel today you will follow his journey and help provide him with everything he needs to become a future life-changer for a disabled child or adult.
Labrador puppy Etta is a sweet and playful girl who loves her ball. Follow her on her journey to becoming an expertly trained assistance dog who will change the life of a family with an autistic child, a disabled child or adult or someone with dementia.
Why Sponsor a Puppy?
Imagine if everyday tasks were so challenging or physically demanding they affected your quality of life. That is the reality for so many of the individuals and families who ask us for help. A quarter of disabled people say they do not frequently have choice and control over their daily lives; when to get dressed, when to go out, when to do the everyday things that we all take for granted. Parents with an autistic child have been proven to have stress levels comparable to soldiers in armed combat.
Now imagine if this adorable puppy could become a specially trained four-legged friend to restore your, or your family's, independence.
How your contribution will help
We currently have around 260 working assistance dogs across the UK, but every year we receive over 5,000 enquiries from people who hope an Assistance dog, Community Dog or Family Dog can change their life. The demand for our services is so high and, quite simply, we can't help as many people as we would like to without more funding. Your regular gift will help:
Support the puppies that come into our programme
Provide everything our puppies need from food, collars and leads, to toys and puppy classes, to healthcare and insurance
Extend our services to more areas
What you get as a sponsor:
As a sponsor, you'll get a unique insight into your special pup's training and follow their amazing journey to becoming a life-changing dog. You could even sponsor a puppy as a gift for a loved one.
Please note we are only able to send welcome packs and puppy updates in the post to addresses in the United Kingdom. If you are sponsoring from or your gift recipient lives overseas, the welcome pack and puppy updates will be sent by e-mail.
As a sponsor, you or your chosen gift recipient will receive:
A welcome pack which includes a beautiful photo of your sponsored puppy, a magnetic photo frame to display it in and your choice of gift (Dogs for Good canvas shopper or plush dog (please note this toy is not suitable for dogs)
Periodic updates on your puppy's progress through their training
Regular communications about all aspects of our work and what's involved in this transformation
You can also sign up to be an Eco Sponsor and receive your puppy updates by e-mail (You will still receive your welcome pack in the post).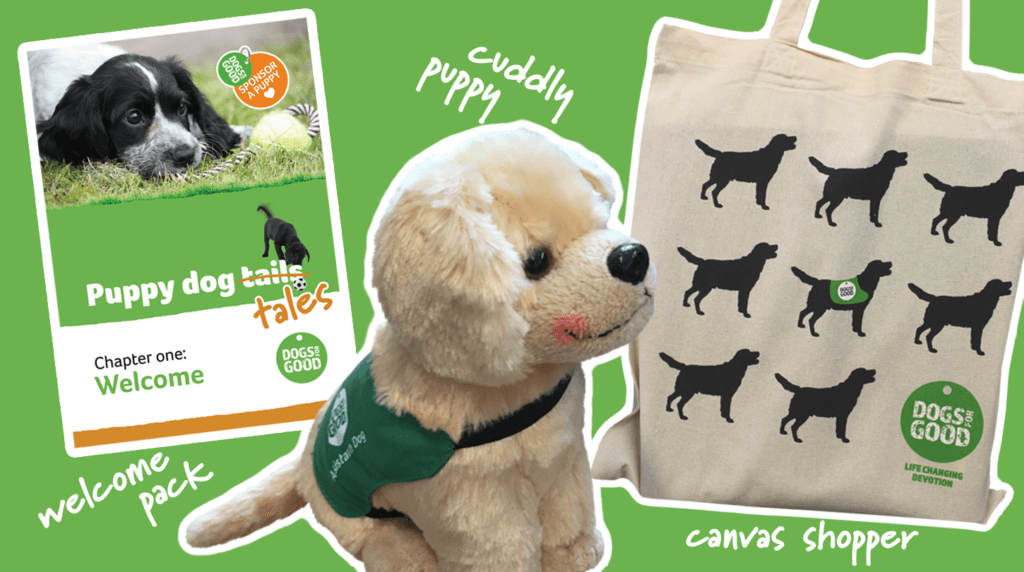 Please note your welcome pack will be posted to you after we have received your first payment. Due to Covid restrictions it is taking us longer than usual to fulfil welcome packs. It will take us up to two weeks to send your pack, but we will get it to you as quickly as we possibly can. Thank you for your understanding and kind support.