Meet Logan. He's inquisitive and loves everyone he meets. When he's feeling tired he loves to snuggle up with his cuddly toys. Sponsor him today and follow his progress to become a life-changing assistance dog.
Storm
Labrador x retriever
Meet Storm. She's cheeky, energetic and fun-loving and her favourite toy is a cuddly monkey! One day she'll be a life-changing assistance dog for a disabled child or adult. Sponsor her today and follow her progress.
What do you get as a Puppy Sponsor?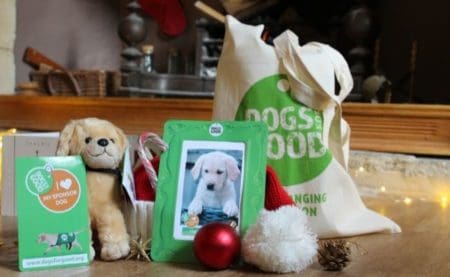 As a sponsor, you'll receive a special Puppy Pack introducing you to your puppy.
Your Puppy Pack includes a beautiful photo of your sponsored puppy, a magnetic photo frame to display it in and a window sticker.  You can also choose to receive either a cute plush dog* wearing their smart Dogs for Good jacket, or a cotton bag for life.
Regular updates sharing milestones in your pup's training.
Printed photos of your pup to treasure.
Updates and stories about how our dogs help.
Eco sponsorship option with all updates delivered to your email inbox. (The Puppy Pack will be sent by post)
*Please note this toy is not suitable for dogs
Who will receive your updates?
You can sponsor a puppy for yourself or as a perfect gift for someone special.
Any questions? Read our FAQs.
How your support helps
Your support will help us train more assistance dogs and give greater independence to physically disabled children and adults or families with an autistic child.
Each year we receive enquiries from over 5,000 people asking for us to support them through a specially trained dog.
Our assistance dogs make life-changing differences to disabled people helping with practical tasks such as picking up dropped items or opening and closing doors.
Partnership with an assistance dog can help to reduce loneliness and improve confidence enabling many people to take on new challenges.
Success story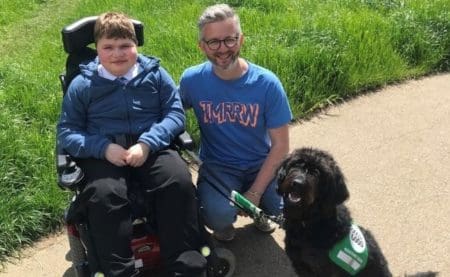 Labradoodle Iris was part of our 'Sponsor A Puppy' programme and is pawsitive proof that a small regular gift can make a big difference!
Iris passed through her puppy socialising and training with flying colours and we're delighted to say that she is now successfully partnered with George.
George has Duchenne muscular dystrophy, a degenerative condition which weakens his muscles and means he is gradually losing his independence.  He says Iris' affectionate nature has made a big difference. "At bedtime, she'll come and lie over me on the bed and she also gives me lots of licks which is really nice," he says.  "She also helps me by picking things up and helping me off with clothes like my socks and gloves."