Choosing a good vet
Veterinary practices are businesses that vary hugely between each other and can offer different services and specialities. Ideally, you want to build a long-lasting relationship with your vet as this will benefit your confidence and the health of your dog.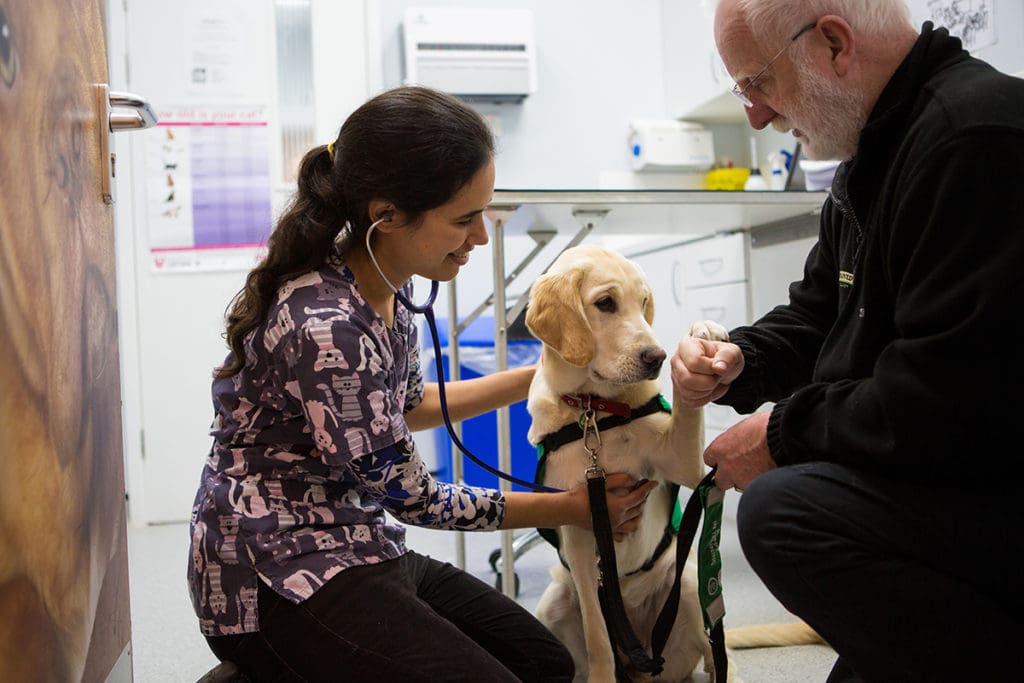 It is entirely your decision which vet practice and individual veterinarian you choose and well worth researching your options before you make a decision.
Here are a few things to consider:
Experience & qualifications
All vets will be qualified and have some experience in treating a range of different species, however personal interest and experience means that all will have certain animals that they are more familiar with and feel more comfortable handling.
Bedside Manner
It is important that you feel comfortable enough with your veterinarian to discuss any concerns you may have and to feel that you are getting the best advice for the situation.
Location
This is an important factor, particularly if you have an emergency, or if you need to make multiple visits for treatments. Think about accessibility of location, traffic congestion and parking. You may need to consider accessibility into the veterinary practice if you have a disability (e.g. wheelchair accessibility into all public areas of the practice). Some will come and examine your dog in your vehicle if their facility is not accessible.
Availability
Sometimes you may need to consult your vet after-hours, at weekends and on public holidays. Different surgeries will have different office hours and weekend attendance, as well as different on-call policies for vets. It is worth knowing about out-of-hours services and being well-prepared in advance. This would include having the number ready for 24 hour help should a problem arise. Should you require emergency out-of-hours help, Vetfone provides a 24 hour helpline run by RCVS registered vet nurses: You do need to become a member to use this service. Some dog insurance companies also have their own helpline for their customers. Check what call-out services are available in case you need this at some point in the future.
Facilities & services
With regards to facilities it is beneficial to have a larger welcoming area, where you can have sufficient space with your dog whilst waiting. Many veterinary practices now link with other reputable service providers or offer additional services themselves (such as hydrotherapy). Many vets also sub-specialise (e.g. cardiologists, dermatologists, radiologists, etc.).
Some vets also provide free nurse clinics and puppy support services.
Costs
It is worth asking around and comparing prices. While many vaccinations, medications and procedures may have a standard charge, prices can differ between surgeries.
Regulation
The Royal College of Veterinary Surgeons (RCVS) is the regulatory body for veterinary surgeons in the UK and ensures that standards within the veterinary profession are maintained. For further information please visit the Royal College of Veterinary Surgeons (RCVS) website.
Summary
Making the right choice of vet for you and your dog is something that requires some thought and research. It is worth taking the time to get this decision right as it will aid your peace of mind and contribute to the wellbeing of your dog.
Help support our life-changing work...
Imagine if everyday tasks were so challenging or physically demanding they affected your quality of life. For many people living with a disability of families with a child with autism, that is their reality. Now imagine if a specially trained four-legged friend could restore your, or your family's, independence.
The demand for our services is high and we can't help as many people as we would like to without more funding. Please help us continue making life-changing differences for people with disabilities through the power of expertly trained dogs.
Every contribution, whatever size, is important and helps us make a difference.
Support us by
Sponsor a puppy
Donate now