Responsibilities of living with a dog
The wellbeing of our dogs lies at the heart of any great relationship we will build with them. Here are a series of key responsibilities that people living with a dog need to ensure they meet. This is important not only to ensure your dog's wellbeing, but also to safeguard other people within our family circle and wider society.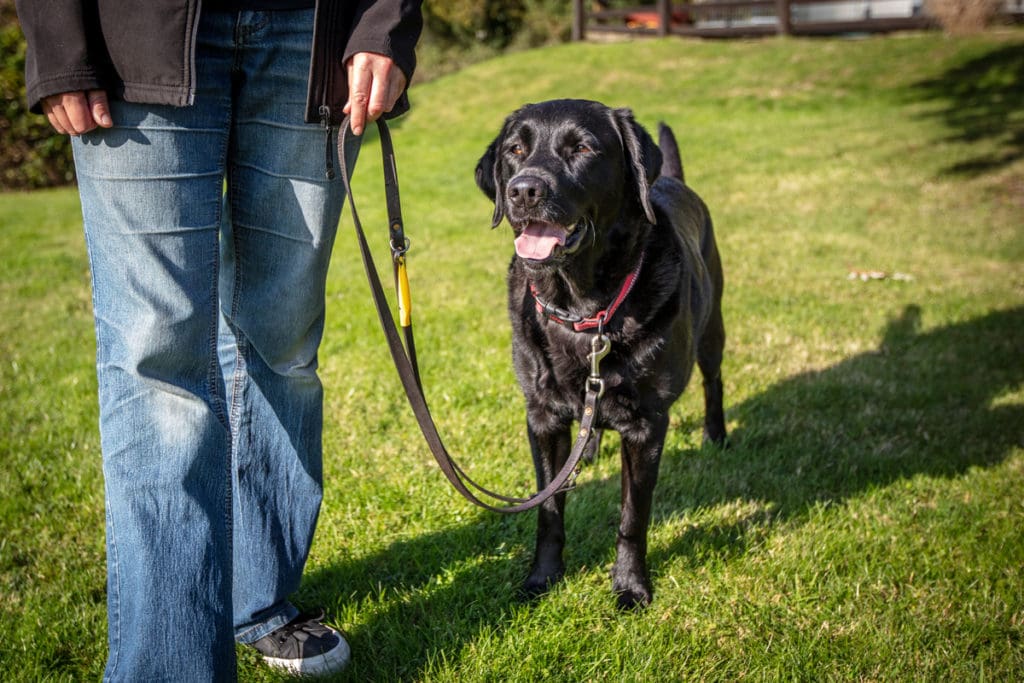 These guidelines will help you understand your responsibilities and ensure you put your dog's wellbeing at the heart of the relationship.
What's the best way to support my dog to acquire appropriate life skills?
Modern understanding of dog behaviour has moved firmly away from the old ideas of training dogs through fear and it is vital that you seek advice on teaching dogs through positive reinforcement and reward and not by punishment.
With young dogs, it is vital to carefully get them used to the sights, sounds and experiences of everyday life from early on. When you take on responsibility for your dog, a reputable dog trainer or behaviourist might be able to help you get to know your dog quicker and understand how to support their development.
Raising your dog is an ongoing process. A weekly session with a trainer alone is not going to turn your dog into the most well-behaved member of the canine species. Every interaction you have with them in your daily life contributes to the development of their character and demeanor. Take advice from your trainer on specific practices and behaviours they wish you to support at home, e.g. walking on a loose lead, not encouraging mouthing.
Do I need to adjust my routines and daily living to accommodate my dog?
Try to establish a routine for exercise and play for your dog at similar times during the day. By managing your dog's activity levels during the day, you will be able to give them a framework by which your routines will become normality in their world too.
Feed your dog at regular times wherever possible, to ensure they are able to manage their own expectations.
Ensure that your dog has access to a comfortable bed that is big enough for them to be able to stretch out, and an adequate supply of water at all times. Ensure that the supply of water is secure and is unlikely to be knocked over or spilled, especially if you are leaving your dog alone for any period of time.
Despite what others may tell you, dogs are not able to spend many hours alone without company and other activities. We don't recommend leaving dogs for more than four hours at a time (although a lot shorter if in a crate) and if you are compelled to leave your dog alone, take steps to provide reliable cover where someone with whom your dog is familiar will spend time with them, let them out for some exercise and toileting, check water supply and provide company and stimulus during the day.
Is it safe to travel with my dog?
Dogs must be suitably restrained in a car at all times. See more under Understanding dog law in the UK
If travelling by car, ensure that you make regular stops to allow brief periods of exercise and opportunities for toileting in a safe and appropriate area.
How much exercise does my dog need?
Research the appropriate level of exercise for your dog at their life stage and breed. Young puppies may show signs of tireless enthusiasm, but over-exercise can cause skeletal and muscle problems, while insufficient exercise may cause lasting problems in later life. Some forms of exercise are not good for young puppies e.g. agility. As a rough guide, your puppy should be getting 5 minutes of exercise per month of age, twice a day.
Be prepared to amend your schedule where required in order to accommodate the dog's needs (e.g. an extra period of rest if required after a particularly strenuous or over-stimulating period of exercise).
Provide appropriate opportunities for rest at home, alongside engaging your dog in stimulating play and other enriching activities.
What do I need to do to keep my dog healthy?
Many diseases and other health conditions can be prevented by timely intervention and we have a responsibility to ensure that our dogs are properly vaccinated and treated with preventative medicines for parasites such as fleas, worms and ticks. Many parasites can affect people too and undertaking a proper preventative health regime will protect you, your family and your dog. More about Zoonoses.
Whether your dog is long, short haired or hairless, ensure that you groom your dog to ensure hygiene standards are met. With longer haired breeds, it is also important to groom regularly to avoid matting of the coat.
Inform the vet of any new or unusual behaviour, and undertake regular physical health checks and administer medication as advised by the vet. All dogs should attend a routine health check-up with your registered vet every twelve months.
Always look out for any signs of illness, or occasions when your dog may be off their food. Many dogs won't show any signs when it comes to pain or discomfort, so it is our responsibility to look out for signs of injury and illness. Your veterinary practice will advise you whether immediate medical attention is required.
Can other people look after my dog?
Do not leave your dog in the care of people you don't know and, if you have to leave your dog with others while you are away, ensure that your dog meets the people beforehand, is comfortable in their presence, and that you are comfortable with the way they interact with your dog
Ensure that anyone else caring for your dog, even if temporarily, is aware of your dog's toileting routine and feeding habits. This advice applies equally to boarding kennels and to friends and family who may offer to help. Most licensed boarding kennels will ensure that your dog remains happy and healthy in your absence but do make sure that you've inspected their facilities and assured yourself of the level of care being offered before you leave your dog in their care. Any good boarding kennel will expect that you would want to take these basic precautions and would welcome your questions, so do not feel embarrassed to check first. Your dog may be happier with a dog sitter who can either look after them at their own home or yours, especially if they are not used to being in kennels.
Help support our life-changing work...
Imagine if everyday tasks were so challenging or physically demanding they affected your quality of life. For many people living with a disability of families with a child with autism, that is their reality. Now imagine if a specially trained four-legged friend could restore your, or your family's, independence.
The demand for our services is high and we can't help as many people as we would like to without more funding. Please help us continue making life-changing differences for people with disabilities through the power of expertly trained dogs.
Every contribution, whatever size, is important and helps us make a difference.
Support us by
Sponsor a puppy
Donate now