Tips for a safe and happy Christmas with your dog
The change of routine, busier households, decorations, presents and lots of delicious food are all part of the fun of Christmas. As magical as it is for us humans, it's worth spending a little time thinking about how we can manage all the changes for our four-legged family members to ensure a wonderful time is had by all.
We hope you find the tips of interest and helpful to successfully plan a very happy Christmas for you and your dog.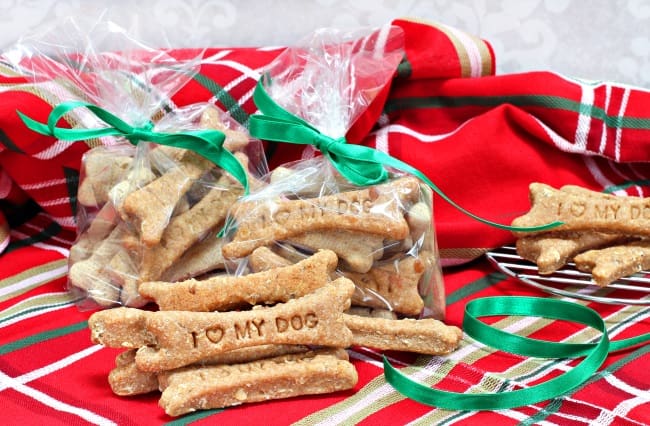 Routines
Mealtimes and walks/free runs are high points in your dog's day and keeping to the usual routines will ensure that they have consistency and reassurance during the festive period. Plus, a good walk with your dog is always the perfect way to reset a busy mind and focus on a bit of fun.
Feeding and diet
While gastronomic goodies such as chocolate, christmas pud and mince pies delight human palates, they're really harmful and/or poisonous for our dogs. Ditto for things like turkey skin, stuffing and gravy which can put a dog's digestive system under significant stress and could potentially lead to serious illnesses such as pancreatitis.
So, while your dog may be giving you the big eyes from under the table, it's far better to have a few frozen Kongs or dog-friendly treats ready to give him or her as an alternative – here's a recipe for some homemade dog-friendly Christmas treats which you might like to try making. It might also be a good idea to ask your guests to join you in keeping your dog safe and happy this Christmas. Very often, people are simply not aware that certain foods are harmful to dogs.
Christmas tree and decorations
Bringing the tree into the house with the minimum of excitement will mean that you stand a better chance of your dog becoming indifferent to it sooner rather than later! Once it's safely positioned, spend some time with them calmly letting them have a good sniff and exploring it. This will help them process and cope better with this new, hugely interesting addition to the house space.
If you get a natural tree, make a point of hoovering or sweeping up the dropped pine needles every day. As well as containing poisonous pine sap, they can be a bit spiky on curious noses and paws. Obviously, artificial tree foliage can also cause problems if ingested.
As with the tree; try and introduce the decorations as calmly as possible and make sure that the hanging decorations are well out of reach of your dog. Especially those that are made of chocolate! It goes without saying that if you're choosing decorations for your home, try go for a non-toxic choice.
Twinkly, christmassy lights mean additional cables and whose dog doesn't like a good chew on new things? So, it's important to make sure the cables and wires are made safe by hiding them away, boxing them off or using sturdy cable shields which can ensure that your dog doesn't chew through a live flex.
Presents for your family and dog
Present opening is a very exciting time for dogs on many levels. Crinkly paper, lots of new smells and lots of happy humans! And of course, all dog-lovers will want to give their beloved companion a special gift to open at Christmas. But it's important to make sure that your dog doesn't get too excited because it can be very hard for them to calm down again. A bouncy, over-excited dog can make things quite stressful for everyone else who'd like to open a present or two!
Maybe you could wrap up a couple of presents for your dog to distract him or her while you're opening yours. You could also consider opening presents throughout the day rather than all in one go. Most dogs are curious so leaving presents under the tree and unattended could be a recipe for disaster. Especially if the presents are likely to be food items or if your dog's present is a lovely new squeaky toy! Your dog's incredible sense of smell and their natural curiosity will draw them to these type of presents so keep an eye out at all times and try and keep the particularly enticing presents out of their reach.

Fireworks and Christmas crackers
Exciting and traditional at Christmas, crackers and table fireworks are great fun for us humans but… not so much for dogs. As part of your dog's routine, having a safe space to call their own is really important and especially so at this time of year. So, if your dog doesn't cope well with bangs and whizzes, make sure they have access to this space and if possible, give them a Kong or another high-value reward there well before you break out the noisy stuff.
There are also Christmas crackers on the market now that come without the bang and these may be a better compromise for all concerned.
If you and the family decide to attend a festive fireworks display, it's far kinder to leave your dog at home, happily curled up in their safe space.
---
We hope that these pointers will help you put a few safety measures in place to ensure that you and your family, including your dog, all have a wonderful, safe and relaxing Christmas.
Help support our life-changing work...
Imagine if everyday tasks were so challenging or physically demanding they affected your quality of life. For many people living with a disability of families with a child with autism, that is their reality. Now imagine if a specially trained four-legged friend could restore your, or your family's, independence.
The demand for our services is high and we can't help as many people as we would like to without more funding. Please help us continue making life-changing differences for people with disabilities through the power of expertly trained dogs.
Every contribution, whatever size, is important and helps us make a difference.
Support us by
Sponsor a puppy
Donate now