The costs of living with a dog
Taking on a dog is a significant, long term commitment; a small dog such as a terrier may have a life expectancy of 12-15 years while a giant breed will have a shorter life expectancy. We would all want to know that we could afford to offer a dog a home and, quite clearly, there will be unavoidable costs involved, over and above the cost of acquiring the dog, and both the planned and unexpected vet's bills.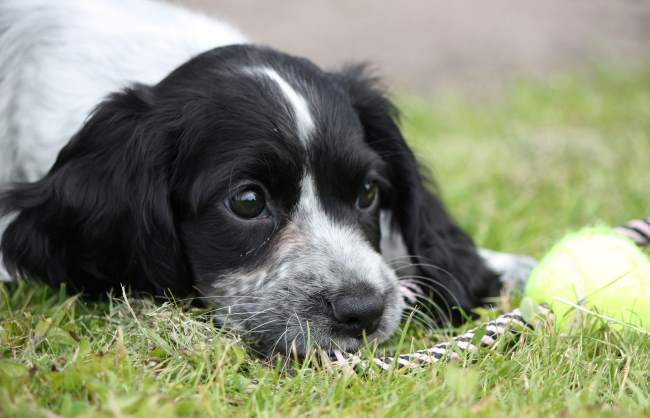 Buying a puppy from a reputable breeder is likely to cost £500-£1500 depending on breed. Approved rescue centres will ask you to make a donation, if you are rehoming a dog.
There is a legal commitment to provide what is termed the 'Five Freedoms' as well as keeping the dogs healthy and happy throughout their lives. There are a number of things that you should consider as being necessary and these may help you to factor in the associated costs.
Lifetime cost
Larger breeds will inevitably cost you more than a smaller dog, when the costs are spread over the lifetime of the animal.
The PDSA has calculated that you should expect a dog to cost you between £4,500 – £13,000 depending on the breed, size and lifespan.
If we spread that cost over your dog's lifetime, that may not sound prohibitive but these are factors that we should consider and particularly so if you are considering caring for more than one dog. This is a minimum estimated cost over a lifetime, and your companion may cost as much as £30,000 over their lifetime if you decide or need to spend more on ongoing care, such as certain health problems. To reduce the risk, it is worth asking to see proof of the parents' health tests. Reputable breeders test their breeding dogs for known illnesses in their breed.
Initial costs
Listed below are the things you will need to buy to get started. Some people will choose to acquire some of these things from friends or second hand. The total costs shown are for buying these items new.
Bed
Bowls for water and food
Collar, harness, lead, I.D tag
Toys
Coat – especially for puppies and older dogs
Car restraint
Crate for puppy and adult dog. Read about using a puppy crate.
Blanket or Vetbed which is a synthetic, soft fleecy material available from most pet shops
Dog food – appropriate for the dog's life stage, plus treats and chews
In addition, you will need flea and worming treatments and to vaccinate your dog. Your vet should be happy to discuss dog insurance, neutering and dog health plans that allow you to spread the cost of preventative care over 12 months.
The estimated costs for this, excluding food, health plans and pet insurance, will be between £370-£425 depending on size and breed.*
Ongoing costs
Modern veterinary medicine can be both extensive and enormously costly. For most of us, pet insurance is the only way to avoid unexpected and possibly unaffordable vet bills later on. Dog insurance premiums reflect the breed and the average cost of veterinary bills and will increase with your dog's age and any ongoing medical conditions that your dog may incur. Taking out a lifetime veterinary insurance policy is the only way to ensure peace of mind, unless you have significant financial reserves.
Ongoing costs to consider include:
Pet insurance
Annual veterinary health checks
Flea, tick and worm treatments (discuss annual health plans with your vet as this may save you money)
Food – as your dog's life stage changes so will their dietary requirements
Poo bags
Grooming – some dogs require clipping during the year
Toys
Chews and other enrichment activities
The estimated monthly costs for these varies between £50 -£80 * depending on the breed and size.
Additional costs
Finally, these suggested costs are a minimum commitment, and over your dog's lifetime you may have an additional need to use:
Boarding kennels
Dog training classes and/or behaviourist
Dog walkers or day care
The estimated costs for these services can vary between geographical location and time/work required.
---
*The figures shown above are based on those recommended by PDSA 2020 and have been adjusted for inflation
Help support our life-changing work...
Imagine if everyday tasks were so challenging or physically demanding they affected your quality of life. For many people living with a disability of families with a child with autism, that is their reality. Now imagine if a specially trained four-legged friend could restore your, or your family's, independence.
The demand for our services is high and we can't help as many people as we would like to without more funding. Please help us continue making life-changing differences for people with disabilities through the power of expertly trained dogs.
Every contribution, whatever size, is important and helps us make a difference.
Support us by
Sponsor a puppy
Donate now