Adopting a rescue dog
There are a variety of reasons why a dog may end up in a rescue centre. These may include a change of circumstances of the previous people who had the dog living with them e.g. change in job or home, a partnership splitting up, starting a family, a death or an illness.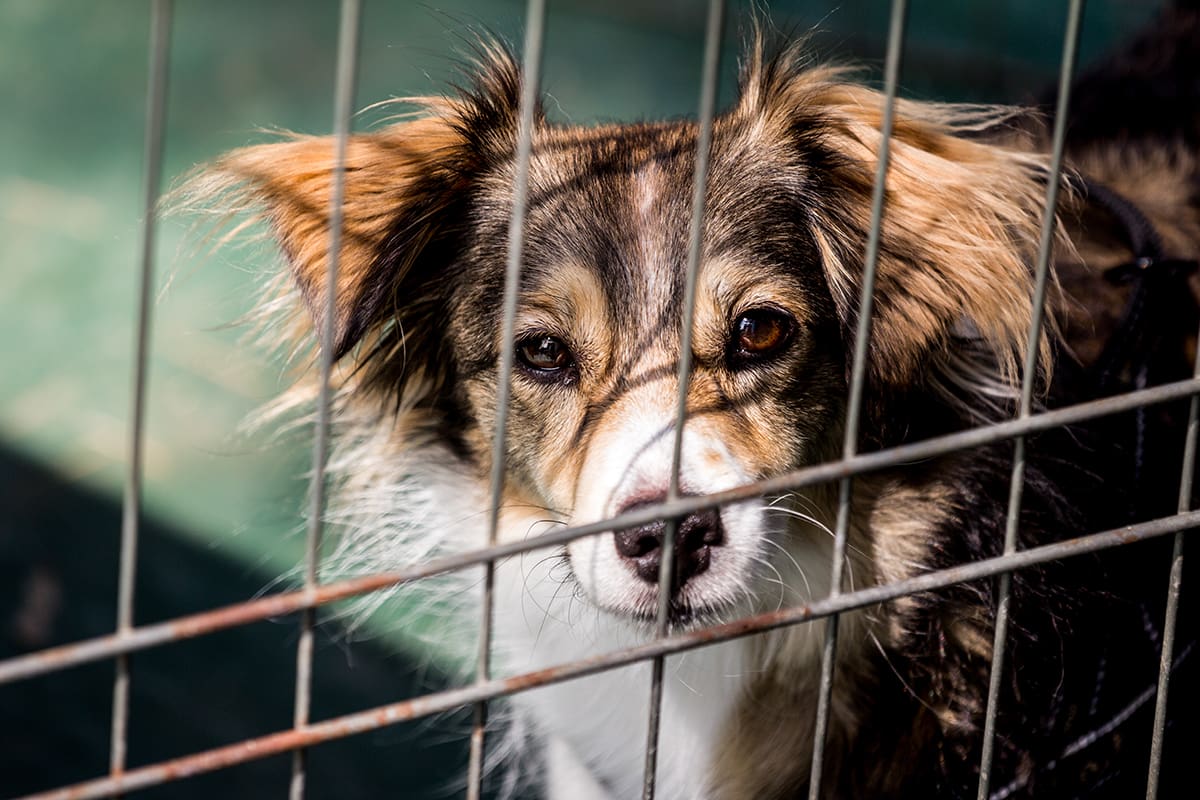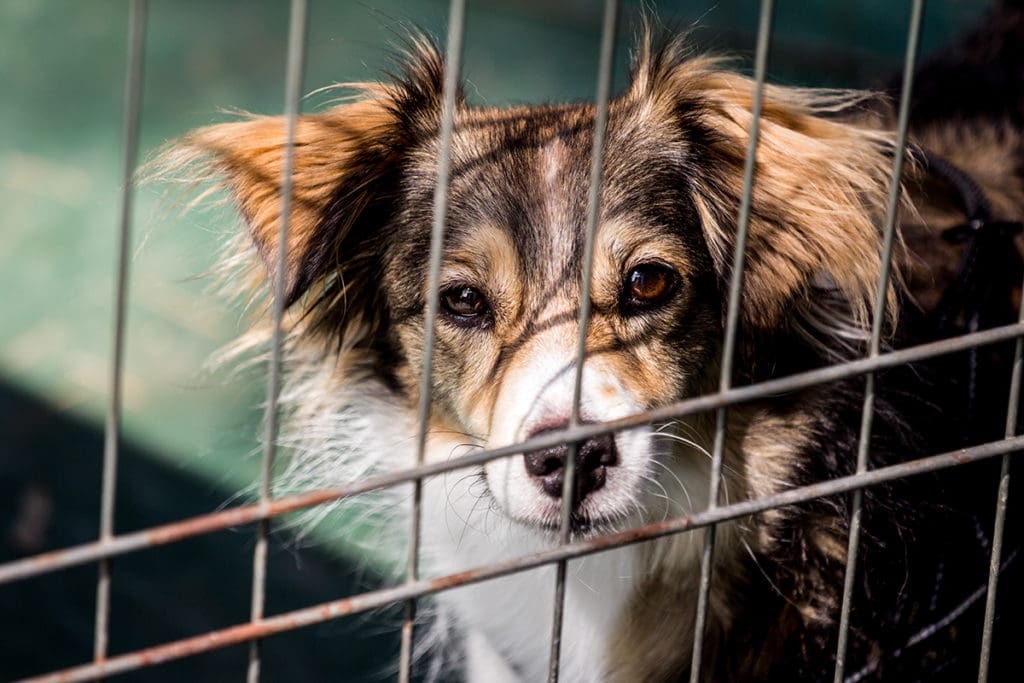 Alternatively, the dog might be a stray or an ex-working dog such as a racing Greyhound who has been retired. Sometimes puppies may be brought in by a family whose dog has had a litter or sometimes a female that is pregnant arrives and the puppies are born at the centre.
This means dogs from a rescue centre will have a variety of backgrounds. This advice page is designed to guide you through the process of finding a suitable rescue dog, how to assess whether they are suitable for you and your family and the process of introducing them to your home.
Finding a rescue centre
There are several large well known organisations throughout the UK including the Dogs Trust, Blue Cross, Battersea, the RSPCA and the Scottish SPCA, National Animal Welfare Trust, Wood Green Animal Shelters and the PDSA; all have their own website for more information.
There are also many smaller organisations that may not have dedicated kennels but work with foster carers who care for the dog in their own home. You are most likely to find details in your local area. Alternatively, you may wish to contact a specific breed rescue organisations e.g. Labrador Rescue.
We do not recommend the rehoming of a dog from private advertisements or general internet sites. With private advertisements, there are no guarantees that the dog will turn out to be how they are described, either in health, future size, breed type or in terms of their behaviour. It may be a stolen dog or have come from a puppy farm. We strongly recommended that you work only with registered organisations or Kennel Club assured breeders if looking to rehome an adult dog of a certain breed.
Visiting a rescue centre
When first visiting a centre, you may have an idea of what type of dog will best suit your family (general size, energy levels e.t.c.), but you will still need to be flexible on the size, age, sex, and breed. You are unlikely to find a suitable dog on your first visit and we advise that you build up a relationship with the rescue centre through regular phone calls and visits so that you have the best chance of finding the right dog. This may take up to a year of investing your time but this is how many people have had success.
When visiting a centre, speak to a rehomer who will be able to sit down with you to explain the adoption process and see if there are any dogs that would be suitable. Please click on each of the headings to learn more about the steps you would need to take.
Next Steps
Step 1: Questionnaire
On your first visit to a rescue centre you may be asked to fill in a questionnaire so they can find out a bit more about you, your family and what type of dog you are looking for. Questions may include:
What size of dog are you looking for,
what age, male or female,
do you have an enclosed garden with high fencing,
who lives at home, the number and age of children in the home,
will the dog be left alone,
do you own other animals,
how much daily exercise can you give the dog and
what experience you may have with dogs?
Step 2: View the dogs and talk to staff
Dogs up for rehoming will have information about them on the front of their kennels but these are only a guide. By the time a dog has settled into kennels and gone through their assessment, staff will have a good idea of the behaviour and trainability of the dog so the rehomer will be able to discuss the details about any dogs that may be suitable. If there are no dogs up for rehoming that are suitable, the rehomer may know of dogs that are not ready to be rehomed that may be a possibility.
Staff are unlikely to be able to contact you about available dogs individually, so as mentioned, it is advised that you have regular contact with the centre through visits and phone calls.
Step 3: Shortlist
Make a shortlist of dogs that may be suitable.
The rehomer will then sit down with you and go through all the dog's history and details to make sure that you and the dog are suitable partners on paper before you meet the dog. Dogs are likely to have undergone an assessment when entering the centre so find out as much information as you can. This may include temperament testing, checking whether the dog is happy to be handled, behaviour around other dogs, their reaction to cats, and what they are like when they are left alone.
If they have come from a previous home, hopefully detailed information on the dog should be available, e.g. how long they had the dog, where they obtained the dog, the health of the dog, if they have any ongoing health concerns and some description of the dog's behaviour, e.g. whether they have ever bitten or if they have any fears or phobias. They should know if the dog has had contact with children, visitors, cats and other dogs and they may also know what kind of household the dog is from (e.g. busy or quiet, and what routine the dog is used to, such as whether they are used to being left alone, used to being handled and groomed, good with travelling and whether they respond to any cues).
When a dog's background isn't known, the staff will advise you as best they can.
Step 4: Meet the selected dog(s)
Meet the dog you think you may be interested in. To help you keep the important questions in mind when meeting potential dogs, we have put together a check list at the end of this page.
If you think the dog is suitable then you can reserve the dog. The rescue centre will want you to be sure about your decision and will give you time to think about it away from the rescue centre. As an example, Dogs Trust will hold the dog for you for around 10 days in which time you will need to complete the rehoming checklist.
In this time get to know the dog. It is advised that you visit the dog several times and see him/her both on lead outside and in a room off lead to see how they interact with all the family. Most rescue centres will require everyone in the household to visit the dog so they can see how people interact with the dog. If possible, take the dog for a walk.
Step 5: Home visit
The rescue centre may want to conduct a home visit, make sure you are ready by having a secure garden and the house set up for a dog. You may only have 48 hours to rectify any problems.
The centre may also ask for a reference.
Step 6: Vet check
Most charities will want to ensure that their dogs have the best possible start in a new life and, as an example, all dogs from Dogs Trust are vaccinated, neutered, microchipped, and checked by the vet before being allowed home. Puppies that are too young to be neutered will be sent home with a voucher so it can be done later.
Step 7: Pre-adoption talk
This may be a one-to-one discussion on how to make your new dog welcome in your home or you may be invited to attend a group pre-adoption talk.
Step 8: Adoption
When both parties are happy that the correct match has been made and all paperwork has been completed, then you can formally adopt the dog.
There is likely to be an adoption fee and this may vary between the organisations. Depending on the organisation, they may offer short term free pet insurance but it is strongly recommended that your new dog should be properly insured.
Arrange to collect the dog from the centre in the morning so that the dog has the maximum amount of time to settle in before bedtime. Go to the centre with one other adult, who can drive the car while you look after the dog. Before the dog enters the car ensure they are wearing a collar. A dog will need to be confined safely in the car. Go equipped with towels etc. in case the dog is sick and take a bottle of water and a bowl. Try not to stop on the way home, however, if it is a long journey do stop so the dog can stretch and have a drink. Make sure a lead is attached to the collar before allowing them out of the car.
Step 9: Going Home
Coming to a new home is a big change for a dog, they may be uncertain of you, your family and the environment so it is vital that the dog is given time to adjust. A new dog won't necessarily initially enjoy a lot of fuss and attention, this will take time. Make sure the children are prepared for this. It would be good to provide the dog with plenty of quiet time and a safe space that is just for them.
It is important to allow time for your dog to settle into their new home before teaching them anything advanced. Try to make things as easy to understand for the dog as possible, already decide where the dog will sleep, what rooms the dog will have access to and set up the dog's safe space. Agree clear house rules with family members such as whether the dog is allowed on the sofa, upstairs, on beds. Keep visitors to a minimum. See Guide to living with a dog for the first time.
Try to introduce the normal routine of the house, whilst at the same time recognising that you need to take time to build a bond with your dog so that he/she feels secure. Taking some time off work is a good idea, at least during the first week, but build up the duration you are away from the dog over a period of time, so that the dog learns to be on their own for a limited time. If you have children, try to avoid school holidays as this won't be the normal routine and the household will be busier than usual.
Work on building a bond and supporting your dog to become settled in the home. Through using kind, rewarding techniques, encourage calm behaviours such as waiting patiently and greeting people in a calm manner, and provide sufficient toileting opportunities. You can also start to teach the dog their name and the foundations of coming when called around the house.
Try to notice and reward/praise the good behaviours the dog is showing such as lying down or sitting quietly, coming in from the garden when called and friendly responses to family members.
Step 10: Advice & Support
You should be able to contact the rehoming centre for advice about your dog. They have animal behaviourists on hand that you can arrange one to one sessions with if there are any problems. They may even require you to attend some of their training classes.
Help support our life-changing work...
Imagine if everyday tasks were so challenging or physically demanding they affected your quality of life. For many people living with a disability of families with a child with autism, that is their reality. Now imagine if a specially trained four-legged friend could restore your, or your family's, independence.
The demand for our services is high and we can't help as many people as we would like to without more funding. Please help us continue making life-changing differences for people with disabilities through the power of expertly trained dogs.
Every contribution, whatever size, is important and helps us make a difference.
Support us by
Sponsor a puppy
Donate now