Tips for safe interactions between children and dogs
We recommend that all interactions between children and dogs are always closely supervised by an adult.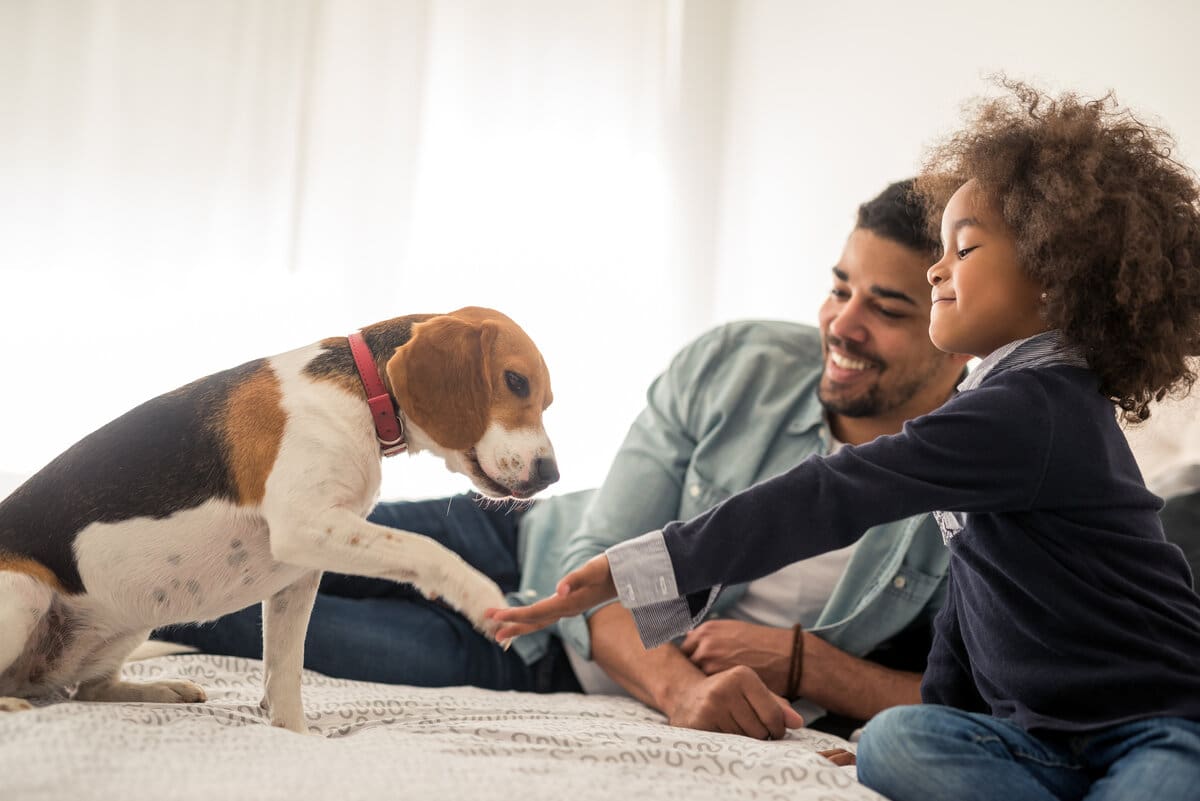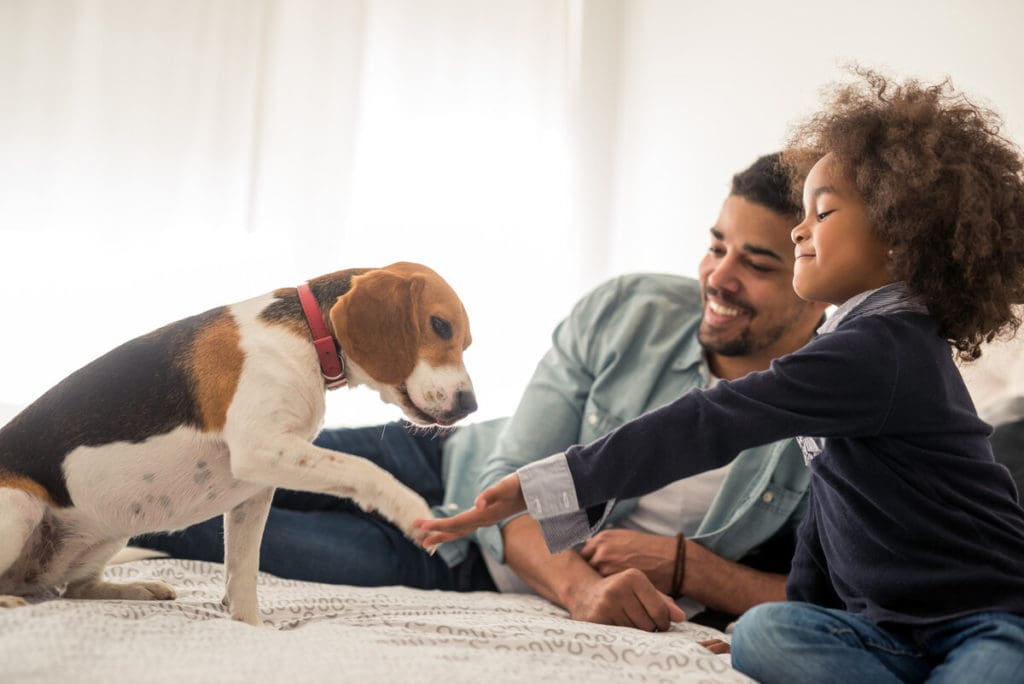 ---
Enrichment, relaxation, and play
Every dog needs mental stimulation and plenty of opportunity to rest.
These activities are great ways for your child to develop the all-important bond and relationship with your dog, whilst having fun together:
Hide a few of your dog's toys, treats, and/or a filled Kong either inside or outside, for the dog to discover. Your child can use a stopwatch to time how long it takes your dog to find them.
Create a toy box full of dog toys; your child can have the responsibility of selecting the toys by taking a selection out each day. This keeps up a good level of variety to meet your dog's needs, and can help with your child's development of counting, speech, and provides some responsibility for the younger family members.
Fill a paddling pool for splashing fun, or sandpits for 'digging' (you may need to make sure your dog is happy by introducing them gradually to each item, before involving the children).
Set out appropriately sized Jolly Balls (or other sturdy balls) and your children can watch or interact as the dog herds the ball around the garden or room.
Set up games of hide and seek where your child hides either in the house or outside in the garden and your dog can then scent and find them. If your child also gives the dog a treat when they find them, this does not take very long at all!
Large bedding or bean bag areas, separate from the dog's safe space, can be used to create a zone for your dog and child to sit or lie quietly together.
---
Food
Have a messy play activity by getting the children to fill a rubber Kong with your dog's food – this can be soaked kibble (dry food), wet food, or even soft cheese. This activity is particularly good for fine-motor skills and soft sensory feedback.
Interactive feeders (such as those by Nina Ottosson) are fun puzzles for your child to fill with treats, which can then be placed on the floor for your dog to enjoy whilst your child watches, perfect for hands-off interactions.
Fruit and vegetables on string – have an adult cut up pieces of dog-friendly fruit and vegetables (try carrot and apple), poke a hole in the middle of each piece, and thread on to a long piece of string. You can then tie the string between two secure objects so that your dog can bite the treats and pull them off to enjoy. The threading can be done by your child, and you can even make a pair of strings so that your child and dog race separately to see who finishes it first!
With all treats and food enrichment, make sure to be aware of fat and additive content, and if feeding a lot, subtract this from your dog's daily food amount.
---
If your children are between the ages of 3-16 and have a clinical diagnosis of Autism, and you either have a family dog or are interested in bringing one into your lives, Dogs for Good offer a Family Dog Service. For more information, please see here.
Help support our life-changing work...
Imagine if everyday tasks were so challenging or physically demanding they affected your quality of life. For many people living with a disability of families with a child with autism, that is their reality. Now imagine if a specially trained four-legged friend could restore your, or your family's, independence.
The demand for our services is high and we can't help as many people as we would like to without more funding. Please help us continue making life-changing differences for people with disabilities through the power of expertly trained dogs.
Every contribution, whatever size, is important and helps us make a difference.
Support us by
Sponsor a puppy
Donate now