How to spot a puppy farm
As dog lovers we would all want our own dogs to be free from disease, to have the best start and to have every chance of a happy, healthy life. Unfortunately, dogs trapped in the cycle of puppy farming will have little or no chance of any of these and, with every puppy purchased from a puppy farm, this unethical trade continues and unscrupulous breeders make money from this exploitation of dogs.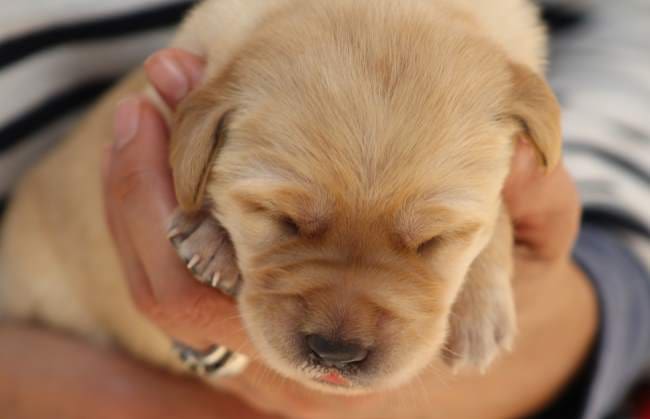 What is a puppy farm?
Puppy farms are run for profit so puppy farmers will have little regard for their puppies' welfare so long as they stay looking relatively healthy up to the point of sale. They are unlikely to have used preventative healthcare measures to prevent fleas or worms. The puppies will be confined in a small space, often sleeping in their own mess, and often will only be cleaned up when presented for sale. The breeding stock will be limited to a few breeding females who will be mated at every season without being given time to rest, and inbreeding (breeding amongst close relatives) is highly likely.
The farms will often offer several different breeds, and the puppies will not have had the chance to learn valuable life skills, be used to various different people, or used to being interacted with. In short, they are just a commodity to be sold on as quickly as possible. Unhealthy puppies will be sold as being healthy and to the untrained eye, a poorly puppy may appear to be a quiet, shy young dog that appears to be all the more in need of being offered a good home.
Our modern world seems to revolve around social media and online shopping so it's no surprise that many puppy farms have found shelter and success in the digital world. It's hard to spot the difference between the online adverts for a legitimate breeder and a puppy farmer and, of course in the case of puppy farms, the house where you go to collect your puppy may not be where the puppies have been bred, but just the place where they are sold.
Are puppy farms legal?
Remember that puppy farming is still legal in many countries, although there are plans to alter legislation to outlaw the practice in some countries. Until they are banned by law, the responsibility still lies with the purchaser, so how can you avoid buying a puppy from a puppy farm?
Until such legislation is in place everywhere, several dog welfare organisations have made suggestions to help control this tragic trade, and the following advice contains many of these but may not be an exhaustive list.
How to spot a puppy farm
Most of us will start the search for a puppy by looking online and there are some things that you can look out for:
How many breeds are being offered? Very few legitimate breeders will offer a choice of different breeds. If you see other adverts for puppies at the same time when you are looking, compare the contact details against similar adverts for different breeds of puppy and if you spot duplication, walk away.
Google the landline telephone number in the advert and see if it matches the location where the puppy is to be collected. Puppy farming often takes place well away from residential areas.
Compare the wording of the adverts; often the breeder will cut and stick wording across from a previous advert or ones for other breeds.
Check for a vaccination history; puppies are normally eight weeks old before their first course of vaccination. If the advert says that they've been vaccinated and are less than eight weeks old they may well be from a puppy farm. Legitimate breeders will be able to show you the vaccination history for the mother and for the puppies.
Puppies need to be twelve weeks old to get a passport and then wait a further twenty-one days after their rabies vaccination to be able to travel abroad. If your breeder tells you that the puppy has a passport you should be suspicious that it may have been imported.
Of course, adverts for puppies can be found in many different places and not just on-line, so below are some general rules.
Things to avoid when you're buying a dog
Never buy a puppy from a pet shop. Pet shops will only sell birds, fish, reptiles and small animals. The selling of cats and dogs in pet shops is illegal in the UK.
However hard this may be, never buy a puppy because you feel you are rescuing it. All that will happen is you'll create room for the next unfortunate puppy to take its place.
Never agree to meet the breeder at a neutral location such as a car park, lay-by or motorway service station.
Never pay a deposit/full price for a dog before meeting them.
Things to consider when you're buying a dog
Instead, here are a list of things that you should do:
First consider whether an adult rescue dog from an authorised rescue centre might suit you better than taking on the added responsibilities of bringing up a puppy. There are also breed rescue societies which concentrate on dogs from specific breeds. Read more about adopting a rescue dog.
Avoid any breeder offering more than one breed unless you can be sure of their credentials.
If at all possible, go to an approved and recognised breeder. In the UK, the Kennel Club offers a register of such breeders.
Ask to see the puppy's parents, at least the mother. You should be able to see the mother and puppy together – puppy farms often have "stooge dogs" to stand in for the real mother, who may have been transported or housed elsewhere. Meeting the mother also provides the ability to see how your puppy might look in later years. If possible, ask to see the father too and ask all the relevant questions about his temperament.
You should be able to see the puppy's current housing environment so ask to see where the puppies are being kept, where they sleep, and what they are being fed. If in any doubt, walk away.
Don't just take a puppy because it is available now. The most responsible breeders usually have a waiting list. It isn't unusual to wait 1-2 years for the right puppy to come along. This patience will ensure you get a healthy puppy of the right temperament to suit your lifestyle, and waiting is always the better option than rushing into it.
Ask to see the parents' relevant health certificates. The parents should be up to date with vaccinations, flea and worming medication, and have results of any breed specific checks required for safe breeding- careful research of these tests and assessments, and the required scores, is important to establish that the puppies have been bred safely and ethically. For instance, certain breeds need to have their eyes and hips scored because of a breed disposition towards medical problems. A short time spent on your homework before viewing puppies will be far better than a decade or more of sorrow and disappointment, not to mention the disastrous effects that irresponsible breeding has on the puppies themselves.
Check whether or not your breeder will be willing to take the dog back if it doesn't work out. Any responsible breeder will agree to this and some will insist on it.
Good breeders may ask you to sign a contract and will have restrictions around the pup being able to be bred from at a later date without the breeder's permission.
Remember the most important part of this process is that if you are in any doubt at all – walk away.
What to do if you come across a puppy farm
If you suspect that a breeder is a puppy farmer, report your suspicions to the relevant authorities. In most countries there is widespread recognition of the problems of puppy farming and a determination to abolish this cruel trade.
In the UK, the Kennel Club, RSPCA, PDSA and other well established dog rescue charities have all signed up to a code of practice in an attempt to stamp out puppy farming and more details of what to do if you suspect that a breeder is a puppy farmer can be found on their websites.
Help support our life-changing work...
Imagine if everyday tasks were so challenging or physically demanding they affected your quality of life. For many people living with a disability of families with a child with autism, that is their reality. Now imagine if a specially trained four-legged friend could restore your, or your family's, independence.
The demand for our services is high and we can't help as many people as we would like to without more funding. Please help us continue making life-changing differences for people with disabilities through the power of expertly trained dogs.
Every contribution, whatever size, is important and helps us make a difference.
Support us by
Sponsor a puppy
Donate now