Our specially-trained community dogs work alongside their handler to help someone achieve a specific goal. We work with a wide range of people including adults with dementia, autism, learning disabilities, and other individual needs in a wide range of community settings. Each individual session is also supported by a healthcare professional, support worker or nominated support person in order to ensure that the safety and wellbeing of everyone involved is being met.

Our community dogs visit the client on a regular basis for a set period of time in order to form a nice bond with them and help work towards their goals one step at a time. Depending on the needs of the individuals these goals can range from achieving more independence to feeling less socially isolated, increasing their personal hygiene, making better social connections with people, or physical goals such as improving mobility or speech and language.

Community dog Georgie helped Janet (*name changed) to reduce the social isolation she was feeling. Janet was 90 years old at the start of the sessions and was living by herself, although her carer visited 3 times a week to help with personal care and house chores. Janet used to have a very active social life, including lots of groups, until her husband passed away 4 years ago. Together, they used to attend church groups on a regular basis, went to the gym together and enjoyed regular outings. After her husband passed away, followed by Covid, Janet stopped attending any of the social groups and would only rarely leave the house. Janet also has a diagnosis of dementia.

She was referred to the service due to her becoming more socially isolated which was largely due to a lack of motivation to leave the house and most of her social interactions were limited to her family, close friend and carer.

Over the course of eight sessions, Janet formed a strong bond with Community Dog Georgie, and she started to feel highly motivated by Georgie's company. During the initial visits, Janet started to go out for walks with Georgie and her handler Julia in her local area. After a few sessions, Julia suggested joining a weekly exercise class. Janet's initial reaction was, "why would I want to do that?" But when Julia explained Georgie would be coming too, she quickly said, "well if Georgie is coming I will definitely go!"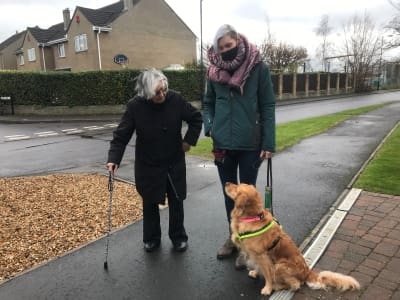 Although Georgie was the initial motivator for coming along, Janet was then happy to continue going to the group even once the sessions with Georgie had finished. She was supported by her weekly carer and they continued to attend this class every week, connecting in with a social group. Furthermore, Janet and her carer now go for regular walks together as well as to the shops and they have developed a much stronger relationship over the last few weeks.