Executive
Ed Bracher became Dogs for Good's Chief Executive in November 2022.  Prior to his role at Dogs for Good, Ed was CEO at Riding for the Disabled Association (RDA) an organisation which also had a deep understanding of the human-animal bond, albeit in a very different way to here at Dogs for Good.  After 17 years at RDA, Ed brings a wealth of skills and experience which will help the charity grow and develop.
On joining Dogs for Good, Ed shared his passion for the charity and the positive impact dogs can make to people's lives: "I've known Dogs for Good for a few years and have always been so impressed with the work that the charity does and the impact that it has. Dogs for Good is a charity doing something very special and unique. It's a real privilege to be joining such a passionate and talented group of people; the commitment of the whole team – staff, volunteers and clients – really is the beating heart of Dogs for Good.  
"I'm truly excited to be able to build on the work the charity has been doing and to develop the opportunities to broaden the recognition of the power of dogs and steering the charity into a future where we and our dogs impact many more lives and do more good."
Helen McCain – Director of Training and Development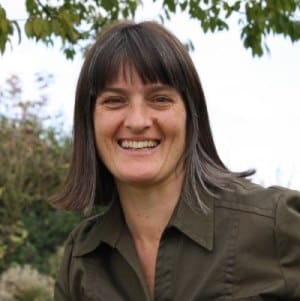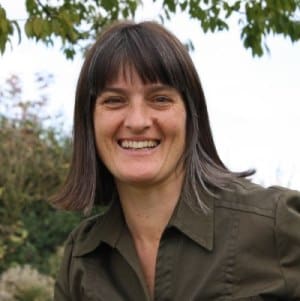 Helen McCain is Director of Training and Development at Dogs for Good. Over many years Helen has led the development of assistance dog services to help adults and children with a wide range of disabilities and also autistic children.  The charity was the first to bring assistance dog services for children to the UK in 2003 and Helen personally trained the charity's first autism assistance dog in 2007.
Helen has played an integral role in setting standards for Assistance Dogs International and is also an assessor of assistance dog organisations around the world ensuring a high level of standards in all accredited organisations.
Helen's belief that dogs are good for us has led the charity to continually explore new ways that dogs can help people.  The charity's Family Dog service gives specialist advice and support to help people get the most out of their relationship with their pet dog – the PAWS Family Dog workshops have helped over 700 families with a child with autism and PAWS workshops are now an international export with the service being offered by sister organisations in Australia, Netherlands, Belgium and Spain.
Helen was instrumental in developing Dogs for Good's Community Dog service, training therapy and activity dogs to work alongside specialist handlers in schools and communities.  Together they help adults and children to overcome specific challenges and develop life skills.
Helen is a huge fan of cocker spaniels and has two of them as her companion dogs.
Donna Cook – Director of Finance
Donna joined the charity in 2007, having previous charity experience at Royal Voluntary Service and The Royal Shakespeare Company.  Donna started her finance career in practice before moving into the leisure industry, ending up working for Grosvenor Casino, part of Rank Leisure.  Donna and her team work behind the scenes to ensure the smooth running of the charity.  Donna truly believes that bringing people and dogs together can make a significant difference.
Trustees 
Click here to meet our Trustees
Patrons
Patron: The Marquess of Hertford
Vice Patrons:
Brian Blessed
Peter Purves
Dr. Roger Mugford
Vice Presidents
Marie Carden
Rosemary King
Company Secretary
Peter Gorbing