Executive
Peter Gorbing – Chief Executive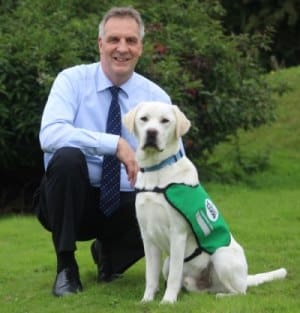 Peter has worked for Dogs for Good for over 20 years. Peter's belief in the therapeutic benefits that dogs can bring to people's lives has helped lead the charity to developing three core services – assistance dogs, family dogs and community dogs.
Peter is a board member and a past President of Assistance Dogs International (ADI), the body responsible for setting standards and accrediting the international assistance dog industry. He is passionate about sharing best practise and helping to improve understanding of the role assistance dogs play in people's lives.  He has played a significant role in campaigning for better access rights for assistance dogs in the UK and internationally.  Peter is also a Board member of Assistance Dogs Europe (President from 2001 – 2007) and Assistance Dogs (UK).
Peter is a founder director of Animal Assisted Intervention International (AAII), the international umbrella organisation for practitioners in the field of AAI. Dogs for Good is one of the UK's leading practitioners of AAI through its Community Dog programme, training activity and therapy dogs to work with dedicated handlers in a range of community settings.  Peter has given lectures and presentations on all aspects of the charity's work in the UK and abroad.
Peter has an BA(Hons) in Government, an MBA (Masters in Business Administration)  from Cranfield School of Management and  is  a Fellow of the Royal Society of Arts.
Watch Peter's recent 5×15 presentation about the life-changing power of dogs.
Helen McCain – Director of Training and Development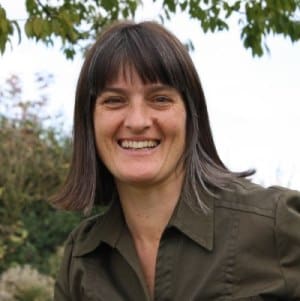 Helen McCain is Director of Training and Development at Dogs for Good. Over many years Helen has led the development of assistance dog services to help adults and children with a wide range of disabilities and also children with autism.  The charity was the first to bring assistance dog services for children to the UK in 2003 and Helen personally trained the charity's first autism assistance dog in 2007.
Helen has played an integral role in setting standards for Assistance Dogs International and is also an assessor of assistance dog organisations around the world ensuring a high level of standards in all accredited organisations.
Helen's belief that dogs are good for us has led the charity to continually explore new ways that dogs can help people.  The charity's Family Dog service gives specialist advice and support to help people get the most out of their relationship with their pet dog – the PAWS Family Dog workshops have helped over 700 families with a child with autism and PAWS workshops are now an international export with the service being offered by sister organisations in Australia, Netherlands, Belgium and Spain.
Helen was instrumental in developing Dogs for Good's Community Dog service, training therapy and activity dogs to work alongside specialist handlers in schools and communities.  Together they help adults and children to overcome specific challenges and develop life skills.
Helen has her own pet dog, a cocker spaniel named Willoughby.
Lucy Vincent – Director of Marketing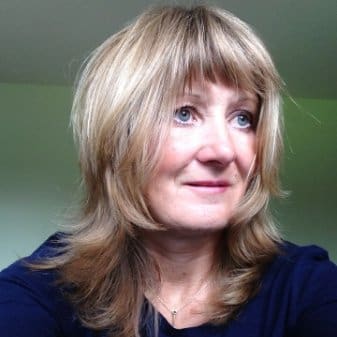 Lucy joined the charity in 2016 having held similar positions for the Wildfowl and Wetlands Trust, Natural England and Warwickshire County Council.  Lucy leads the team responsible for generating income for Dogs for Good and raising its profile – media, PR and website. She has 20 years experience as a director of marketing and has served as a trustee for several other charities. Lucy is passionate about making a difference to people with disabilities. Lucy would love to hear from people interested in helping Dogs for Good.
Donna Cook – Director of Finance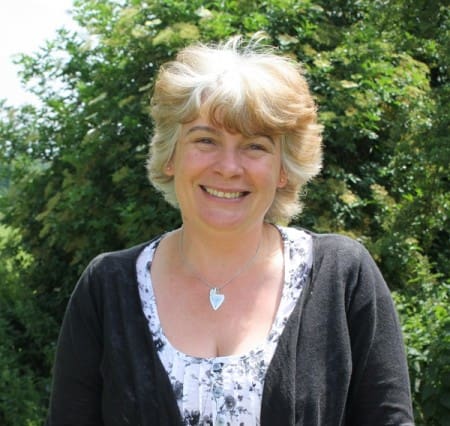 Donna joined the charity in 2007, having previous charity experience at Royal Voluntary Service and The Royal Shakespeare Company.  Donna started her finance career in practice before moving into the leisure industry, ending up working for Grosvenor Casino, part of Rank Leisure.  Donna and her team work behind the scenes to ensure the smooth running of the charity.  Donna truly believes that bringing people and dogs together can make a significant difference.
Our Trustees 
John Farrell (Chair)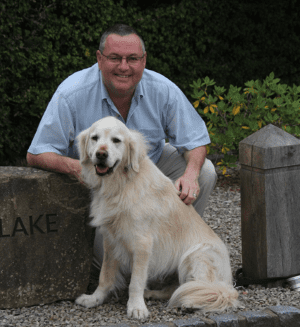 John joined the trustee board at Dogs  for Good in 2015 and became chair of trustees in April 2018.  John had previously been a director of Pets at Home joining the founder of the business in the early 1990s when it was only one store. He became a director in 1995 and helped to develop the business with Pets at Home becoming the biggest retailer in the UK pet sector with over 286 stores.
John's association with Dogs for Good commenced through a charity partnership with Pets at Home in the early 2000s. During his working life John saw how the presence of all animals, particularly dogs, in peoples lives brought huge benefits.  This was only heightened when he first became involved with the charity and saw how dogs made so many life changing differences to our clients.
As a trustee he is committed to utilising his skills and experience of his working life to help Dogs for Good – helping to see more people benefit from a specially trained dog.
John lives in Cheshire with his wife, Jo, and their golden retriever, Kane, who they re-homed from  Dogs for Good. John's main interests are travel, cars, food and wine as well as being an avid watcher of many sports.
John Starley – Following a successful career with many companies including ICI and Orchard House Foods, John set up as a freelance accountant.
Ross Tiffin – Ross has held top level posts within the pet industry, including being managing Director of Hill's Pet Nutrition. Ross now runs his own consultancy company working within the veterinary sector, has a significant role with International Cat Care and is a regular contributor to the vet press. Ross lives in Scotland and became a trustee in 2004.
John Rutter – John retired from the post of Chief Executive of the Blue Cross in 2008 and joined the Board of trustees soon after. The Blue Cross is one of the UK's largest animal welfare charities. Before joining the Blue Cross, John had a very successful career in industry.
Trish Thompson – Trish is a client of Dogs for Good. Trish is Group Leader for a charity called the Back-Up Trust and has many years of experience devising and delivering training within the voluntary sector. Trish is also a trustee of the Lake District Calvert Trust.
Ginette Bryant – Following a highly successful career in the animal pharmaceutical industry, primarily with Ceva, Ginette is now Business Director of International Cat Care. Ginette lives in Stratford-upon-Avon with her partner and two dogs.
Patrons
Patron: The Marquess of Hertford
Vice Patrons:
Brian Blessed
Peter Purves
Dr. Roger Mugford
Vice Presidents
Marie Carden
Rosemary King
Company Secretary
Peter Gorbing