Learning new tasks- Push from Dogs for Good on Vimeo.
When the dog comes into the training centre in Banbury, he is cared for by our Kennels and Welfare Team and works with one of our Trainers who:
Develop his obedience – ensures the dog is responding to commands accurately and consistently
Teach him to work confidently with the  various requirements that a client will have such as walking next to a wheelchair
Teach him to work confidently in a range of environments in which a client might live, work and visit
Teach him the task work he will carry out for his new owner e.g. retrieving dropped items.
Starts to tailor training to his potential owner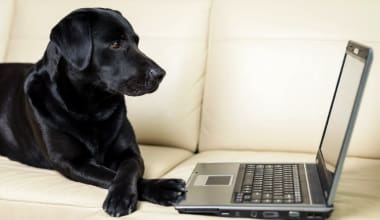 Receive our e-newsletter
Sign up for monthly updates about our puppies and dogs, training tips, and stories of our amazing partnerships between people and dogs
In early training the dog is assessed at key points to ensure he's progressing suitably to meet the standards required by Dogs For Good and Assistance Dogs International (ADI).
He will complete an end of early training assessment, usually at around 16 weeks after entering early training, before moving onto an Instructor who will complete any final training requirements and place our dog with his new owner.  During this time, our Instructors will spend time with the dog and his Trainer to observe the dog and to learn about his likes, dislikes, strengths and areas for development.
The matching process
The matching process is a crucial part of making sure the partnership between dog and person is a success.  At around 12 weeks into early training, our teams: Puppy Coordinators, who have known the dog for the first 18 months of his life; Trainers, who have known the dog during his early training; and our Instructors, who will have all the necessary information about people who are waiting for a dog to be placed with them, will meet to consider potential matches of people and dogs.
Once our teams have found a potential match, the Trainer will  then test the dog in any areas specific to the requirements of that applicant and will observe:
The dog's confidence in working in specific working environments i.e. the countryside, city centres, shopping centres
What public transport the dog is likely to be travelling on, where they like to sleep etc.
The Instructor then brings the dog to the applicant's home for them to meet. During this matching visit they also go on a walk to ensure the applicant is comfortable and happy with the dog. A mutual decision is then made to decide if the dog chosen is the right dog for the applicant and whether there are any important specific tasks that the dog should know before being placed with the applicant.
Click one of the links below to expand the content.
Throughout the early training phase the Kennel Assistants work with the dogs in kennels on a daily basis ensuring that their environment is maintained to a high standard. They ensure that the dogs are fed, watered and regularly toileted throughout the day. They are also health checked on a weekly basis and groomed a minimum of 3 times a week.
The Kennel Team also provide a variety of environmental enrichment to keep the dogs as stimulated as possible. Enrichment aims to improve the life of a dog by reducing stress levels. If a dog is relaxed and mentally stimulated in the kennel environment then it is more likely to be relaxed and less reactive when training. The list of activities includes:
Free running on their own or with other dogs in our field using a selection of wooden play equipment
Toy time with other dogs and toys
1-2-1 sessions using tellington touch
Chew time – nylobones and kongs
Grooming
Nina Ottosson wooden puzzles
Sound via the radio and the clix cd
Scent via aromatherapy – lavender and patchouli and eucalyptus
The dogs receive a pre-training vet check when they arrive in for training to sign them off and state that they are fit and healthy. They then receive a vet check 2 weeks before the training course with their new owner, and again during the training course to give the owner a positive experience of a vet, and a chance to talk about any concerns they may have.