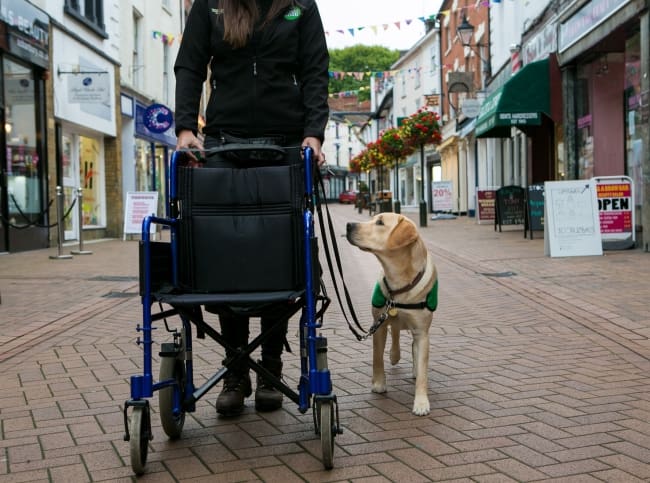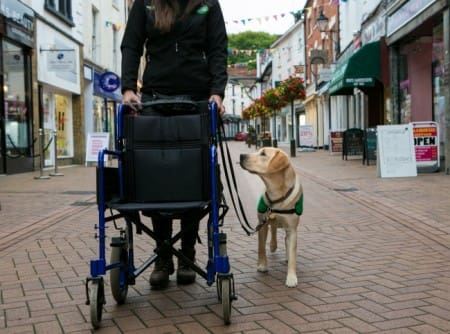 Advanced training for assistance dogs
During their early training each of our dogs work with one of our Trainers, then once our dogs have passed their end of early training assessment they move on to advanced training with their Instructors.
Our Instructors work with the Trainers to get to know our dogs and create a bond with them ahead of starting their advanced training. This phase of training lasts for up to 8 weeks and focuses on the needs of the new owners.
You can support our work by buying a dog in training jacket for one of our trainees.
Supporting people with physical disabilities
For dogs that are being partnered with an adult or child with physical disabilities, our Instructors will:
Introduce any specific mobility aids that the owner will have that were not introduced during early training
Further develop the specific task work the dog will carry out for their owner e.g. helping to undress, retrieving named items, alerting should their owner require assistance, assisting with getting out of a chair etc.
Training dogs to support autistic children
Learning new tasks- head rest from Dogs for Good on Vimeo.
For dogs that are going to support an autistic child, our Instructors will:
Develop the dog's skills in a variety of environments to positively distract a child who is displaying a behaviour that a parent would like to interrupt
Develop the dog's confidence to aid an autistic child to focus in environments that they may find difficult to cope with.
Placing the dog with his new owner
Carefully matching our dogs to their new owners is a crucial part of making sure the partnership is a success.
When our dogs have completed all the advanced training needed, our Instructors then place them with their new owners. They will:
Introduce the dog to his new owner and home environment
Facilitate the building of a bond between the new owner and dog
Supervise the new owner handling the dog and introduce them as a team to their local environment
Work with the new owner to build their knowledge about dogs and their dog, in particular.
The Instructor will work with each dog's new owner for up to 8 weeks, until they meet the standard for working together as a partnership or a team. At that point, the partnership will be assessed and will then 'qualify' as an assistance dog partnership or team.
Vet checks
Our dogs receive a check 2 weeks before the training course with their new owner, and again during the training course. This gives the owner a positive experience of a vet, and a chance to talk about any concerns they may have.
Ongoing support
Our involvement with our assistance dog partnerships and teams does not end at qualification. Each partnership or team receives regular after-care visits to ensure that they are happy, healthy and working well together.
Our Instructors also work closely with our clients to identify their goals and aspirations and help them work towards them.