Please note: Covid-19 brought challenges for our school programmes and we are no longer placing dogs and handlers in schools. Find out why and where you can get further help below.
What is the Community Dogs in Schools programme?
Since 2014 we have worked with three Special Educational Needs Schools, to explore the benefits that children gain from having trained dogs with professional handlers in school.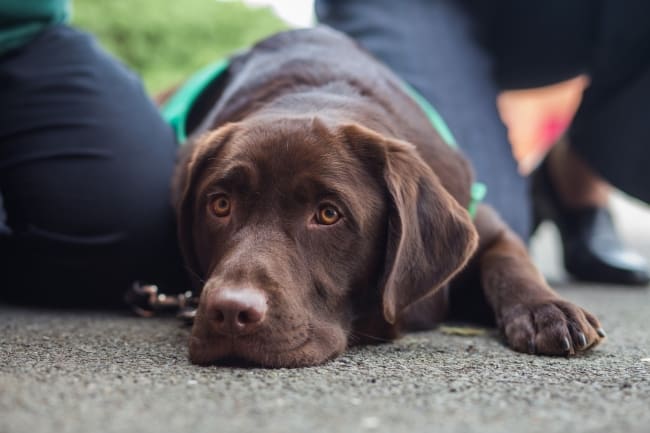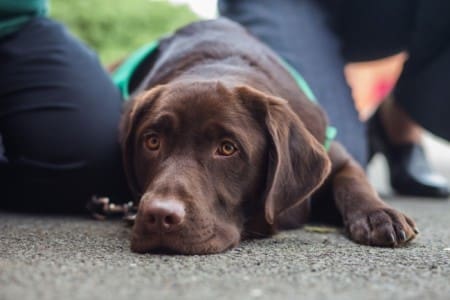 Here, a trained school dog and specialist handler worked in partnership with the educational staff and therapists in the school to benefit the pupils. Together, they helped progress the educational, social, emotional and physical development of individual students and groups, both in and out of the classroom.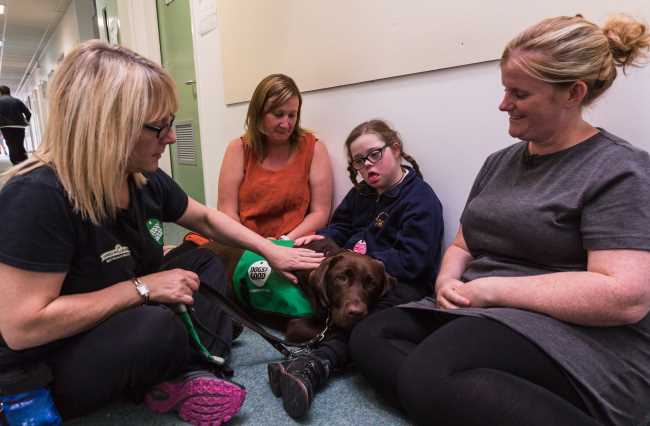 Get your free guide
For schools considering introducing a dog into their school environment, get all the facts and find out where to get more help and support.
Our schools programme made a huge difference to students. Some of the benefits included:
A greater enjoyment of being in the school environment, improved attendance and a greater willingness to learn and participate.
Improved behaviour, social interaction and sense of responsibility in the classroom.
More effective therapy sessions. For example, we have seen students reaching their physiotherapy goals in a shorter space of time. Pupils also achieved more complex goals when the school dog joins their sessions.
Increased knowledge of dogs and how to behave safely and appropriately around them.
Greater access to the community. For example, the presence of the dog can give them the confidence to go out on short trips outside their school.
A better understanding of how to take responsibility for another living being. This, potentially, gives them better recognition of their own responsibilities.
A range of individual benefits, with personal goals which range from literacy and road safety to fear of immunisations and personal hygiene. The British Journal of School Nursing published an article about the vaccination success at Round Oak when students received support from their school dog.
Improvements in the way students interact with each other and with members of staff. The exciting part of this is that these effects extend into the home environment for some students.
The presence of the dog in the classroom, around the school and in the staff room has a beneficial effect on students and staff.
Members of the school have a 'shared interest'. This encourages everyone to communicate, which has a positive impact on communication and relationships around the school.
We have very much enjoyed seeing them make a positive contribution to the working environment of the schools we have worked with.
You can watch community dogs in schools in action in the video below.
How were dogs chosen to be a school dog?
Our school dogs were carefully selected and prepared for their role working in a special educational needs school. The schools worked closely with us to develop extensive risk management programmes, ensuring the dog working in the school was a positive and safe experience for all involved. Our model of having a dedicated specialist handler for the school dog meant they were able to develop a strong trusting relationship, and the handler's priority was making sure the dog was happy and relaxed in the school environment. Here, the handler was able to advocate for the dog and safeguard the welfare and wellbeing of the dog, which is at the heart of a successful programme.
Can I get a dog for my school?
Covid-19 brought challenges for our school programmes and we are no longer placing dogs and handlers in schools. We are taking the opportunity to review our work in this area and see how we might develop it further over time.
We continue to work with children on referral through our Community Dog partners, eg local authorities, healthcare providers and specialist charities. You can read more about our work in this field here.