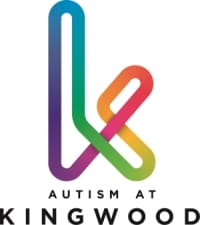 Dogs for Good joined with Kingwood, a charity supporting adults with autism to lead independent lives, to explore the benefits dogs can bring to improve the lives of adults with autism.
The concept was born from Dogs for Good's pioneering work in training assistance dogs to meet the needs of children with autism and their family.
By working together and sharing knowledge and expertise, the two charities identified an innovative way, using Animal Assisted Intervention (AAI) techniques, to help adults with autism to overcome specific challenges and develop life skills.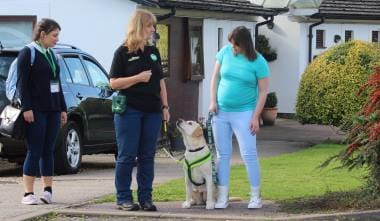 How dogs are helping adults with autism to learn road safety
Community Dog Handler Sarah explains how she worked with Millie to learn basic road safety.
The two organisations work closely together through their respective operational teams. Kingwood's support team refers clients for the service, thus providing input from the people who know each individual best. Clear goals are defined for each client. Dogs for Good's specialist handler works with the support team to design a personalised and engaging programme of activity with the dog to help meet those goals.
Sessions take place weekly, involving the client, dog, handler and support worker.  We work with clients on a wide range of goals, including self-care, road safety, anxiety reduction, confidence to go out, and fear of dogs.
The support team helps sustain new learning/skills development between sessions. We review progress regularly and evaluate outcomes for clients. We are excited by the results and are keen to expand this service and partner with other organisations supporting adults with autism.