Literacy is defined as the four strands of language – reading, writing, speaking and listening. Dogs for Good's school dogs help children tackle all of them. Patience, is a yellow Labrador working at special educational needs school Stocklake Park School, where she regularly visits classrooms as part of her school day and teachers can often be heard to say: "If you listen quietly, then Patience will notice and will probably come around and see you".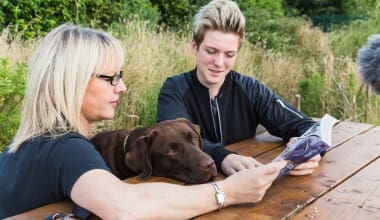 Teachers say that the classroom feels calmer when Patience makes a visit and the students really seem to work that bit harder as they understand this will help make Patience happy.
School dogs can also help with speaking and Patience has been included in some of the student's speech and language sessions. When students are working with the dog and they want the dog to respond to them, they have to use clear speech as well as control their intonation, volume, stress, rhythm.
One Stocklake Park School student was encouraged to read louder by reading to Patience as he would often speak quietly when talking in public or when he was reading: "We sat on the floor and were looking at Patience's ears and eyebrows moving when she hears his 'beautiful voice'. Sometimes we'd say, I don't think she heard that, say it a bit louder, let's see what her ears do". He then used a bit louder voice and saw her ears and eyebrows moving and was really excited about that and then he carried on using a louder voice.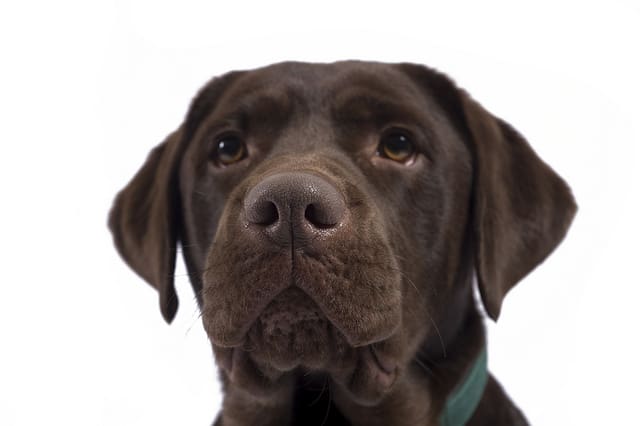 Keep updated about our work
Sign up to our monthly e-newsletter for the latest on School Dog and our other life-changing services.
Dogs like Patience work alongside a special school dog handler, who works closely with teachers and health professionals in the school to give support to students. For some students, a head rest from the school dog into their lap can help the student to feel more focussed and encourages them to keep
writing
.
Patience has been the lucky recipient of many postcards and letters from students who often choose to write to either the dog or the school dog handler.
One student at Round Oak School had difficulty with literacy due to dyslexia and had become increasingly conscious that he couldn't read very well but desperately wanted to improve. He loved animals, and so we spent some time working with him and the school dog, Bertie, a chocolate Labrador based at the school.
In a quiet space, the teenager was happy to read books to the school dog and not feel judged or embarrassed.  As he read, the dog lay by his side and listened, with each session the student's confidence grew and his reading skills improved.  Back in class, Bertie continue to support the student who could calmly stroke the dog if he started to feel anxious.
 With practice, the student became confident enough to read out loud in class and correct his own mistakes. He now says that literacy is one of his favourite lessons, "I love literacy now, Bertie has really helped me".
Literacy is such a key life skill, helping us to learn, develop our social skills, understand the world around us and of course is vital skill for any employer. Working alongside a school dog can be a great tactic in helping students struggling with literacy to boost their confidence and enjoy practising their skills.