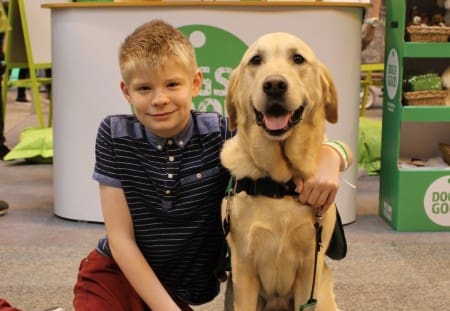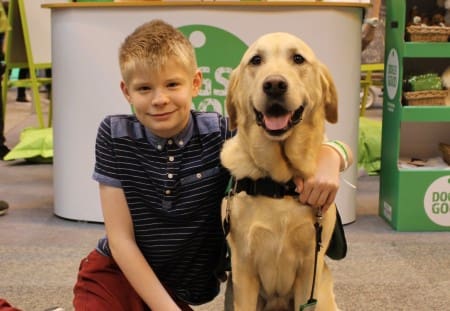 An autism assistance dog trained by Dogs for Good has hit the headlines this week after a bid to be recognised as the Crufts 'Friend for Life', an award that looks to find the nation's top hero dog.
Joel, who has autism, captured the hearts of millions when he described his assistance dog Caddie as a 'guardian angel' who had helped Joel cope with the outside world. Joel's mum, Janet explained: "Until Joel had Caddie he didn't want to go outside, he rarely even used to smile; everything about the world around him frightened him and meant that he only felt safe when he was at home."
Caddie was trained by Dogs for Good, a charity making life-changing differences to people with disabilities. The charity's assistance dogs support adults and children with a range of disabilities and autistic children. Dogs for Good also trains activity and therapy dogs to work with specialist handlers in communities and schools, helping adults with autism and people with learning disabilities amongst others. Its Family Dog team gives specialist training advice and support to help families of a child with autism to leverage support from their pet dog,. .
Peter Gorbing, chief executive of Dogs for Good explained: "Joel and Caddie are such a good example of the many people Dogs for Good works to support. We regularly see that by developing a special bond with a trained dog they are able to overcome challenges, build confidence and consider new opportunities such as starting a new job or going to college and playing a more active role in their community. We hope that more people now understand the special relationship that can develop between a dog and people with autism. There are so many more people we could help but we are reliant on donations in order to help them."
The charity say that anyone who has been inspired by Joel's story can donate to #JoelsAppeal at https://www.justgiving.com/campaigns/charity/dogsforgood/joels-appeal and help support the training of more dogs in the future.