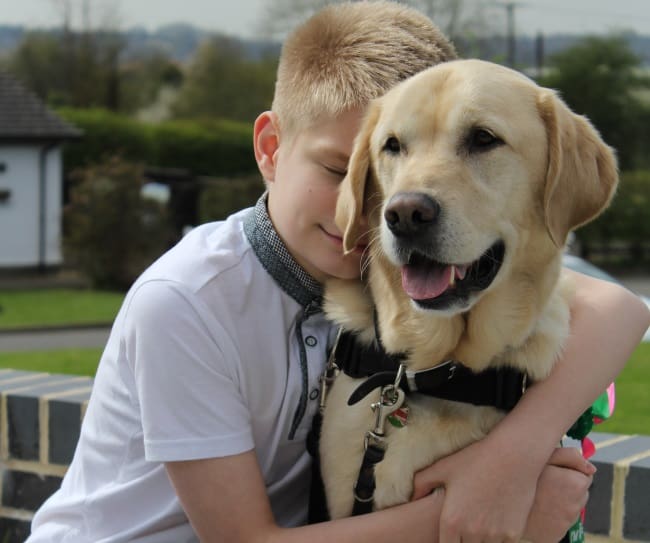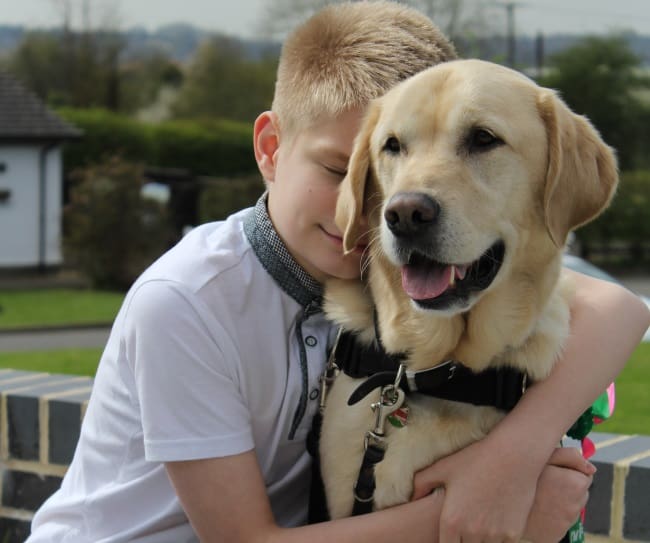 "This world we live in I find hard, I find everything hard, but Caddie keeps me calm and keeps me safe" says Joel, who was diagnosed with autism aged 7.
Life before autism assistance dog Caddie arrived was very different to how it is now for Joel and his family. Getting Joel out of the house had become next to impossible and increasingly dangerous. He refused to hold Mum Janet's hand and would 'bolt' – run off – and hide. One day he skipped blindly out into the road and was almost run down by a car.
Mum Janet says, "The first day we met Caddie it was just amazing. Joel agreed to go outside into the garden – something he'd refused to do for months – and played with Caddie with a ball. My husband Kevin broke down in tears when he saw it; we both knew Caddie was going to transform our lives."
Life transforming
"It's overwhelming the difference Caddie has made; the focus has shifted away from Joel and laughter has returned to the family. Kevin and I are so much more relaxed now. Caddie has opened up the world to us and to Joel. Attached to Caddie's special harness, Joel can't run off, so I know he's safe. Caddie is Joel's constant friend, always by his side. He rests his head on Joel if he feels anxious, or even lies on him, which Joel finds deeply reassuring."
This year Joel has happily gone into a café and even ordered a drink for the first time.  Another recent breakthrough was at the dentist. With Caddie's reassuring presence, for the first time ever Joel opened his mouth and allowed the dentist to touch his teeth.
"It's wonderful that four years after he arrived Joel is still discovering new ways Caddie can help and support him," says Janet, "and we're all excited to see Joel's next new achievement with Caddie by his side."
BBC Lifeline Appeal
Joel and Caddie will appear on BBC Lifeline Appeal on Sunday 13th May at 2.15 pm.