Dennis decided to do something different to celebrate his 70th birthday – a skydive for Dogs for Good.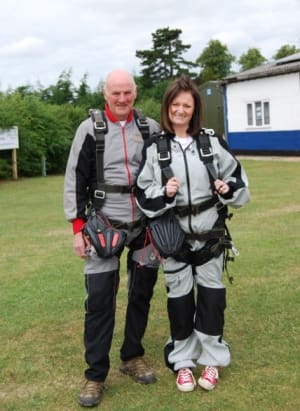 "I decided to skydive for my 70th birthday. I had previously done a parachute jump on my 40th and this time I persuaded my daughter, Emma, to join me.
The organisation at the airfield was first class. You meet your partner and he helps you to get ready – safety is paramount. For me it was quite relaxing walking out to the plane.
The experience of the free fall is exhilarating and the view is spectacular. What struck me was how quiet it was.
I had only recently become involved with Dogs for Good because my wife and I had decided to socialise a puppy. We have both been very impressed with the work the charity does and the friendships we have made. The staff are all so friendly and helpful and of course the dogs are incredible.
Emma and I together raised £1,398 – much better than birthday presents!"