"The Family Dog workshops gave us the confidence to get a dog and the difference she's made is incredible."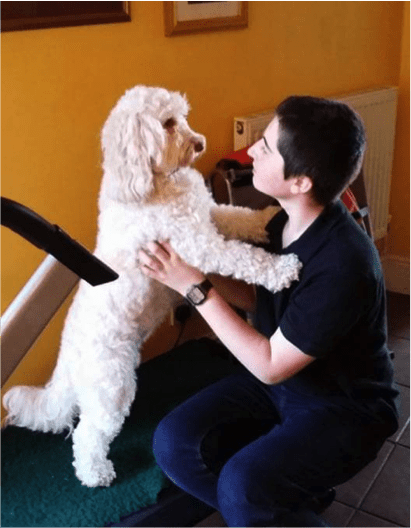 Paula (61) lives with her husband and her 18-year old grandson, Josh, who has autism with high anxiety.
While Josh is high-functioning, his first clinical psychology test revealed that his processing ability was at the bottom of the graph. "That test revealed so much and while it was a huge blow, we were finally able to start explaining to people that while Josh was really bright, it takes him longer to absorb and process the information he's given," explains Paula.
Prior to having his psychological test, Josh found school stressful, so the decision was made for him to start attending an SEN school. "Josh became much happier at school," says Paula.  "He still had meltdowns but they weren't as frequent and the intensity reduced."
However, because Josh can't talk about how he's feeling he had no friends. "He was so lonely and we felt that he needed something in his life that wouldn't judge or challenge him." The family had considered getting a dog and Paula had overheard someone talking about Dogs for Good's Family Dog service but Josh's aggression at the time worried Paula and they felt it best to shelve the idea.
Along came Lucy
As Josh got older and his meltdowns decreased, Paula felt more confident about getting a dog."I started talking to friends who had dogs and visiting them with Josh. He was absolutely lovely with them, said that he'd really like to get a dog so we decided to go ahead," recalls Paula. She'd also not forgotten about the Family Dog service and started looking into it more.
The family decided to get a Cockapoo, found a local breeder and went to visit a litter of pups. "Josh's eyes lit up," says Paula. "There was one that came and sat on his lap. Josh said 'I'd like this dog' and that was it!"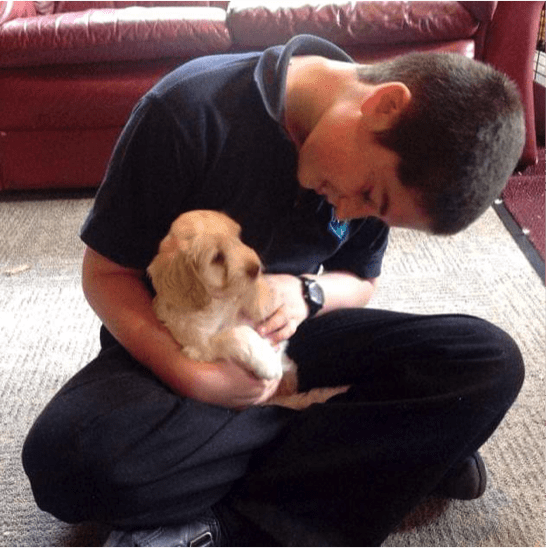 Paula and Josh agreed that in order to fund the cost of the dog – which Josh had named Lucy – he would do some fundraising and raised £500; enough to cover the cost of his Lucy. "Such was his love for her that he was prepared to push himself to extraordinary lengths to make it happen. Having her in his life was enormously important to him," explains Paula.
Family Dog workshops
Once Lucy had joined the family, Paula booked herself on a Family Dog Service series of workshops that were being run locally to her.
"After the first workshop I went home feeling uplifted and excited," remembers Paula. She then attended workshops two and three which she found equally rewarding. "They were fascinating and also really useful to help us manage all of our expectations for Lucy.
"It was absolutely the best thing I could do for both Lucy and Josh and the support you get after the workshops take it beyond just being a service; you are welcomed into a very supportive community."
Six years later and Paula's never looked back. "Josh and Lucy grew up – and grew naughty – together," she laughs.
Paula says that the most important thing about Lucy is that Josh has that non-judgemental friend. "He talks to Lucy about anything and she just sits there with him, listening and loving him. It's so powerful."
With Lucy's help, the severity of Josh's meltdowns has decreased further still, as has the aftermath.
It's clear that one little dog has made an enormous impact on Josh. "Lucy is amazing and the difference she's made is incredible," says Paula. "I can't imagine what lockdown would have been like without her to keep us all amused, entertained and loved. I'd encourage anyone who's thinking of getting a dog to help a child with autism to attend the Family Dog workshops – there's everything to gain and nothing to lose."
---
Our Family Dog team gives advice and support to help families with an autistic child to get the most out of their relationship with their pet dog. Find out more about the service and find workshops near you here.