"Ronnie is all kinds of amazing. He and Charlie are inseparable, life looks different and I'm looking forward to seeing them grow up together.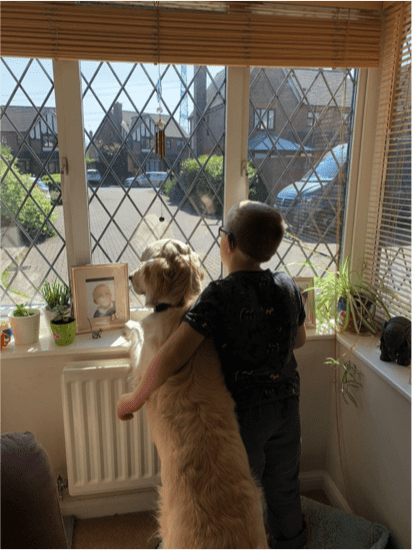 For lots of parents of children with disabilities, a clinical diagnosis is hugely important to ensure they're able to access the help that their child needs. But imagine if your child's condition wasn't diagnosable?
Imagine if the answer you receive when you ask if your son is going to die is… 'we don't think so.'?
Leanne, 45, is mum to Charlie (11) who has an undiagnosed genetic condition.  His disabilities include vision and hearing impairments, low muscle tone, global development delay and autistic traits.
Charlie was born four weeks prematurely and had difficulties from the start, but despite numerous tests nothing was conclusive. "We had to get used to knock backs and disappointments in terms of accessing help – it's so hard when you fall between the cracks," explains Leanne.
Charlie attends a SEN school, where they focus on what the children can do and Charlie has made huge progress. "He's made real friends and slowly, he started to talk," says Leanne.
Applying for an assistance dog
Leanne had been considering a pet dog as a friend for Charlie, but when a social worker mentioned that perhaps they could get an assistance dog, she decided to do some research and came across Dogs for Good.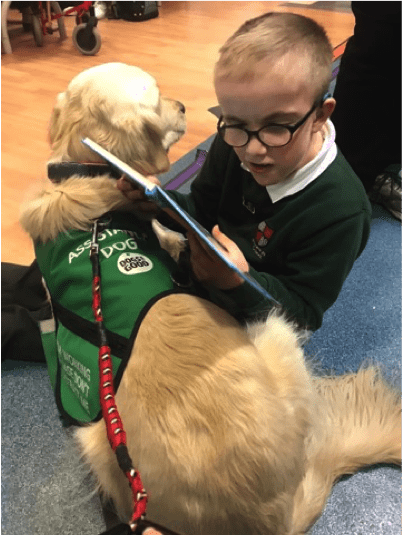 "Finding out about Dogs for Good gave me so much hope," explains Leanne. The family's application was successful and Dogs for Good started to search for the right dog for Charlie. "I can't tell you what that meant to me – it was an incredible feeling to be accepted."
One day, Leanne got a very special call. "Our instructor Katie said they thought they had a match for Charlie."
Katie brought over a gorgeous golden retriever called Ronnie. "Charlie was smitten," recalls Leanne. "He sat with Ronnie, playing with his fur and after a little while we went out to a big shopping centre – something that had always been a problem in the past because Charlie would keep running off." Charlie was totally focused on Ronnie. "He kept checking in with him, saying 'are you OK, Ronnie?'"
Shortly afterwards, Leanne got another call from Katie to ask if they'd like to welcome Ronnie into their family. "Obviously, the answer was yes!" she laughs.
Bonding with Ronnie
With the help of Dogs for Good Instructor, Katie, Ronnie fitted into his new family happily and within a short space of time, the all-important bond between Charlie and Ronnie started to develop and everything began to change.
Leanne says that two big things have happened. "Firstly, Ronnie has given us freedom," she says. "We can go out and do things now because I'm confident that Charlie won't run off. He's utterly focused on Ronnie, making sure he's OK.
"It's not just my confidence that's grown; Charlie's has too. Ronnie has made him a bit more independent which means that I can have a bit more freedom. I can cook dinner knowing that Charlie is safe and happy with Ronnie and the two of them are sitting together or playing out in the garden."
In addition, Ronnie's training means that he can help Charlie retrieve dropped items and help him on and off with his clothes; "especially the socks which they both love!" laughs Leanne. Ronnie can also give deep pressure head rests which help to keep Charlie calm, help select the bedtime story book and lie across Charlie while the book is read.
"Ronnie is also helping Charlie with his therapies," says Leanne. "Simply throwing a ball for Ronnie encourages Charlie with his co-ordination and gross motor skills."
Leanne says that Ronnie is a 'bit of a monkey' and regularly has the family laughing. "He's playful and vocal, he likes to tug and he likes to win. He loves free runs, toys, sunbathing and bread!"
During the Covid-19 pandemic, Charlie had to shield and Leanne says that Ronnie was an absolute godsend. "He helped us all through lockdown but especially Charlie. Ronnie was his special, hairy, devoted friend through all the uncertainty. He frequently tells me to 'Hurry up! My puppy needs a run!'" she laughs.
"After so many disappointments, I couldn't imagine being this fortunate," says Leanne. "Ronnie and Charlie are inseparable, life looks different and I'm looking forward to seeing them grow up together."
---
Our assistance dogs support children with a range of disabilities, giving them more independence, confidence and a best friend. Find out more here.