The amazing team here at Dogs for Good makes our life-changing work possible. We'll be introducing you to some of them over the coming weeks:
Name: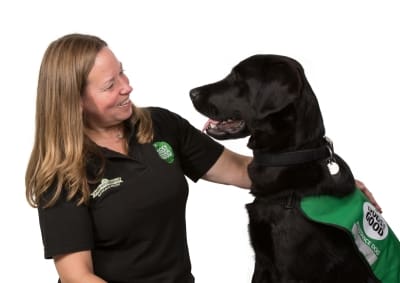 Sarah
What's your role at Dogs for Good?
Office Manager
What does that involve?
Basically, anything that isn't related to dog training, fundraising or finance comes under my remit.  I'm responsible for the maintenance of the site, the ordering and maintenance of the vehicles, HR administration, IT and telephones, health & safety and much more!
What's the best thing about your job?
Working in an environment where there are always lots of dogs around.
What did you do before this role?
I was the Office Manager for the firm of architects who designed our Banbury headquarters, although I didn't work there when they were designing the building.
Do you have your own dog?
Not at the moment due to working full time, but I like to temporary board the dogs from the charity (especially the Spaniels!).  I grew up with Springer Spaniels so know how mad they can be, but they are full of personality.
What's your favourite dog walk?
There are lots of great dog walks near where I live, so I'm very lucky to have a choice.  We have a circular walk around the fields opposite our house, which is a great favourite as the route is on a hard surface so doesn't get too muddy, and there are always lots of other dog owners to chat with.
Do you have any hobbies?
I love travelling, reading, drinking red wine and occasionally tread the boards for our local Am Dram group.  During the season, I go beating and I also enjoy clay pigeon shooting.
What's your proudest achievement?
Passing my cycling proficiency test…..!