The amazing team here at Dogs for Good makes our life-changing work possible. We'll be introducing you to some of them over the coming weeks:
Your name: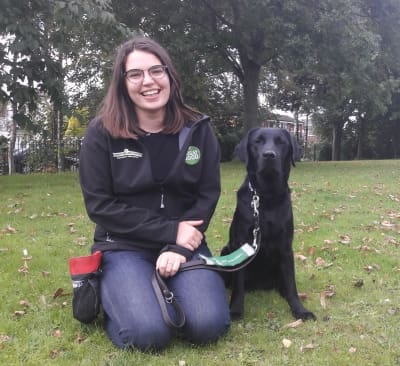 Ella
What's your role at Dogs for Good? 
Instructor at the Culcheth centre
What does that involve?
Once dogs have had their training in Banbury, myself and Gayle (the other Northern Instructor) work with the trainers to identify the person that will be the best match for each dog, based on the personalities and needs of both the dog and the person.
If there is any further training the dog needs due to meet the specific needs of the person they are matched with, this is done at this stage.
Following matching we take the dog to the client and over a series of weeks teach them how to work together and develop their relationship, working towards a qualification visit.
We cover things such as task work, public access, free runs, and any other environments the client would like to visit with their dog. Following qualification, when they become an official working partnership or team, we visit them regularly and act as a point of contact if they have any issues or wish to develop the dog's training further.
What's the best thing about your job? 
Seeing the positive impact our dogs can have on our client's lives, plus the daily dog contact!
What did you do before this role? 
I studied Zoology at university, volunteered at Hearing Dogs for Deaf People and worked at the RSPCA, so I had a real variety of experience before I started at Dogs for Good.
Do you have your own dog? 
I do! She is a 16 year old, Heinz 57 rescue dog called Zip. I've had her for about 13 years, but you'd never know she is so old! She has huge ears, likes to watch Attenborough documentaries and loves to swim.
What's your favourite dog walk?
There is a big hill near where I used to live called Scout Rocks – I would often disappear up there with Zip for hours at a time. Either there, or anywhere in the Yorkshire Dales.
Do you have any hobbies?
I do a lot of geocaching, but I'm a fan of anything outdoorsy really!
What's your proudest achievement?
I think this would have to be getting this job. I love what I do!