Our Community Dogs work alongside specially trained handlers in communities and schools helping children and adults to overcome specific challenges and develop life-skills.  Patience, a yellow Labrador is one of two dogs working in special educational needs schools helping students get even more out of their time at school.  Here her handler Nikki looks back on their first year at the school and what they've achieved.
So what does a School Dog do? 
Patience and Nikki are well known at Stocklake Park School, in fact they're  just as much part of the family as the teachers, therapists, support staff at the school.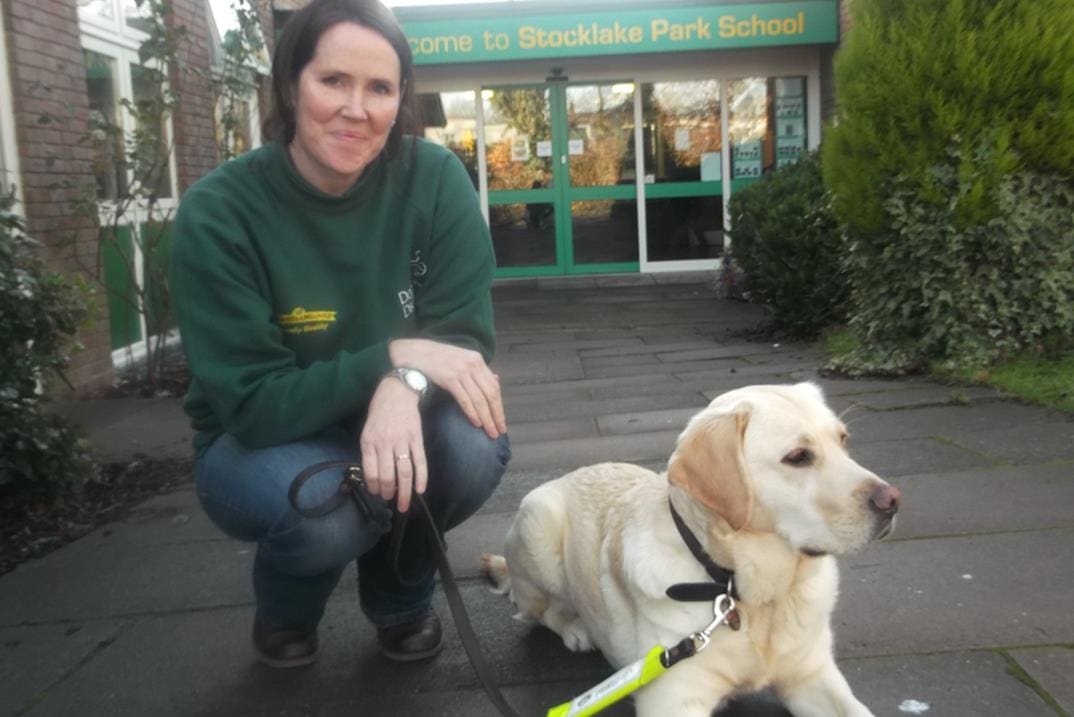 Ask anyone at Stocklake Park School about Patience and they'll let  you know the special place she holds in the hearts of many of the students. There's a great sense that she really does belong to the whole school: 'she's 'our dog'; She's our school dog'.  Patience goes into school every day, supported by her handler Nikki who is skilled in training assistance dogs and helping people with sensory loss.  Skills that helped her really understand the needs of Patience and students alike.
'I remember the first term that we started, a lot of what Patience and I were doing was really getting to know the students and see how we could help them with their learning and support their development, not just academically but their social, physical and emotional development too.'
Becoming part of the school's community 
Patience has fitted in beautifully at the school.  The students (and staff) really seem to benefit from the fact that Patience is with them most days.  Her friendly, calm and gentle personality means she is ideally suited to her role as a school dog. She puts the students at ease but they also enjoy the fun and active side to her nature, an element we regularly enjoy during the sessions.
As time has gone on, Patience and Nikki have started to work more closely with staff and students.  Says Nikki: "Patience and I work as a team and there's a great deal of flexibility in our approaches.  Sometimes working with small groups and classes  –  perhaps  Patience can have a great calming influence on the students. We worked with one student during her transition to the post 16 site – a huge step for any teenager.  Patience helped with her anxieties and confidence and her parents feel she has benefitted enormously from the school dogs involvement. It has been fantastic to see her confidence build in a new environment – a huge achievement for her and us!"
Nikki has been delighted to see the progress made by other students – a student who had the confidence to read in an assembly, another student who grew in confidence after he was given the opportunity to help with Patience's care.  More recently, Nikki has worked with the school's therapists to explore how Patience might help students reach specific goals in their therapy sessions.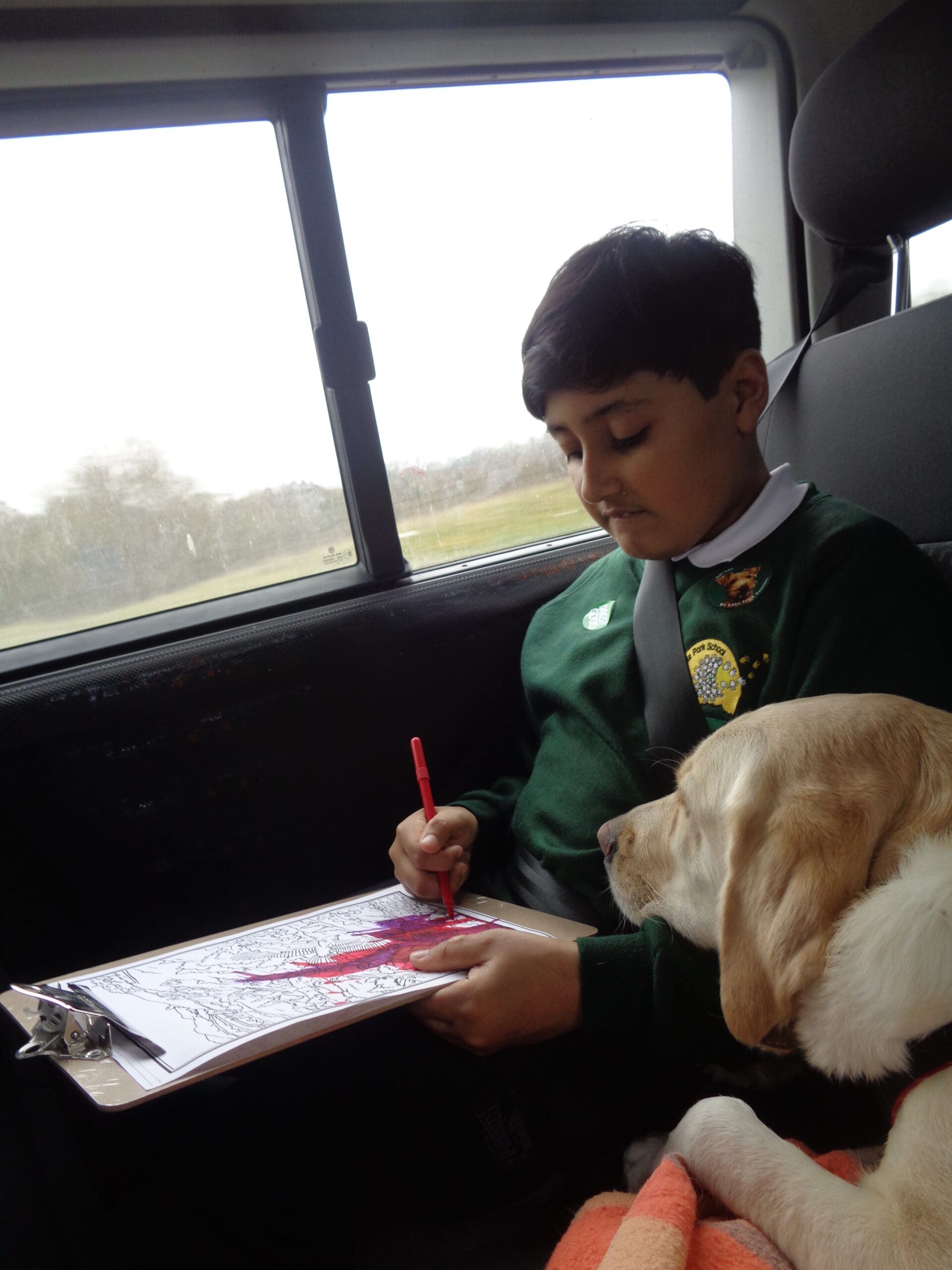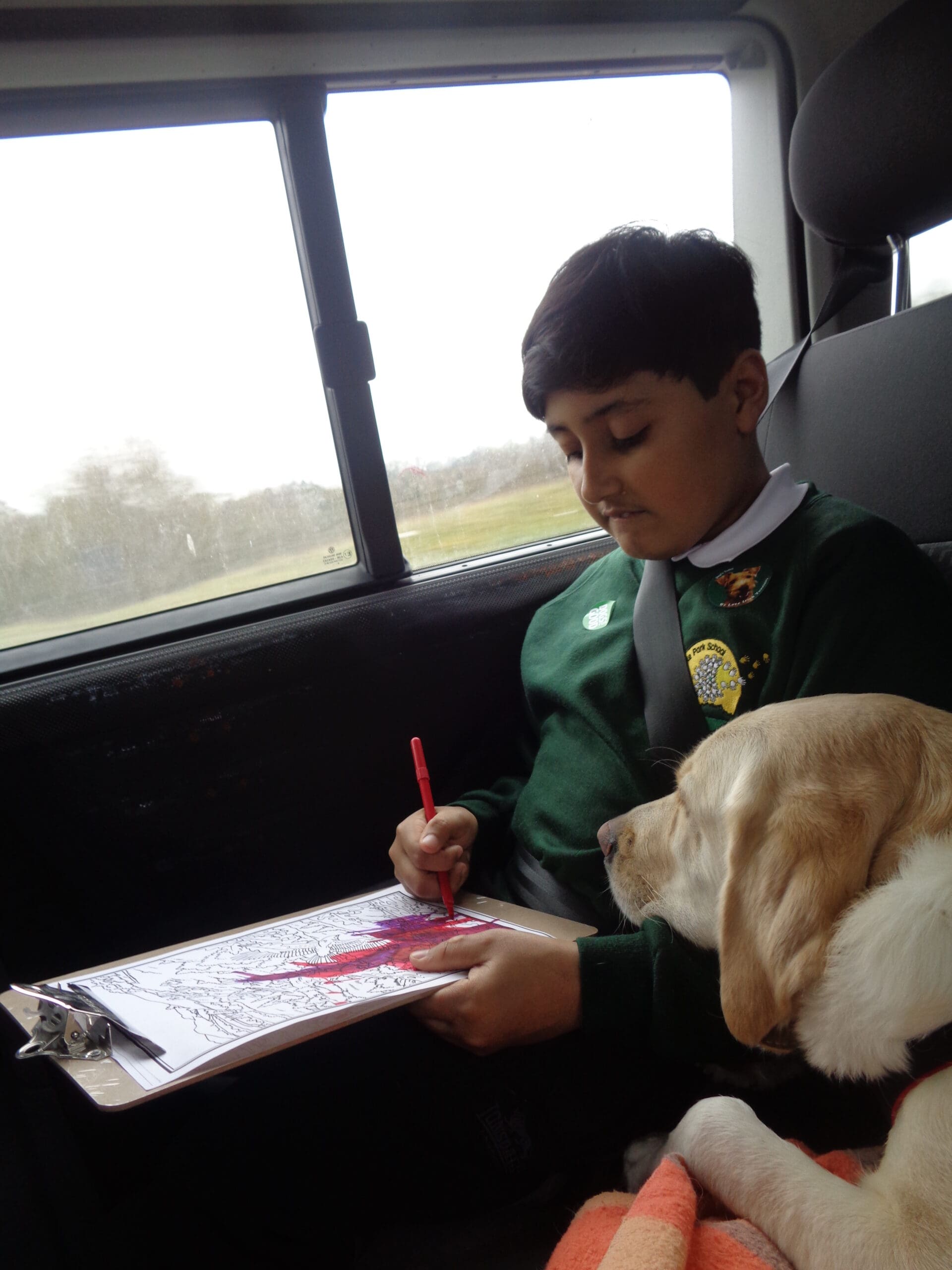 One physiotherapist commented: 'Z is doing brilliantly with Patience, he thoroughly enjoys the sessions and achieves much more than he would if it was a one to one session with  the physiotherapist. His focus is on Patience, not on himself and his own insecurity and instability.'
While an assistant Occupational Therapist also had this to say about the impact of Patience: "Having the opportunity to work with the school dog, Patience and her handler Nikki has given us an added dimension to the work we can do with some of the children at Stocklake. In particular we can explore caring for others and life skills.
More than words …
Perhaps what Nikki finds most exciting though are the interactions that Patience decides to make herself, so while Patience has learnt many new skills in her time at the school, often it's the interactions where Patience decides to sit with a student, to offer a paw or respond to them herself that are the most special.
Students at Stocklake Park School have a wide range of communication methods, but eye contact, a smile or throwing a ball for her lets the teaching staff know how the students feel about Patience. Similarly, a student saying "Patience makes me happy" has made everyone smile.