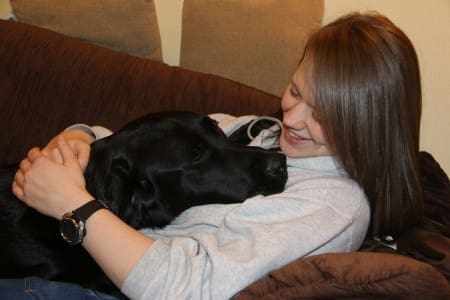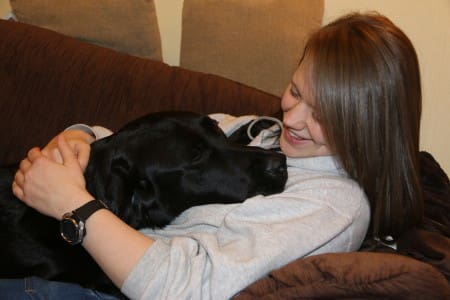 Today, we wanted to share a story about a unique assistance dog partnership.
Chase is a young woman with Asperger's syndrome who has spent a good deal of time working with dogs, including puppy socialising for another assistance dog organisation. Consequently, we felt that we could learn from her unique situation by partnering her with an assistance dog.
Chase was partnered with black Labrador Rio in 2014. Together, they have formed a fantastic bond. Here, in her own words, Chase shares her recent experience of going to Crufts.
"I have been to Crufts twice before. It's a place I'm not very familiar with. There's a long journey, and a lot of noise and sensory input that I don't cope with. There are crowds. There are strangers. Crufts is a very disorienting, intense situation for me to be in.

I have needed someone with me for as long as I can remember. With VERY few exceptions, I'm completely reliant on someone else to take care of me. They make sure I don't get lost. They help me leave if it's getting too much, and help me process the input so I can cope with it. They stay with me so that I'm safe, no matter how distressing (or simply overwhelming) a situation might be.

This year, I met up with friends when I arrived. I had a good time. As always, there was a lot to see. The thing is, something happened that has never happened before. When my friends had done what they wanted to, they said they were ready to head home and…. well… I stayed. I stayed for two hours on my own. Two whole hours where I wasn't worrying if there was someone to keep me safe or to get me where I needed to be. Two hours of just hanging out with my buddy. I didn't even think twice about it; they said they were going, and I wanted to stay. And I could stay, because Rio was by my side.

Having an assistance dog doesn't mean day-to-day life is easy. I still have a lot of challenges. But Rio makes things possible.  Rio gives me hope that I'll do more, and the only reason I can even think about doing more, is because I know he'll be next to me when I try."
As Dogs for Good's services grow and the children we work with grow older, it will be essential for us to understand more about the benefits dogs can bring to adults with autism.  While Rio will remain our only adult autism assistance dog for now, the lessons we learn from this partnership will be invaluable.
Please help us make a difference
Please help us to make a difference and continue to innovate new services. We receive no government funding so any and all donations will make a huge difference:
Text Donate:

t

ext DOGS04 plus the amount you wish to give to 70070. For example: DOGS04 £5. Please remember to ask the bill payer's permission.
Or make an online donation.
We know dogs have the power to change lives, which is why we're constantly exploring new ways to help people. Visit the how we help area of the website to find out more.