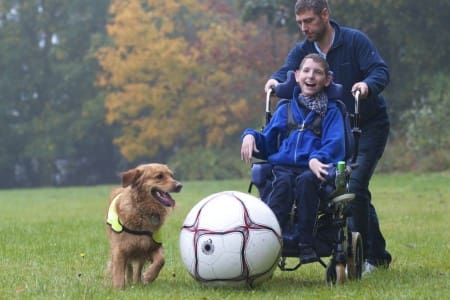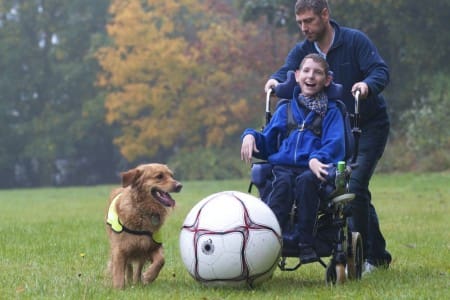 Jason and Golden Retriever Zeke were partnered in 2010 and have just celebrated their 5 year anniversary.
Born with cerebral palsy, Jason has great difficulty controlling his arms and legs and is only able to communicate verbally through a special computer. Getting dressed and picking things up are impossible. To compound matters he used to become extremely anxious whenever he was in busy places – sometimes making things difficult for all the family.
Whilst Jason still struggles with his physical disabilities, being partnered with Zeke has transformed his life: when he gets anxious, Jason just puts his arm on Zeke and immediately feels reassured. A season ticket holder at MK Dons, Jason also plays wheelchair football himself. Zeke has been trained to fetch his football kit and even helps him to get changed into it.
Practising in the park with his dad Pete, using a special large football Zeke can kick back to him, means Jason is able to enjoy his sport both as participant and spectator!