Wendy Morrell and her assistance dog Udo were invited to European Pet Night at the end of February.  Read Wendy's account of the evening and her experience of travelling abroad with an assistance dog.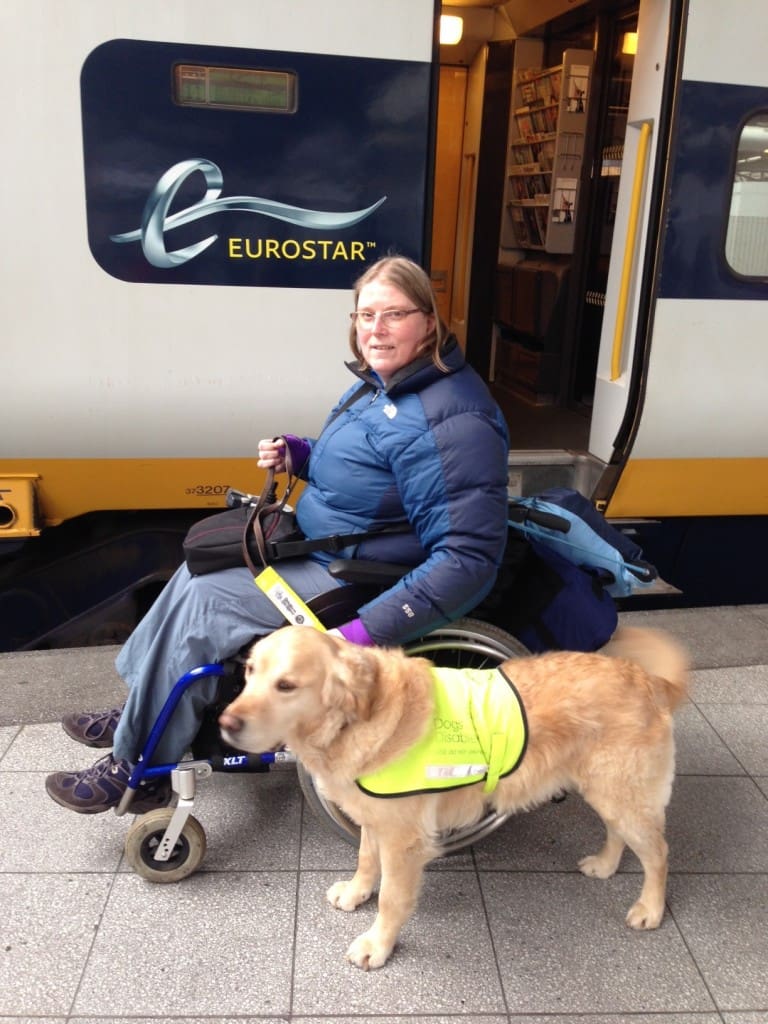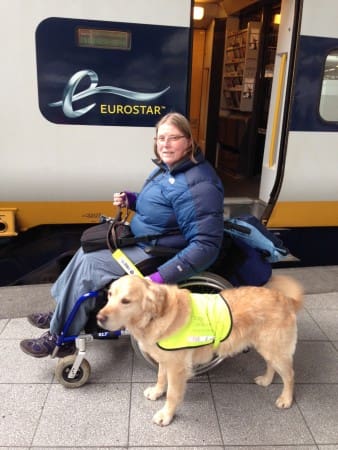 My assistance dog Udo and I were delighted to accept an invitation to attend European Pet Night held in Brussels on February 25th.
It's an annual event held by IFAH Europe (International Federation for Animal Health) who represent the animal health industry. The event was held in the beautiful BELVue Museum, situated very close to the Royal Palace.
The event, brought together multiple NGOs, key decision-makers and people with an interest in pets, and was held under the patronage of Members of the European Parliament (MEP), Julie Girling (UK) and Norbert Lins (Germany). Julie Girling is actually the MEP for the region that I live in.
I've been lucky enough to have been invited each year since 2009 when I was keynote speaker, and attended with my first assistance dog Caesar, the topic of my presentation then was the difference Pet Passports had made to our lives.
This year the keynote speakers were from another UK based assistance dog organisation, Medical Detection Dogs.
It's always a very good opportunity to network with people from many organisations from across Europe, and this year was no exception. I spent a fair bit of time chatting with Danny Vancoppernolle, Vice President of DYADIS, a Belgian assistance dog programme, and current president of Assistance Dogs Europe (the organisation which accredits individual assistance dog programmes such as ours, Dogs for the Disabled).
We've previously exchanged information about assistance dogs in a healthcare setting, when I was able to share a copy of the policy I co-wrote for our local NHS Trust about access for assistance dog partners when they visit or are in hospital. This year, I was able to draw on my experience as an Independent Advisor to the Metropolitan Police in London, and share details of protocols that have been developed as advisory information when assistance dog partners come into contact with the police, either as victims of crime, needing to visit police stations and in the unlikely event that an assistance dog partner might be arrested. A busy police station on a Saturday night might not be a good environment for any disabled person, and could be unsettling for a dog, so work has been done to prepare for such eventualities should they arise. Danny was very keen to hear of this work as there has been nothing like this developed in Belgium or any other known countries in Europe.
It was also good to meet representatives of the veterinary profession and hear about some of the research with regard to the various parasitic treatments necessary to keep dogs healthy.
IFAH Europe have a campaign "We Care" promoting responsible pet ownership and highlighting the numerous benefits of pets.
They promote caring for our pets through the responsible use of medicines to ensure good health for our pets and help ensure better health for ourselves.
European Pet Night is a pets welcome event, and it's really wonderful to see so many people attending able to bring their dog with them!
It was a pleasure to attend the event and have my Dogs for Good assistance dog with me. Many people had heard of our organisation and shared with me experiences with assistance dogs in their own country.
As for the journey, even though I use a powered wheelchair and have an assistance dog, the practicalities of travelling to Brussels are really easy.
Udo, has a valid Pet Passport and assistance dogs from accredited organisations are allowed to accompany their partners on Eurostar free of charge. There's a very convenient wheelchair space on the train and plenty of space for a dog alongside.
Nowadays, to re-enter the UK a dog must have visited a vet and had their microchip checked, worming tablets administered and their passport stamped within 5 days of checking in to travel home.
This trip was just two nights, so I was able to get Udo prepared to re-enter the UK by our own vet in the village before we'd even left home!
At check in, my passport, Udo's passport and his assistance dog identification were checked and after a quick security check we were on board and on our way. Breakfast was served as we travelled at 186mph through the French countryside!
It takes about 2 hrs 10 minutes from London to Brussels and is a very pleasant journey. At check in on our return they fax a copy of Udo's Pet Passport to London for approval before we board, this usually only means a five or ten minute delay, but is more than made up for by a personal staff escort to the train. On our arrival in London we were met by a member of Eurostar staff, again Udo's passport was checked and also his microchip, to ensure they matched and that I had brought the correct Golden Retriever back into the country with me! It took five minutes at the most and then we were free to go.
I've been travelling to Paris and Brussels by Eurostar since 2005, prior to that only Guide Dogs were permitted. In fact Caesar was the first assistance dog to travel on the service on April 13th that year, the rules having changed to allow assistance dogs on board the day before, and the service is absolutely seamless, trouble free and a very easy and comfortable way to travel both for myself and Udo.
"We Care" can be found on Facebook where there are further details and photographs from the event.