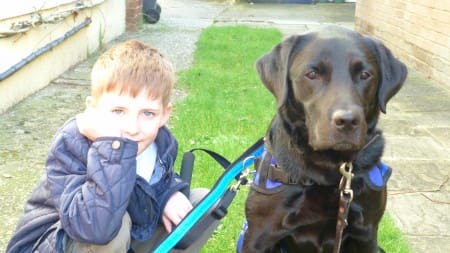 Mum Emma battled to get her son Thomas's problems diagnosed from when he was a baby, and the paediatrician finally confirmed he had autism when he was six years old.
Like many with autism, Thomas struggles to read facial expressions and is deeply affected by sensory overload: "sudden noises, smells and sights we may not be aware of can frighten the life out of him. He also needs help dressing and undressing, toileting and feeding."
Routine is absolutely essential to Thomas and disruption, however seemingly insignificant, can cause huge distress.
"Every day is hard work for Thomas and many things that we take for granted are a significant challenge for him. He needs constant reminders about everything. Put simply, if no-one told Thomas to get out of bed, he wouldn't." says Emma.
Emma desperately researched every kind of help and advice and attended autism information courses. Then her internet searches led her to the charity Dogs for Good; "I was so excited by what I found and then what I heard at the information day. So much advice and information focuses on the negative, but Dogs for Good is so positive.  I knew we had to get Thomas an autism assistance dog."
Thomas was excited at the prospect of a special dog to help him but for Emma, the day the charity confirmed they would be getting a dog was charged with overwhelming emotion.  "I just knew the difference it would make; I never doubted it would help Thomas."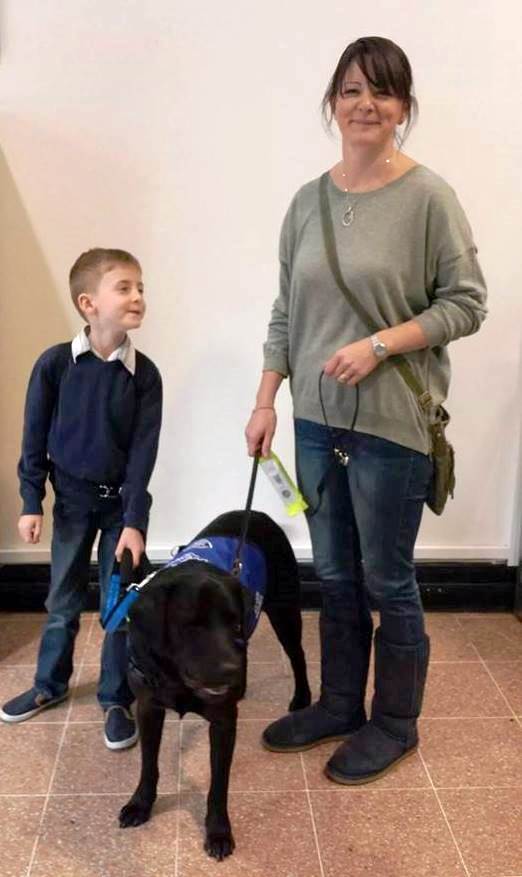 Black Labrador Briggs arrived in September 2014 and he has quite literally changed the whole family's life. "I would not have believed the difference Briggs has made had I not seen it with my own eyes," Emma says.
"Before we had Briggs, going out anywhere was very stressful for the family. It was common to head out somewhere and never make it. We've been asked to leave places because of Thomas' behaviour and we've left because it was just too hard to stay or we felt his behaviour was upsetting others. For example, he would frantically grab me or Neil while simultaneously shouting 'Leave me alone' at the top of his voice. Not once has this happened since we have had Briggs."
"When we go out now Thomas is attached to Briggs, held by me, and he feels safe and secure. People see Briggs in his special jacket and realise he's there for a reason."
"We could hardly believe our ears when Thomas said recently 'Let's go out to a restaurant for lunch' and again when he said a shopping expedition had been fun. Why? "Because we had Briggs with us,' said Thomas. Briggs makes it possible for us to be a 'normal' family."
Please help us create more amazing autism assistance dog teams
Help us train more life-changing autism assistance dogs like Briggs so we can help more children like Thomas.
We receive no government funding so any and all donations will make a huge difference:
Text Donate:

t

ext DOGS04 plus the amount you wish to give to 70070. For example: DOGS04 £5. Please remember to ask the bill payer's permission.
Or make an online donation.
We know dogs have the power to change lives, which is why we're constantly exploring new ways to help people. Visit the How We Help area of the website to find out more about work.