It's not long until we hijack the month of October, turn it into Dogtober and spend a whole month raising money to train more dogs and create more life-changing partnerships. But how exactly does baking Pupcakes or Going Green for the day help to support our work? Here's why fundraising during October helps.
Why fundraising during October helps
Every pound raised during Dogtober will help us to train more dogs and reach more people. Small sums or large, all funds raised are vital.
Last year, we received a whopping 4,000 enquiries from people who wanted to know how a dog could help themselves or a member of their family and, right now, we can't help everyone who could benefit from our services.
£30 could pay for a puppy class
Raising £30 by holding a Dogtober Pupcake Sale could pay for a puppy class, enabling our young pups to learn new skills, socialise with other dogs and for our volunteers to share experiences and support one another during the unique experience of caring for a Dogs for Good pup.
Puppy socialiser Sue has socialised several pups for Dogs for Good, she remembers saying goodbye to her first pup Milton.  All the family came together and understandably there were lots of tears until her nine-year-old grandaughter piped up: "We all love him, but we don't actually need him like someone else will."
Knowing Milton would go on to change someone else's life in an extraordinary way was all the family needed to appreciate the precious time they'd had with him.
Sue has gone on to socialise more puppies, each time having a different experience with a different dog. Her dedication and that of all our volunteers is what continues to help Dogs for Good thrive, since we can't continue our pioneering work without them.
£45 could pay for a health check for a dog in training
It costs £45 to pay for a dog in training to receive a thorough health check by a vet ensuring that our young dog is in top health and ready to work as an assistance dog.  Ask your colleagues to wear something green for the day and help pay for a health check.
Monitoring our dog's health and wellbeing is a vital to ensuring a happy, long-lasting and mutually beneficial partnership between a client and dog.  Our dogs are regularly health-checked both in training and throughout their life as a working dog to ensure that they are in good health to perform their role as an assistance dog.
"For me, having an assistance dog has generated the confidence to reclaim as much freedom and independence as is possible," says Dorothy who has assistance dog Vixen.  "And that's on top of pulling off my socks!"
£10 could pay for an autism assistance dog jacket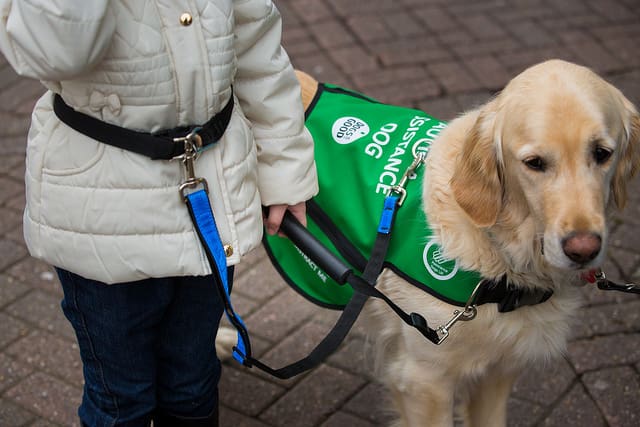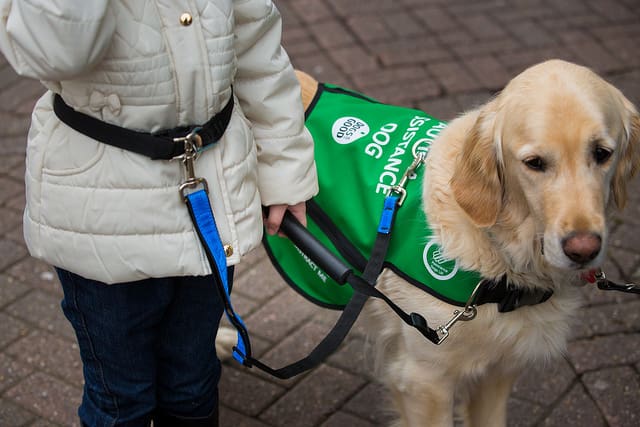 £10 could pay for an autism assistance dog jacket which confirms that the dog wearing it has received specialist training from Dogs for Good and is able to work safely and confidently in public places.
Quartz is specially trained to give confidence and security to both parent and child. With unlimited access to public places like shops, libraries and restaurants he can accompany Beth wherever she goes. Wearing a special jacket connected to both Beth and Teresa, Quartz automatically sits and will only cross the road on Teresa's command. If Beth pulls away, Quartz is trained to sit and prevent her moving. "Now we can go shopping, out for a meal – anywhere. As long as Quartz is beside Beth, she's content to go out with the family – he's given us a whole new lease of life," says Beth's mum, Teresa.
"Just Quartz's presence in his assistance dog jacket has made a huge difference," she continues. "People immediately understand that Beth needs extra help and support and they become less critical."  People also ask Beth about Quartz and she wants to talk about him. "He's my assistance dog," says Beth proudly, "he helps me".
£73 could pay for an equipment pack
£73 donated as part of a Dogtober-themed fundraising event could pay for the equipment pack each client receives when they qualify, enabling them to work and build their relationship with their assistance dog.
Annie was partnered with Lucy, a black Labrador, in 2012. "My life changed from the moment I met her and, because of all the things she could help me with, my care package hours ended up being halved – I went from 90 hours per week to 45.  Incredible."
£135 pays for a day's aftercare from one of our instructors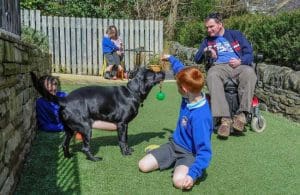 £135 pays for a day's aftercare from one of our Dogs for Good instructors.  This is a vital part of the journey our clients take and helps them continue to take on new challenges and develop their abilities with their assistance dog by their side.
Supported by assistance dog Maggie, Richard has already achieved his desire to 'be a father again'.  He is now able to take his sons to the park and pick them up from school. He can go to the shops by himself and has even travelled from Yorkshire by train to visit his mum in Leicester, with only Maggie by his side. "He'd never have dreamt he could do this and it demonstrates they're a perfect partnership" comments Richard's wife, Jude. "He loves the interaction with people who want to find out more about Maggie's role in his life."
Help us do more good
Over the next five years, we plan to train more assistance dogs for children and adults with physical disabilities and for autistic children, increase the number of Family Dog workshops to help families with a child with autism and provide more animal assisted therapies and interventions through our Community Dog service.
So then… big or small, simple or quirky, be assured that whatever you choose to do this Dogtober, you'll be making a very real difference; helping to change lives and enable independence.