If you like to bake on your own, with your children, or share home-baked cakes with others, have a pupcake sale for Dogtober.
We've created an extra special recipe, just for Dogtober, but you can just as easily use your own tried-and-tested cupcake method. Be sure to add a dog face or our logo to the top.
Watch how to make dog decorations that will get the donations rolling in!
Dogtober pupcakes decorations from Dogs for Good on Vimeo.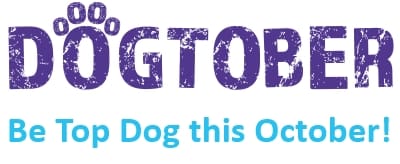 Pupcake recipe
Ingredients
110g/4oz butter or margarine, softened at room temperature
110g/4oz caster sugar
2 free-range eggs, lightly beaten
1 tsp vanilla extract
110g/4oz self-raising flour
1-2 tbsp milk
For the buttercream icing
160g/6oz butter, softened
500g/1lb icing sugar
50ml/2 fl oz milk
a few drops food colouring (Optional)
Method
Preheat the oven to 180C/350F/Gas 4 and line a 12-hole muffin tin with paper cases.
Cream the butter and sugar together in a bowl until pale. Beat in the eggs a little at a time and stir in the vanilla extract.
Fold in the flour using a large metal spoon, adding a little milk until the mixture is of a dropping consistency. Spoon the mixture into the paper cases until they are half full.
Bake in the oven for 10-15 minutes, or until golden-brown on top and a skewer inserted into one of the cakes comes out clean. Set aside to cool for 10 minutes, then remove from the tin and cool on a wire rack.
For the buttercream icing, beat the butter and icing sugar together in a large bowl until it resembles breadcrumbs and then beat in the milk until the mixture is smooth and creamy.
Add the food colouring if desired and mix until well combined.
Click here to download the recipe