My trusty team mates and I wanted a challenge that we could do together, regardless of the fact that I am a wheelchair user and they are able bodied. I searched for disability events and The Superhero Tri was the only event we found that fitted the bill.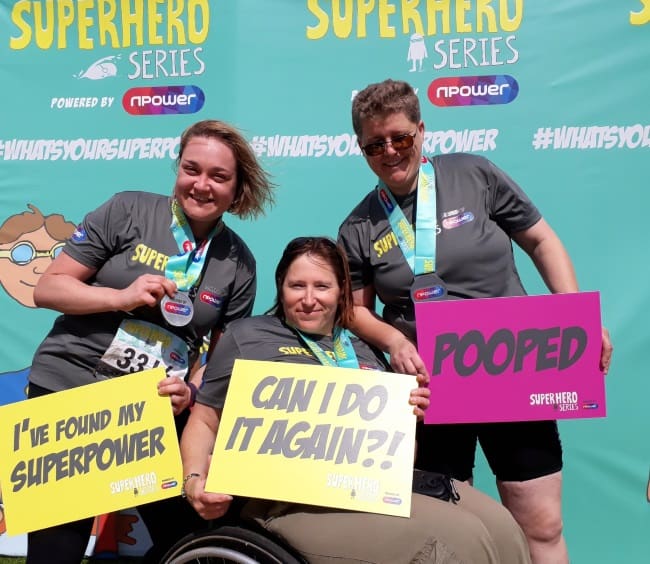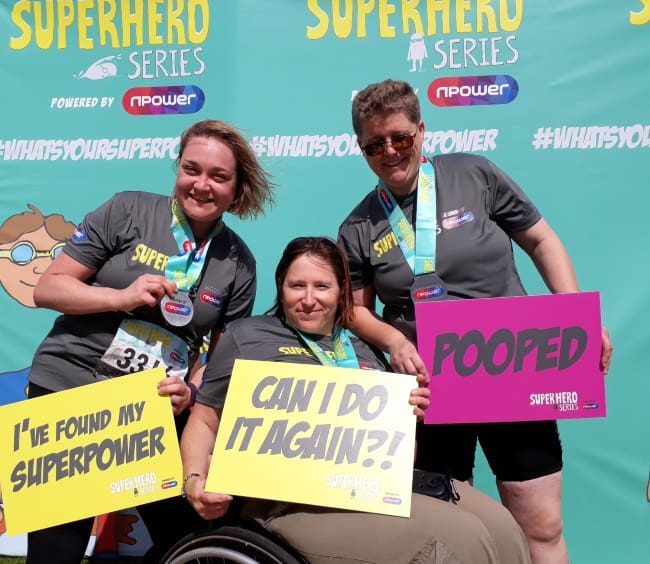 The Superhero Tri is aimed at getting anyone with a disability and their family and friends involved in having a go at a triathlon. As I found out, this event is far more about Try than Tri so don't be put off by the word triathlon!
Despite being a keen swimmer, six months prior to the event I hadn't been in the pool much at all. However, a few months before the event I started to swim regularly and visited an open air pool to get used to swimming in cold temperatures – and in a wet suit.
My team mates had been promising to start training, but by the time the day arrived, between the two of them, they had probably only been out on the bike or for a run less than half a dozen times. Anyway we arrived with me still panicking about being seen in a wet suit in public, and my team mates worrying about a bike that had a problem and whether insulin levels were going to behave for the day (my cousin had recently been diagnosed with type 2 diabetes).
Fortunately for us there were people of all shapes and sizes there, with all sorts of disabilities and some great superhero costumes. There was a bike/wheelchair repair stand to fix the bike, and there were plenty of food options as well as our top notch picnic to help sort out any insulin issues!
Everyone was so friendly and seeing so many people facing all sorts of challenges inspired us to just get on with it. Any worries about how to get in and out of the lake from my wheelchair, how to handover the timing chip, or which route to take on the course were quickly eliminated. Everyone there was there to have fun, have a go and cheer each other on.
Throughout the challenge our team weren't totally confident that we would actually finish, but we all made it round our respective sections and to our amazement finished with reasonable times given that we hadn't really prepared fully (21.25 mins for a 0.75 km swim, 1.05.48 for a 20 km bike ride and 33.58 mins for 5 km run).
I enjoyed it so much that I've entered again this year to raise funds for Dogs for Good. I'm back in the pool already and hope to swim faster than I did last year. Why don't you join me? Find out about the Superhero Tri.