Looking back over her 30 year association with Dogs for Good, Ann says: "I had no idea how bottomless this was going to be when I started off with my first assistance dog, Shep, nearly 30 years ago. Thanks to my five incredible dogs, my life has been enabled, not disabled. I've been able to live the life I wanted to live rather than a restricted existence."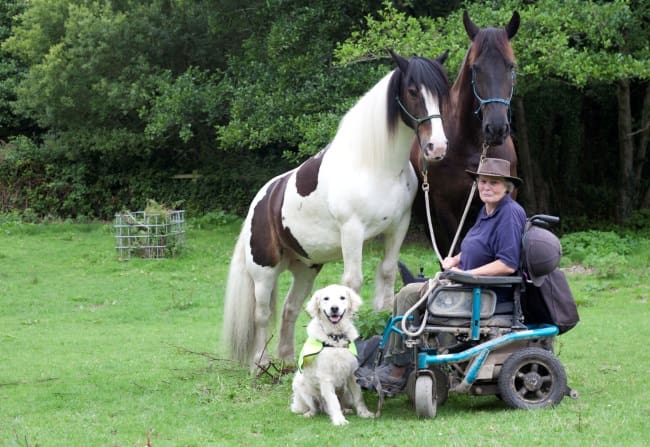 Ann was born with at degenerative spinal condition and her relationship with Dogs for Good started in 1988 when she saw the charity's first-ever assistance dog, Poppy, on BBC TVs 'Blue Peter' programme. "As I watched what Poppy could do, I clearly remember thinking, 'Wow, this is for me!"
Ann was convinced that an assistance dog was just what she needed in order to continue her independent lifestyle, which was then and still is focused around her lifelong love of horses.
Clever Shep and Big Baron
Frances worked with the charity's first-ever instructor to train a working collie called Shep to become Ann's assistance dog and within a year, he could respond to over 150 commands, including a host of horse-related tasks such as opening paddock gates, picking up tack, fetching feed bins and helping to harness up the trap. "He loved to work and quite simply, he changed my life," says Ann.
When Shep retired in 1997 he continued to live happily with Ann and handed over all but one of his tasks to her new dog, Baron. "Shep used to turn the lights on and off and right up until his final days, he'd never let Baron do it!"
Baron was an enormous German Shepherd who met the Queen. "I'm not sure Her Majesty really knew what to make of him," says Ann. "But she mentioned how big he was!"
When Baron retired he also stayed with Ann and dog number three, another German Shepherd called Kyrie, joined the family for a period of seven to eight years. When Kyrie retired, Ann found herself without a dog for a long period of time.
"That was a horrible, horrible time," recalls Ann. "My life was so much harder; practically, obviously, but also my health deteriorated badly because I didn't have an assistance dog to help me. It was truly awful and I thought it'd never end."
Life-saving Yoshi
But end it did and her next Dogs for Good assistance dog, a beautiful golden retriever called Yoshi, came bounding into her life. "Full of energy and enthusiasm, that's Yoshi," says Ann. "He's retired now but when he worked, he worked hard and played hard. It's impossible to be sad with a dog like Yoshi."
Yoshi also saved Ann's life when she fainted while out in a field one day. "He stayed by my side and barked and barked until my neighbours came to help me," says Ann.
Marvellous Major
Ann is now paired with her current assistance dog, Labrador retriever cross, Major. "He's very cuddly and waggy and has an endless capacity for work. He's the best I've ever had," says Ann. "The training he received at Dogs for Good has made the absolute best of his kind and wonderful nature and as such, he's been brilliant from the get-go. He's great with the horses and donkeys and I'm looking forward to the future we'll shape together and the adventures we'll have."
30 years of changing lives
Ann has seen Dogs for Good grow from the initial vision of its founder, Frances Hay who was disabled herself, to an organisation that regularly makes life-changing differences to people with a range of disabilities, as well as autistic children, community dogs and family dog workshops.
Frances passed away in 1990 but Ann is sure that she'd be stunned if she could see the work that her charity carries out now. "All I can say is thank you to Frances, the trustees and staff at dogs for enabling me to live my life in the way I wanted and to its absolute fullest."