Assistance Dog Purdy has transformed life for Yvonne and her children
Yvonne was devastated when she lost her mobility during her 30s. She was a busy mum of three when she ended up virtually house-bound. Her debilitating diagnosis had a huge impact on the entire family and Yvonne says, "I was at my lowest point ever – then my life changed when I discovered Dogs for Good and I was partnered with Purdy!"
Yvonne experienced a lot of leg pain as a child which her doctor put this down to 'growing pains' because she grew very tall, very quickly. She says, "It got so bad that I
even asked for my leg to be amputated." Eventually the doctors diagnosed her with Osteomyelitis, a rare and serious infection of the bone tissue, which is incredibly painful.
As Yvonne's condition deteriorated and it became unbearably painful to move, she became a full-time wheelchair user. Yvonne felt she was less able to care for her children in the way she wanted and this was extremely difficult to come to terms with. She explains, "As I declined physically, my mental health deteriorated too."
"One day I decided to go out to post a letter. It took a lot of mental and physical effort to do. As I reached the post box I dropped the letter. I couldn't reach it so I asked a passer-by if he'd pick it up for me. He looked at me, then looked away and carried on walking. That image will stay with me for the rest of my life. I felt invisible. Afterwards I didn't go out if it meant interacting with anyone I didn't know."
When Yvonne realized that her youngest teenage daughter was reluctant to go out because she was too worried to leave her mum alone; Yvonne took action. She researched the support that was available for families with disabilities and came across Dogs for Good. Yvonne applied for an assistance dog, when she got the news that she'd been matched with a dog she was over the moon.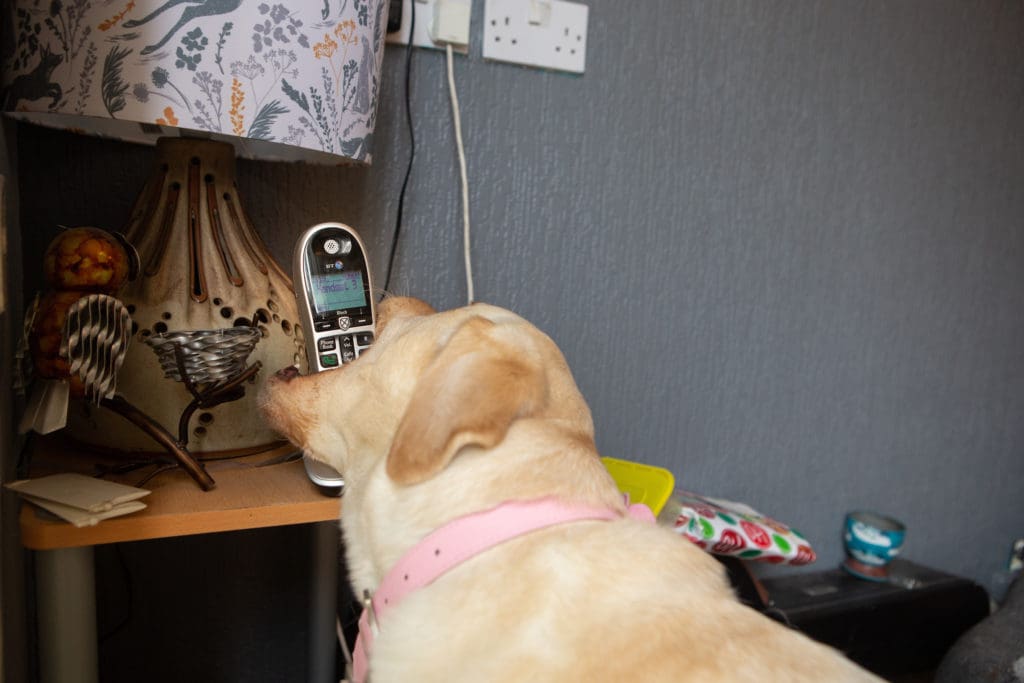 "Purdy, my amazing assistance dog gives me so much in so many ways – it's almost too much to put into words. Not only does she help me on a practical level like helping to retrieve items I've dropped or can't reach, bringing the phone and lots of other tasks I simply can't do on my own, but she helps me emotionally too. My confidence has skyrocketed since having an assistance dog."
Purdy goes everywhere with Yvonne. From the local shops to days out on the train, Purdy even accompanies her when she goes to choir and she is welcomed with open arms at the Girl Guiding club where Yvonne helps out. You might say that she's a bit of a celebrity!
Yvonne cannot imagine life without an assistance dog – could you make that difference for someone like her by making a donation today?
"My grown children visit regularly. I'd like to think they come to see me but I know doggy cuddles are a huge draw! My children are my life but my dogs have given me my
life back. I still have pain and I still struggle but Purdy's help and devotion keeps me smiling."
Help us train more assistance dogs like Purdy.
Just £4.69 covers the cost of a working dog like Purdy for a day. Donate £4.69 today.