Dogs for Good's usual face-to-face Dementia Community Dog service has had to stop during the pandemic in order to keep staff, dogs and clients safe. However, the Dementia Community Dog handlers are a creative, resourceful team and they put their heads together to come up with some virtual alternatives for clients – including Doggy Bingo.
"Our Dog Day events were held in-person prior to lockdown and were always really popular, helping people with a dementia diagnosis feel part of a wider community. So, we decided to see if we could adapt any of the Dog Day activities to work online," explains Dogs for Good Community Dog Handler, Julia Winters. "Doggy Bingo lent itself well to a virtual adaptation, so we decided to give it a go."
Doggy Bingo events are hosted online with a small number of attendees so that it's not too overwhelming and people are able to see others clearly. All that's needed is a pen/dabber, a bingo card and a willing, four-legged caller.
Short, virtual sessions deliver joy
Three year-old golden retriever, Georgie is a Community Dog and a favourite caller in the Doggy Bingo arena.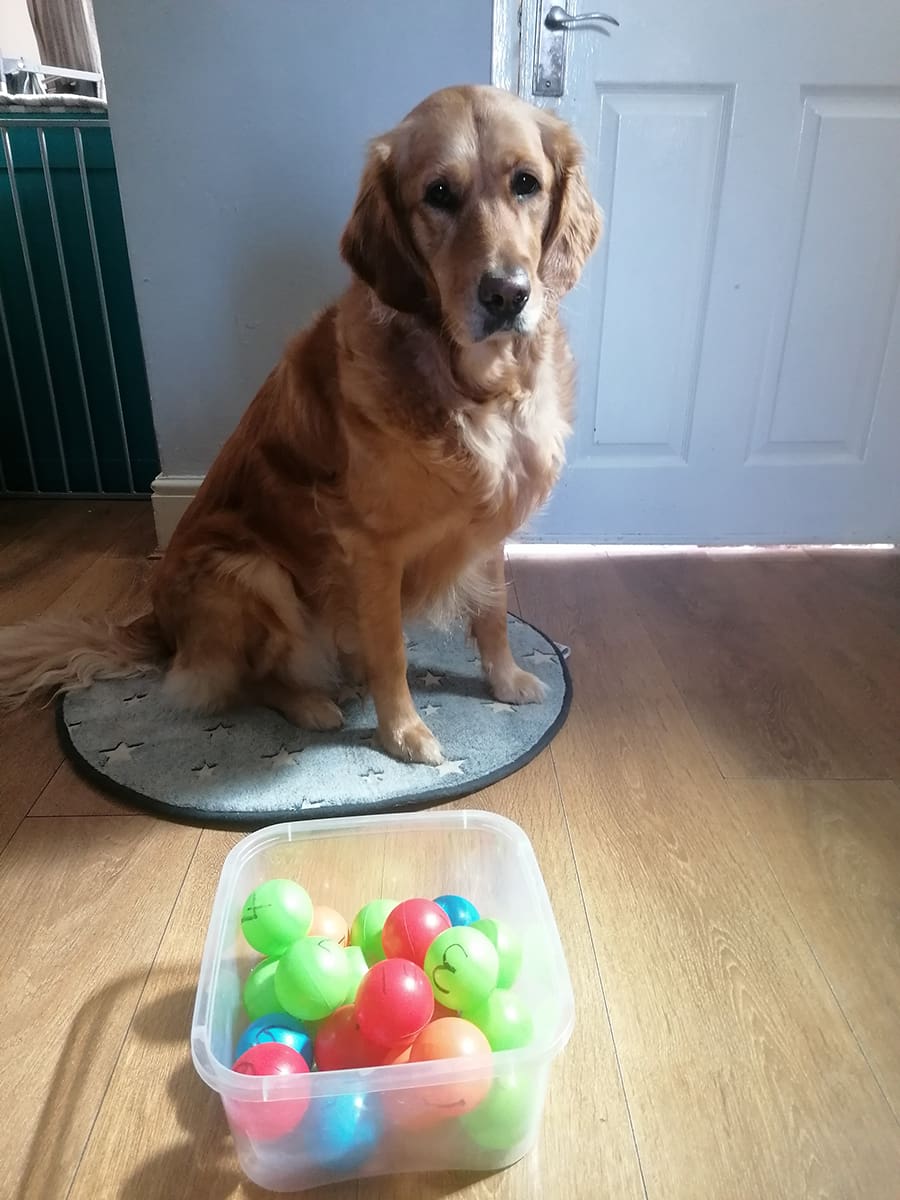 Julia explains: "Georgie loves to retrieve so she'll happily 'choose' a numbered ball and bring it to me. I then read out the number so that people can mark their card."
Events are kept to around 20 minutes long so that clients – and Georgie – are kept engaged and don't become too tired.
Of course, with a dog involved things can go a little bit off-script at times.
"Sometimes, Georgie will change her mind, drop the ball and go and pick another one which is always quite entertaining," laughs Julia. "Especially if it's towards the end of the game because people's competitive natures comes to the surface in a lovely, light-hearted way."
Even the 'Bingo Lingo' has been dog-themed; 'Number Four, Bark at the Door', 'Number Five, Pond Dive' and 'Number Nine, The Ball's All Mine' are just some of the phrases that bring a smile to people's faces.
Expanding the service
To start with, the Doggy Bingo events took place in Scotland as part of Dogs for Good's Dementia Dog partnership with Alzheimer Scotland and also, due to only a small number of Community Dogs and handlers available.
Donna Paterson, Dementia Advisor for Alzheimer Scotland says "The feedback so far has been nothing but positive. People can't wait for the next session and love the fact that the dogs are the ones picking the bingo ball. It's a real boost of positivity in the day."
Rachel McLaughlan, Community Activities Organiser agrees.
"It's been really lovely to witness those individuals that really were quite anxious about appearing on-screen now growing in confidence.  One of the regular ladies that attends remembered that she was online to see the dogs for bingo which I think, really speaks volumes about how the interaction has affected her."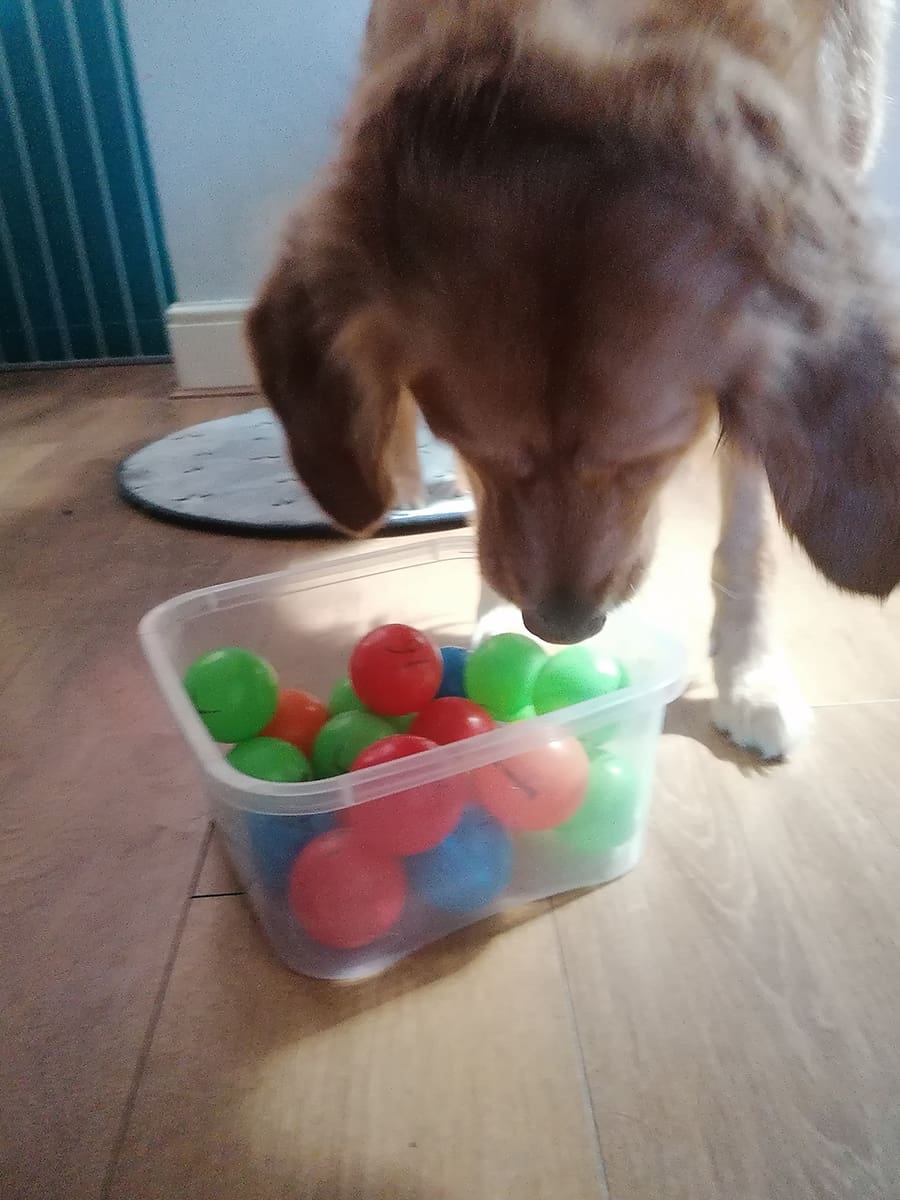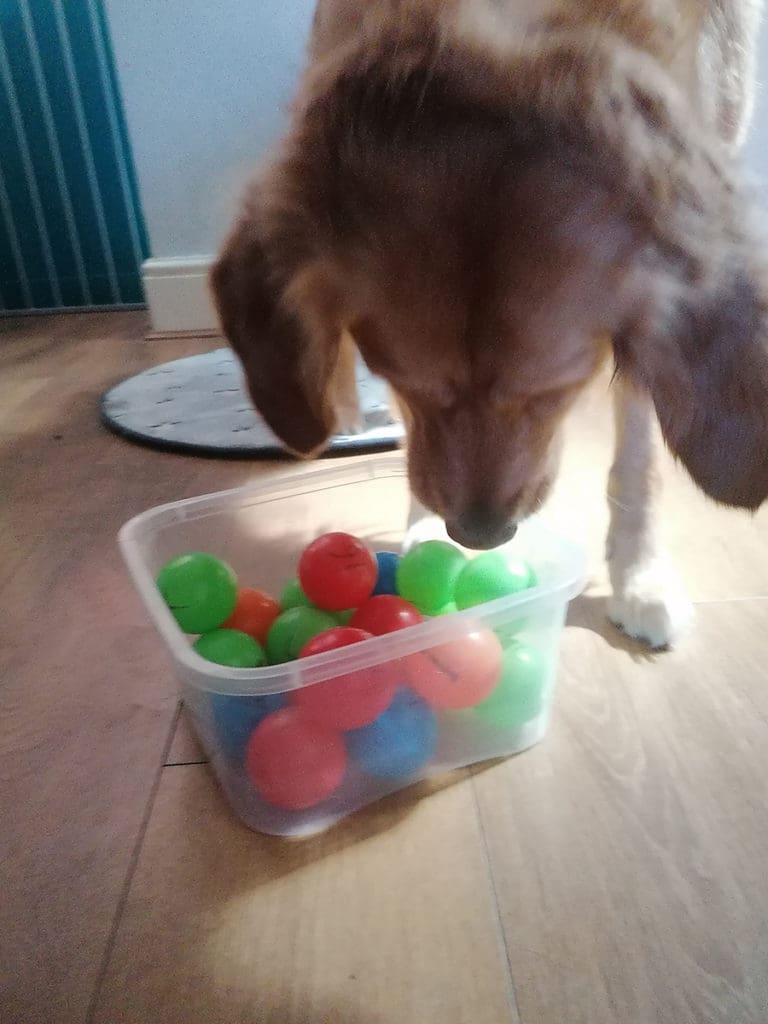 The Community Dog Team has now been able to widen the service out a little, running a few Doggy Bingo events in its service with Bracknell Forest Council in the Occupational Therapist's Memory Group for people with learning disabilities and a dementia diagnosis.  In addition, come January 2021, Julia and Georgie will start to run Doggy Bingo events in association with Forest of Dean Dementia Action Alliance with funding from Forest of Dean District Council's Community Grant.
"Lockdown has taken a toll on everyone but for people with a dementia diagnosis and their carers, it's been extremely hard," says Julia. "We really wanted to offer our clients something that was fun and interactive to help with the inevitable social isolation that lockdown brings and importantly, to continue engaging with our dogs."
To be able to widen the service out further still, the Dogs for Good team are re-training some existing Dogs for Good Dog Day volunteers who have their own companion dogs to take part in hosting the events.
"The training is going really well so hopefully, it won't be too long before we can do more Doggy Bingo events and bring something really positive to people with a dementia diagnosis," says Julia.