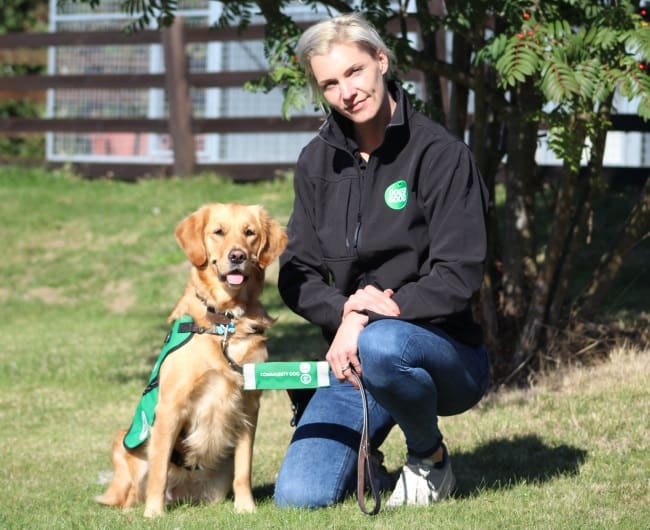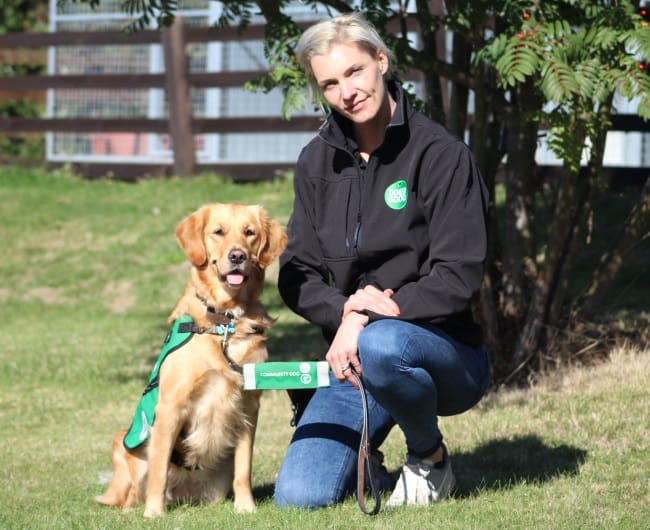 Tell us about your role
The Dementia Dog project is a charitable collaboration between Alzheimer Scotland and Dogs for Good. Our Dementia Community Dog programme explores how a specially trained community dog can help people with dementia feel more confident and connected in their community.
I work with dementia community dog Georgie alongside a dementia care practitioner to deliver goal-focussed dementia intervention. We use the techniques of Animal Assisted Intervention (AAI) The intervention is a tailored six-week plan of weekly visits and we put an emphasis on fun and engaging activities. Our work can link in with someone's existing support plan.
We also deliver safe and relaxed social events called Dog Days in Gloucestershire, Hertfordshire and Oxfordshire. These have the look and feel of a café or coffee morning, with the added bonus of fun dog related activities. Open to people with all stages of dementia, Dog Days enable people to interact with well trained pet dogs to encourage social interaction and bring joy.
Who do you help?
We help people living with dementia and their families and carers.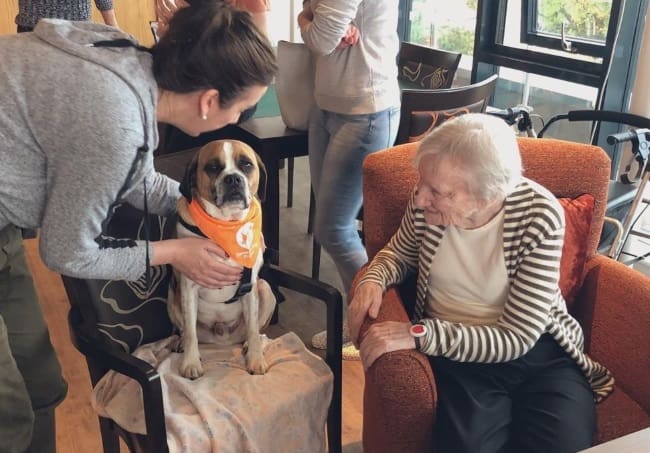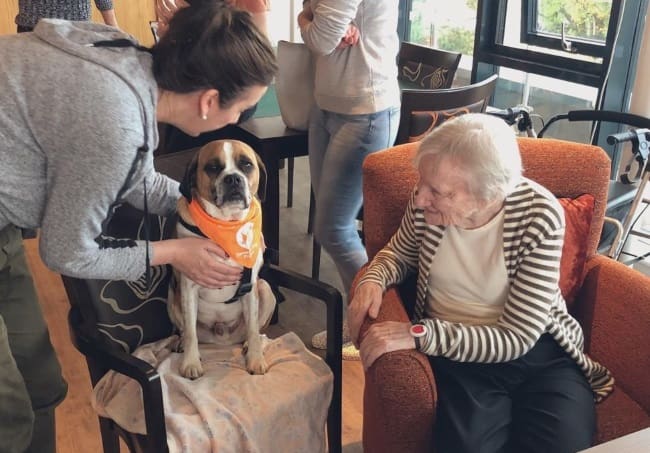 What's the best thing about your role?
It's great that no two days are the same. Each day varies and can range from training Georgie, to working with a client, filling out paperwork or setting up a Dog Day.
When did you start working with dogs?

I have always wanted to be around dogs, ever since I can remember. From walking my neighbours dogs to volunteering at animal rescue centres. I started to get involved with training dogs when I had my first rescue dog. Whilst getting my degree in Animal Behaviour and Welfare, I spent a lot of  time at my local animal rescue where I then worked as Assistant Manager for a couple of years.
Why did you want to work for Dogs for Good?

I have always been fascinated with assistance dog charities and the amazing impact a dog can have on someone's life. I initially joined Dogs for Good as a puppy coordinator and greatly enjoyed that role for 7 years. When the opportunity arose to join the community dog team to help people with dementia I knew straight away that I wanted to be involved.
Find out more about Julia and Georgie's work or meet Sarah, a Community Dog handler.