Dogs for Good puppies have been attending online virtual puppy classes to help them on their journey to becoming life-changing assistance dogs.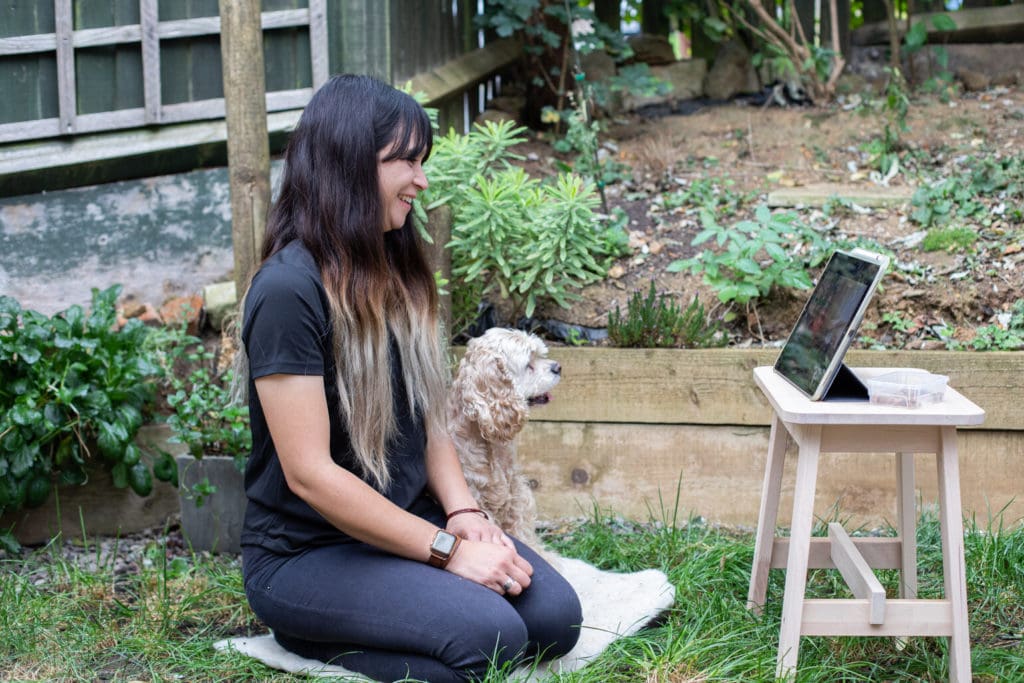 When face-to face puppy training classes were no longer possible due to Covid-19, Dogs for Good Puppy Co-Ordinators had to find new ways to support puppies and volunteers. They found the answer in technology and using virtual meetings as a way to share information – and it's been a roaring success. So much so that the charity has continued with them as lockdown eases.
Puppy co-ordinator, Abbey Chung looks after the training of approximately 30 puppies and their socialisers in Oxfordshire and the surrounding areas.
In the early days of lockdown, she had to adapt fast and one of the first things she learned, with tuition from Dogs for Good, was to shoot and edit training videos of herself with her own companion dogs, two beautiful American Cocker Spaniels named Chloe and Buffy, to share with Puppy Socialisers on video calls.
Abbey also uses video calls to demonstrate training methods with her own dogs while on the calls with her Puppy Socialisers; and they in turn can show Abbey how their puppy is getting on with training on the video calls.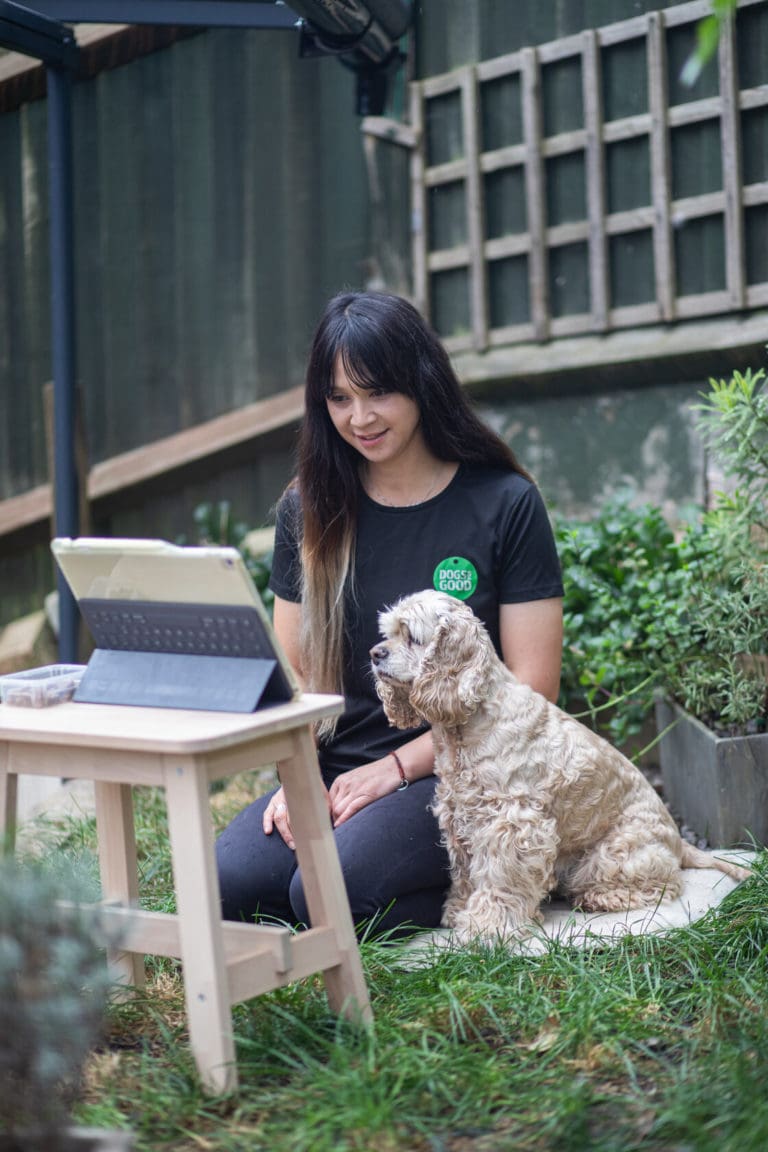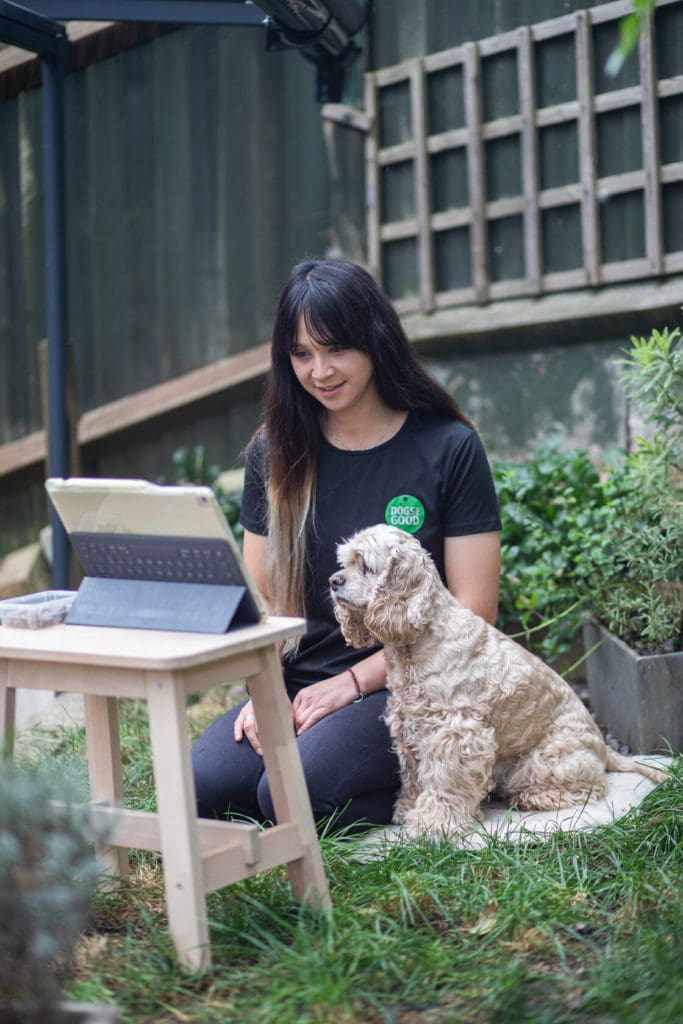 Abbey said: "When lockdown was first announced I was really worried because I wasn't sure how I would be able to continue supporting our volunteer Puppy Socialisers. I knew we'd need to find new ways of working with them ASAP.
"At the beginning I had phone calls with Socialisers but this was very limited and I wasn't able to demonstrate training methods or see how their puppy was behaving or progressing.
"I thought I'd try video calls instead because they're much more interactive, and this worked much better.
"I don't think there's any way I would have done puppy classes online before lockdown happened! None of us could have imagined the situation we were in but it's definitely helped us to think about using technology to support our volunteers in new ways."
There were still a lot of practical problems to overcome. When Abbey first tried live training sessions on virtual calls it was difficult to see which direction her camera was pointing, and socialisers found it hard to control their puppy at the same time as being on a call.
Abbey explains: "It was pretty funny at times and we had a good laugh about it.
"Sometimes I'd see just the ceiling or they'd move out of position because they were working with the dog.
"Puppies don't really understand the concept of video calls so they would often move out of shot from the camera or just be sleeping.
Abbey came up with the idea of pre-recording training videos and then watching them with the volunteers as part of the online calls. Socialisers also tell Abbey what they've been working on with their puppy, raise questions, share any areas of concern and let her see their puppy's behaviour on camera.
Socialisers find the training videos extremely useful, especially if they have hearing difficulties, because they can re-watch them to refresh their memory and turn up the volume. It has also meant that Dogs for Good has created a library of videos to share with future volunteer Puppy Socialisers.
Abbey explains: "The training videos are a fantastic new resource at our disposal that we probably wouldn't have had without lockdown.
"A few Puppy Socialisers with hearing difficulties tell me they no longer need to feel embarrassed about interrupting me during a training session to ask me to repeat something, they know they can just watch that part again.
"Lockdown's led us to make many changes in the way we work for the better and we'll definitely continue to use many of these new methods in the future. It's been great to be able to find so many new ways to support our volunteers."
Thanks to funding from the Coronavirus Community Support Fund, distributed by The National Lottery Community Fund, has helped Dogs for Good by funding new technology and helping staff members, like Abbey, to support volunteers and clients throughout the crisis.