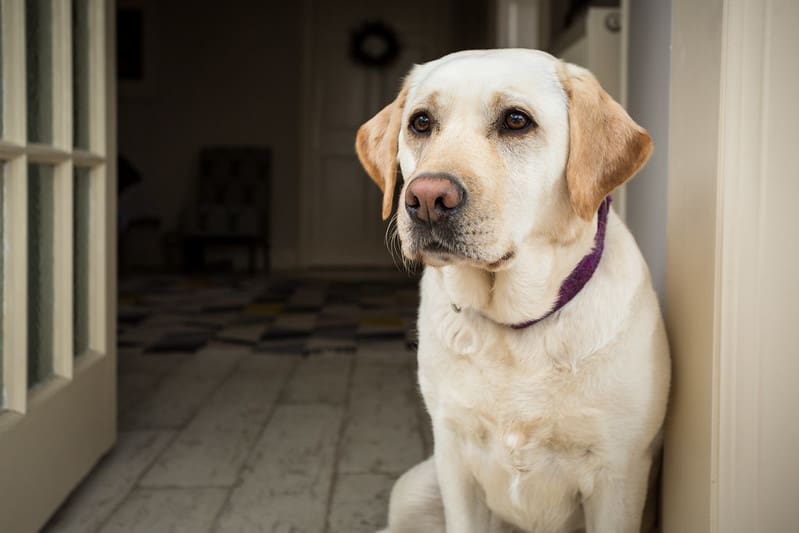 March 1st 2022 
At Dogs for Good our first priority through the pandemic has been the health, safety and wellbeing of our staff, volunteers, clients and dogs. We continue to take a careful and cautious approach to ensure that we do all that we can to minimise the risk of transmission of the virus, which is high at the moment across the country.  At the same time, our staff and volunteer teams continue to work in new and creative ways to provide support and care to our clients and their dogs, and also to help the charity keep moving forward with the vital training of puppies who will become life-changing dogs of the future. 
We continue to review our operating protocols for all aspects of our work and update these in light of our experience and to reflect any new guidance from the government and other appropriate health and veterinary agencies. Given we work with many people who are vulnerable, we will continue to take a cautious approach – maintaining social distancing, using face masks when indoors and encouraging the best possible hygiene regime. 
Our Banbury centre is open for a very limited number of staff each day and for volunteers to drop off dogs by appointment only. It will remain closed to the public for a while longer until transmission rates become lower. We are supporting our staff to work from home where that makes sense for them to do so. 
Impact on fundraising 
We are very grateful to the many people who are supporting us in terms of fundraising and raising awareness. We remain committed to our mission to help as many people as possible through the power of dogs. Continuing to raise funds is therefore crucial as we navigate through these challenging times. 
While many of our events and activities that raise vital funds for us have had to be postponed, we are hopeful to be able to resume some activity over the coming months as restrictions ease. In the meantime, there are lots of ways you can still get involved to help us. If you are able support us at this difficult time by making a donation we would be very grateful. 
Hopefully, we are moving towards a new period of managing to live with Covid, but we must not become complacent. I want to thank everyone in our committed team of staff and volunteers who is helping us to steer a steady and safe path out of this difficult period. 
Peter Gorbing
Chief Executive