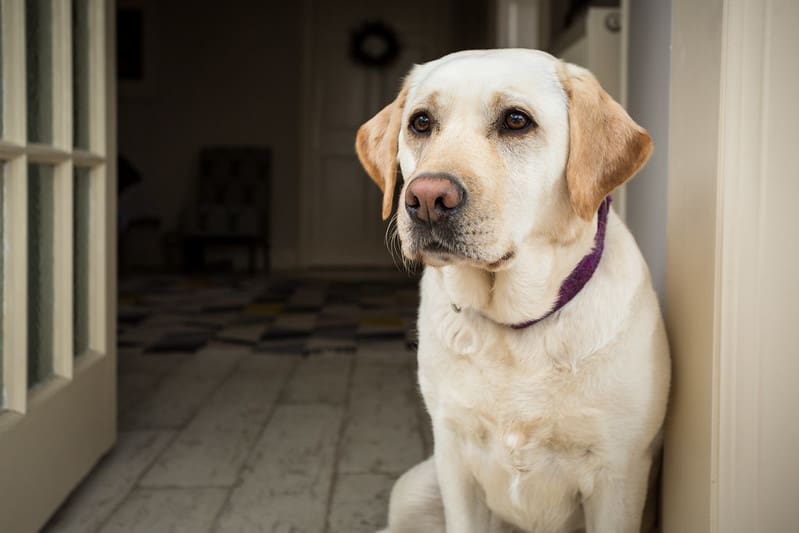 May 2021
At Dogs for Good our first priority through the pandemic has been the health, safety and wellbeing of our staff, volunteers, clients and dogs. We continue to take a careful and cautious approach through this period, to ensure that we do all that we can to minimise the risk of transmission of the virus. At the same time, our staff and volunteer teams have focused their time, energy and resources to find new and creative ways to provide support and care to our clients and their dogs, and also to help the charity keep moving forward with the vital training of puppies who will become life-changing dogs of the future.
We have updated our operating protocols for all aspects of our work and review these on a regular basis in light of our experience and to reflect any new guidance from the government and other appropriate health and veterinary agencies. Specifically, we now have plans in place to reflect the UK Government's recently published Covid-19 Roadmap and the expected easing of restrictions over the coming months. The roll-out of vaccines is progressing apace, but it is vital that we continue to protect everyone we work with and support. For example, it will still be some months before all our staff will have been offered a vaccination. Until this happens we will continue to take a very cautious approach.
Here is what we are currently doing:
---
Offices and homeworking
Our Banbury centre is open for a very limited number of staff each day and for volunteers to drop off dogs by appointment only. It will remain closed to the public for the foreseeable future. We are supporting our staff to work from home wherever possible.
Working in wider environment
We are utilising contactless and virtual methods of support where we can in our interactions and work with volunteers and clients. Where we are able to provide support to clients and volunteers 'in person', this will usually be done in outdoor spaces, embracing social distancing and following strict hygiene protocols. Our dog training and socialisation activities will also operate on a similar basis to minimise contact and interaction with others. All activities are subject to a comprehensive risk assessment to ensure we operate as safely as we can.
Staying Covid-19 secure
We have clear protocols in place across our operations to ensure we protect the safety and wellbeing of people and dogs. We comply with government guidelines and have also taken additional precautions where we think they are required to protect our staff, volunteer team and those we support and work with.
These key steps include:
We have carried out a Covid-19 risk assessment and shared the results with the people who work for the charity. Our full risk assessment is available to anyone on request.
We have strict cleaning, handwashing and hygiene procedures in place in line with guidance.
We have robust hygiene and handling processes in place to ensure the safe collection, transportation and transfer of our dogs.
We have taken all reasonable steps to support our staff so that they can continue to work effectively from home.
Where staff cannot work from home, we have taken all reasonable steps to help them work safely from a Covid-19 secure workplace.
We have provided Personal Protective Equipment to our staff to protect them and those they interact with, in line with our operating protocols.
We will utilise lateral flow testing where appropriate to minimise transmission risks and to provide additional reassurance to our staff and all those we work with.
We have taken all reasonable steps to maintain 2 metre social distancing at our centre and when working out in the community.
Where people cannot keep 2 metres apart for very short periods, we have taken all mitigating actions possible to manage transmission risk.
We have revised operating protocols in place for all aspects of our work. These include supporting clients and volunteers on a contactless or virtual basis where possible and taking a risk-based approach to other interactions, thus minimising any transmission risk as much as we can.
We regularly review our working protocols in response to new guidance, feedback and experience.
Impact on fundraising
We are very grateful to the many people who are supporting us in terms of fundraising and raising awareness. We remain committed to our mission to help as many people as possible through the power of dogs. Continuing to raise funds is therefore crucial as we navigate through these challenging times.
While many of our events and activities that raise vital funds for us have had to be postponed, we are hopeful to be able to resume some activity over the coming months as restrictions ease. In the meantime, there are lots of ways you can still get involved to help us. For details of how you can support us, click here.
These are clearly extraordinary times. I want to thank everyone in our committed team of staff and volunteers who are helping us to steer a steady and safe path through this difficult period.
Peter Gorbing
Chief Executive