Andrea developed congenital cateracts as an infant. Therefore, when her daughter, Izzy, was born (prematurely, at 35 weeks) and it was found that she had visual problems, Andrea wasn't surprised. 
Getting a diagnosis
After being referred to a genetics team, Izzy was diagnosed with Cerebral Palsy and Global Development Delay, then developed Infantile Spasms (known as West Syndrome) at the age of one which are extremely difficult to control.
"I was taking Izzy to up to five appointments a week," recalls Andrea. "I didn't feel like a mum, I felt like a therapist."
In 2010, Izzy's MRI scans were sent to a genetics specialist.
"She found as a 'spelling mistake' – a genetic abnormality – in one of her collagen genes that deals with eye and brain development," explains Andrea. "It was so rare that at the time, Izzy was the only one in the world to have it."
Andrea and her husband's DNA was then scanned and Izzy wasn't alone; Andrea had exactly the same spelling mistake. "Izzy and I are identical genetically but poles apart in how the abnormality affects us," says Andrea.
Andrea says that learning to accept the situation was a big thing.
"I learned that it's a process and you have to grieve to be able to accept. Fortunately, I have an amazing husband and together, we got through it."
Discovering Dogs for Good
One day, at Warrington Disability Awareness Day, Andrea noticed a Dogs for Good stand.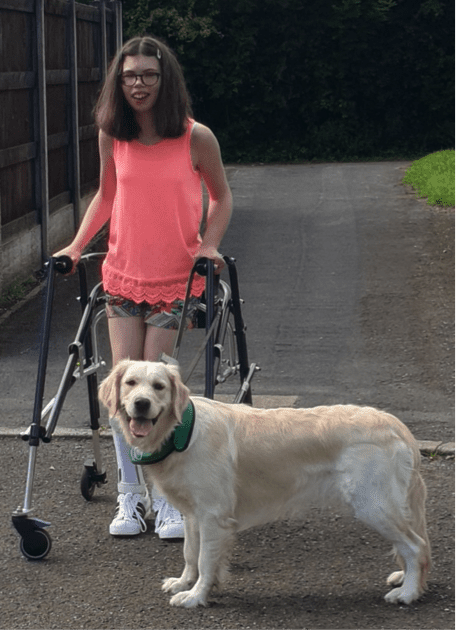 "There was a little cockapoo on the stand and Izzy made a beeline for her," laughs Andrea. "She was delighted when the dog popped up onto her knee to sit with her."
Andrea got chatting to the Dogs for Good team and after hearing about how their dogs can help with practical tasks to enable independence, went home thinking about the possibility of getting an assistance dog for Izzy to help with her Cerebral Palsy. "We put in an application to see how far we got," she says.
Andrea recalls that she 'nearly fell off my chair' when, she got a call from Dogs for Good saying that they thought they had a match.
"They asked to visit with a golden retriever called Nikita. Obviously, the answer was 'yes!'," laughs Andrea.
Bonding with assistance dog, Nikita
Nikita was, as Dogs for Good had throught, a perfect match and shortly afterwards, she joined the family.
"She arrived two weeks before lockdown was announced," says Andrea. "Obviously, the timing wasn't great but as it turned out, it meant that we had lots of time to work on the all-important bonding process with support from Dogs for Good via video and phone calls and it played out perfectly," says Andrea.
After a couple of weeks, Nikita settled in beautifully and Andrea says that the bond between Izzy and Nikita is already really strong.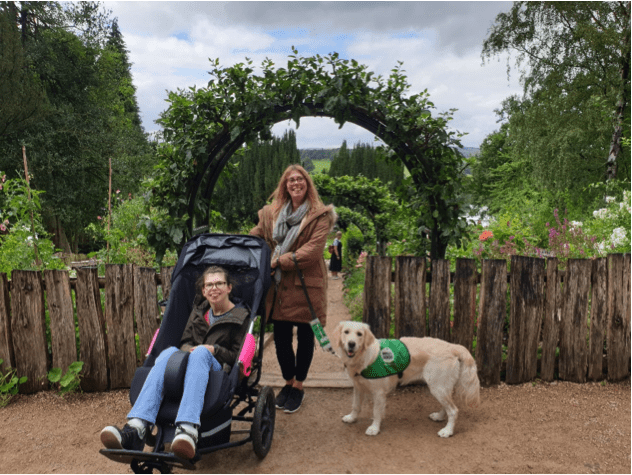 Practical support and beyond
Nikita will help with practical tasks such as fetching Izzy's slippers in the morning, picking up things she drops, pushing down her wheelchair footplates and giving soothing head rests. But, says Andrea, the benefits of having Nikita go way beyond the practical.
"I really hadn't realised how much just having Nikita present would help Izzy," she says.
On a recent hospital appointment, Nikita helped keep Izzy calm by delivering head rests.
Andrea also finds Nikita a positive impact on her own mental health during lockdown.
"My anxiety went through the roof during lockdown but Nikita has helped me with that. I'll chat to her when we're out and I love watching her have fun on a free run or when she's playing ball with Izzy. The pair of them are having a lovely time and that never fails to make me happy, too."
Dogs for Good Instructor, Ella is very proud of Andrea, Izzy and Nikita.
"They're a perfect example of a really new team that have made amazing progress despite the difficulties that Covid-19 has thrown up. They demonstrate beautifully how an assistance dog can help with so much more than physical task work; I think that many people underestimate the power of a dog's calming presence and companionship."
---
We receive over 5000 enquiries a year for our services and we rely on donations to continue to make life-changing partnerships. If you're able to help us, we'd be so grateful.
Please donate today.