"Sailor is the missing piece of my life jigsaw. He spurs me on to do more and more. I can go where I want, when I want and my confidence is growing every day."
Caroline had been lucky enough to enjoy robust good health throughout her life and, in her work as an RSPCA Inspector, was as 'outdoorsy 'as it gets. "I never had to see the doctor and was often rushing around the country, rescuing sheep off cliff edges," she laughs.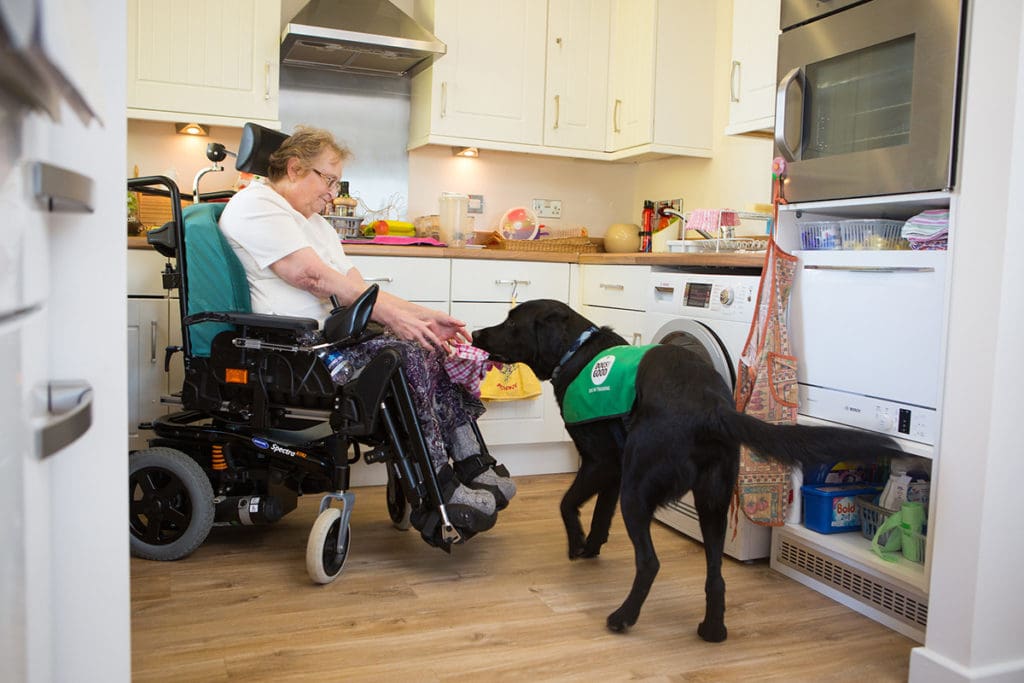 Help us train more life-changing dogs
Demand for our services is at an all-time high. Please donate if you can.
Eight years ago, at the age of 34, however, everything changed. She bent down one day and suffered a spinal stroke. Two hours later she was on a ventilator, paralysed from the neck down and spent six weeks in intensive care.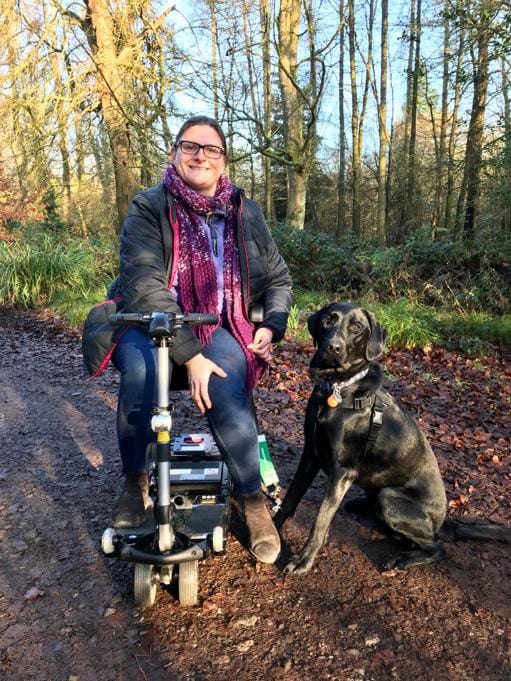 Over the next eight months in hospital, Caroline gradually regained movement in her right side, partial movement in her left and eventually, was discharged home where she learned to get around with the aid of sticks.
"My life before was busy and the life I came home to was very, very different," she explains. "I was terrified of falling over because I can't get back up on my own. And falling is something I do quite often these days. So, other than occasional short trips to a local supermarket, I ended up staying indoors."
Caroline also found that her pet dog was unable to cope with the changes in her. "I totally understood why – to him, I was a completely different person and he couldn't process the change – but nevertheless, it was heartbreaking."
Caroline had previously thought that because she wasn't a wheelchair user, somehow, she didn't 'deserve' to have an assistance dog. But one day she met a lady who was, like her, using sticks – and she had an assistance dog. Meeting that lady changed Caroline's thinking and she started doing some research.
"I found Dogs for Good, registered my interest and accepted I was in for a long wait as the charity gets over 5,000 enquiries a year." But eventually, Caroline received an email saying that applications were open again and says that she set a timer on her phone to make sure she didn't miss the time slot. "It was like getting gig tickets!" she laughs.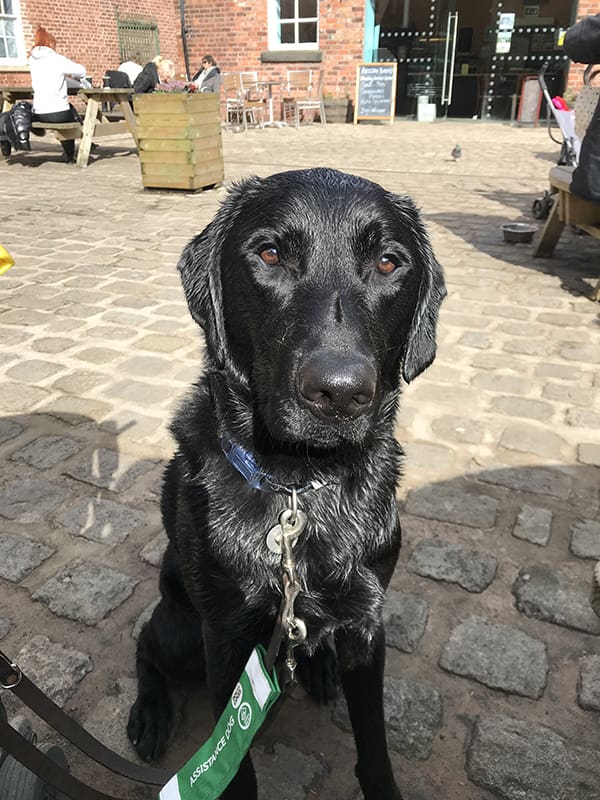 Caroline and her partner, Simon, were eventually invited to attend an information day at Dogs for Good. "That day was fabulous. Both Simon and I were absolutely blown away by the whole Dogs for Good set up. Everyone was so knowledgeable and professional but also incredibly friendly. All the dogs we saw were so happy and well looked after – we didn't want to go home!"
Caroline was accepted onto the waiting list and in time, got a call inviting her to come to the Dogs for Good centre once again; this time to meet three dogs and see how she got on.
"I was beyond excited," she laughs. "Simon and I got to the centre and we met three beautiful dogs; one of which was an enormous black Labrador called Sailor."
One of the things that Caroline had missed hugely but was also now a very real worry, was being able to take a dog on a lead walk. "I was worried that I'd be unbalanced or pulled over," she explains. "But when I walked Sailor around a bit outside, all my fears melted away. It was like having air at the end of the lead. No pulling, no tension, just a steady walk from a dog that kept visually 'checking in with me. It was utterly magical. I kept saying to myself 'I'm walking a dog, I'm walking a dog again!'".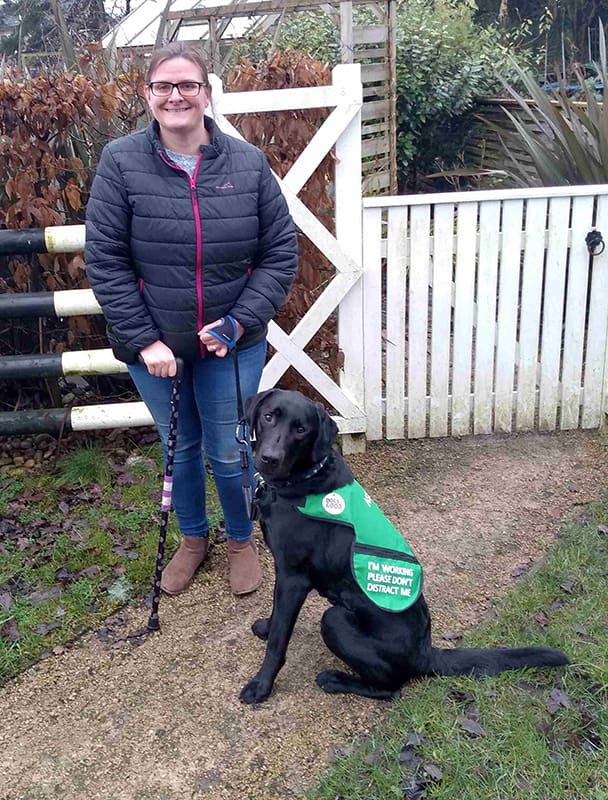 Two days later, Caroline had a call from Dogs for Good Instructor, Katie. "She asked what I'd thought and if having a dog was still something I wanted – of course I said yes! She also asked whether I thought Sailor was a good match and with all my heart, I knew that Sailor was my boy."
By this time, Caroline's own black Lab had passed away but there was another dog at home to consider – Simon's 13 year-old rescue dog, Eric. "We needn't have worried," laughs Caroline. "Dogs for Good brought Sailor to meet Eric for a little doggy 'meet and greet and they got on like a house on fire."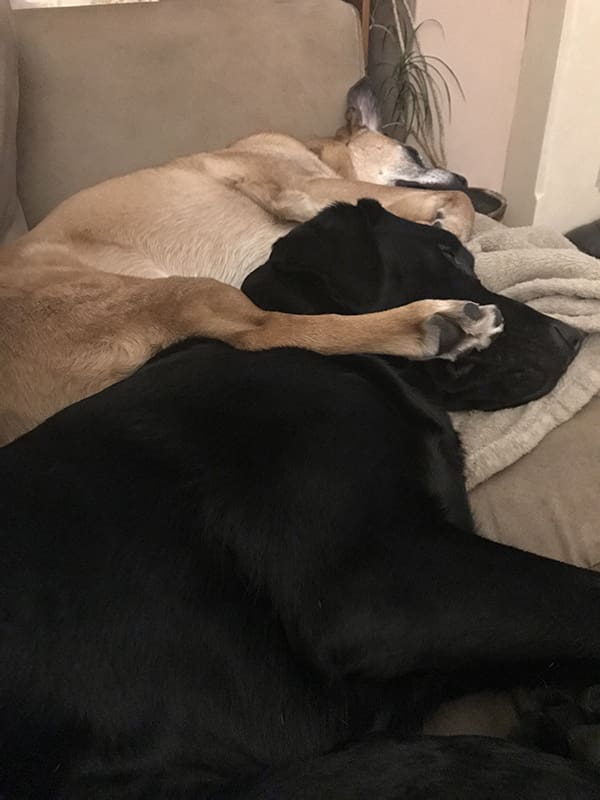 Sailor has now been with Caroline for five months and she says "He's brought back to me bits of my life that I never thought I'd get back. He spurs me on to do more and more. I can go where I want, when I want and my confidence is growing every day. Already, we have an incredible bond."
On the practical side of things, Sailor's training means he can help Caroline with all sorts of things at home. "He will pick up items I've dropped and bring me the post. But his absolute favourite thing to do is the laundry! He will load it, unload it, take the wet stuff to the tumble drier and load that… he gets quite excited by laundry!"
Sailor is also quite the character. "I've never known a dog like him," says Caroline. "He and Eric both have a favourite seat and if Eric's on it, Sailor will squeak toys in Eric's face to entice him off. If that doesn't work, he'll whine and bark at him and then if Eric is still staying put, Sailor will run to the back door and make out like there's someone there so Eric gets off the seat … and Sailor can nab it."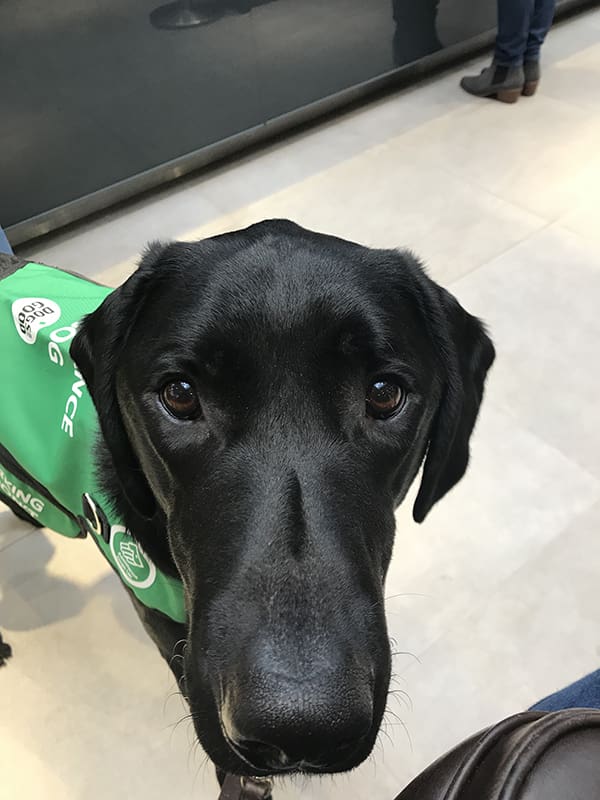 Sailor loves going to the supermarket. "He especially likes going past the Pick and Mix," says Caroline. "He's ever hopeful of a stray wine gum that he can hoover up." Sailor also snores "louder than I do, according to Simon," and sleeps with his eyes open – "mildly disconcerting."
"Sailor is the missing piece of my life jigsaw," says Caroline. "He gives me help, happiness and also responsibility. I used to rely on other people a huge amount but Sailor is my dog and his welfare is my absolute priority. That makes me feel far more like my old self.
"He also, especially now we're in lockdown, makes being at home a joy. There's not a day goes by when he doesn't make Simon and I laugh. He makes the days go quicker and has utterly transformed my life."
---
Read more about our assistance dogs here and please donate if you can to help us train more amazing dogs like Sailor.