"I used to spend days indoors in my pyjamas. Now I'm planning days outdoors with Luna!"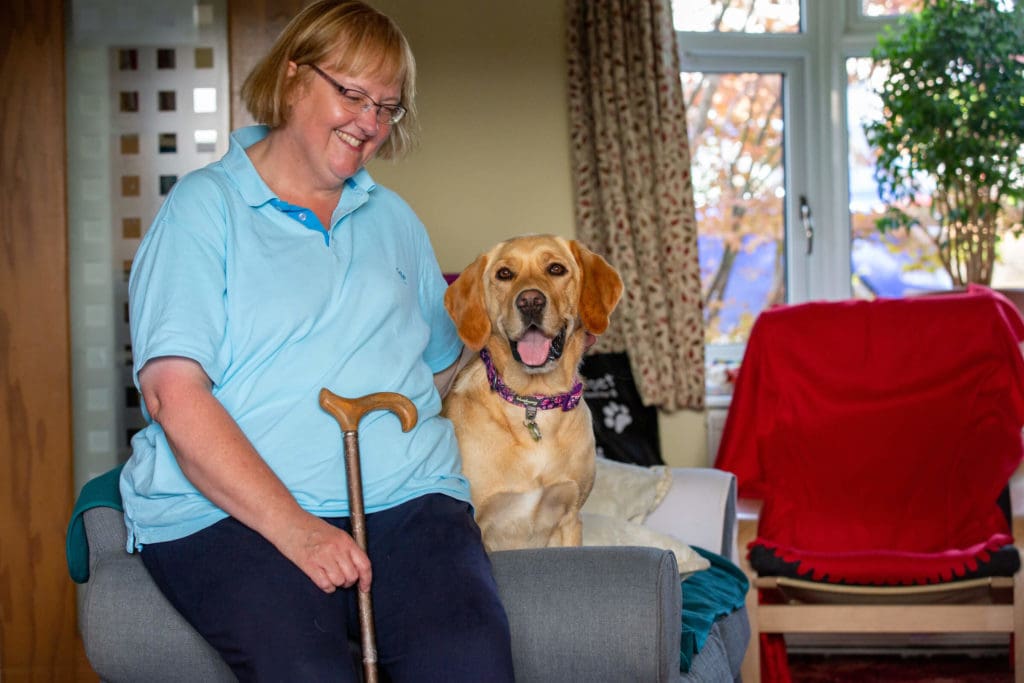 Following an accident at work, Allison found her career cut short in 2001. "I was told originally that my injury was just soft tissue damage," explains Allison. "But it never got better and further investigation revealed a malformation at the bottom of my spine which had been made worse by the accident. The pain I was experiencing meant that I was forced to retire and as a young woman of 40, I found it very difficult to comprehend."
One year later, Allison was diagnosed with breast cancer after finding a lump. "It was treated very quickly and I've been cancer-free for 17 years now." But, because the lump and treatment affected a lymph gland, Allison ended up with Lymphedema in her left arm.
As Allison's spinal injury worsened, she made the decision to start using a wheelchair but the Lymphedema made using a manual chair almost impossible. "It just felt like one thing impacted negatively on the other and I was running out of things I could do," she explains.
"My disabilities meant that everyday things like getting dressed, grocery shopping and doing the laundry really took it out of me in terms of 'available' energy and I was exhausted. I had very little energy left to go out and do the things I loved doing; being out in nature, socialising etc. As a result, I became very insular; sometimes not going out for a week or so and spending more and more time in my pyjamas. I'd quite often spend the afternoon in bed."
After meeting someone with an assistance dog, Allison started doing some research and this led her to Dogs for Good. After reading more about the life-changing differences the charity can make to people with disabilities, she decided to fill in an application form. Following on from this, Allison was invited to attend a Dogs for Good Information Day. "I went along and realised that if I was lucky enough to get matched with a dog, I could start to do things independently," she explains.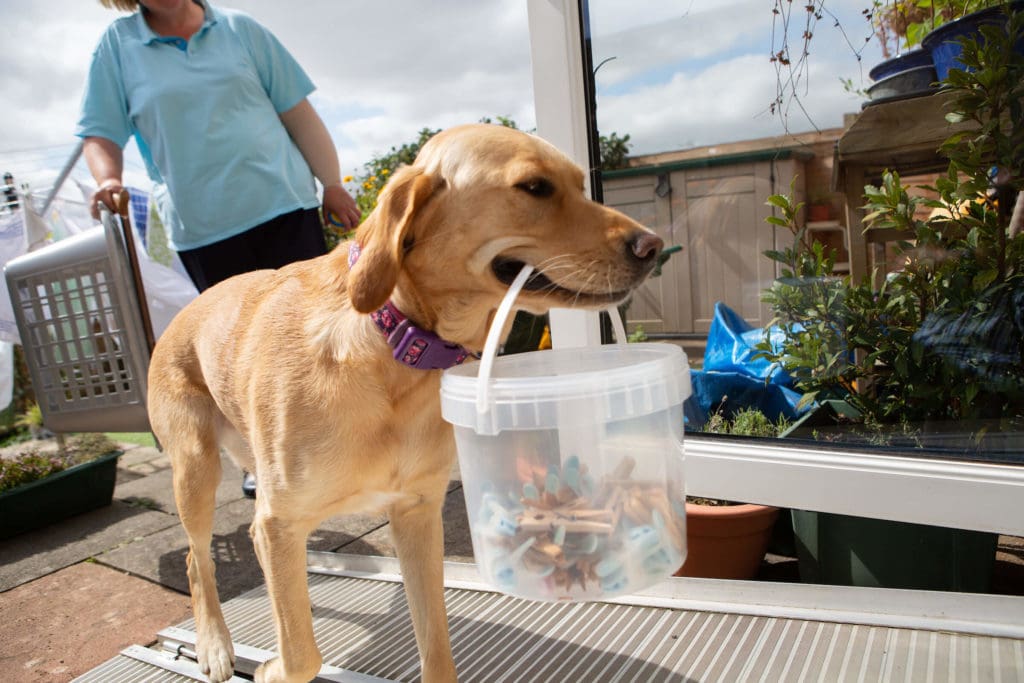 After a while of patiently waiting, Allison received a phone call from Dogs for Good to arrange a home visit. "A lovely lady came and took me through a few changes that would have to be made to the garden to make it safe for a dog such as repairing broken fences and putting down some artificial turf. I started to get a little bit excited about the prospect of potentially getting a dog."
Fast forward a few months and Allison found herself getting very excited in preparation for a visit from a four-legged life changer! Accompanied by a Dogs for Good Instructor, beautiful yellow Labrador, Luna, trotted into her potential new home, curled up on footstool beside Allison and settled down for a snooze.
After a clearly very successful visit, Luna started getting ready to leave and made it clear, in her own way, that she'd be back.
"She didn't want to get into the car. She just sat there looking back at me. And when she left, she took a bit of my heart with her. I knew we were right for each other."
Dogs for Good agreed and the match was set. Within a few weeks, Luna was making another journey to Allison's home – and this time she was staying for good.
In the few months Luna and Allison have been together, their partnership has strengthened. "I remember waking up on the first new day we had together," says Allison. "In that hazy few seconds of waking, I remembered that Luna was here, with me! I laid there looking at her and thinking of what the future had in store for us both."
Because Luna helps Allison with so many day to day tasks, Allison's now got the energy to do more. "She's extended my day," says Allison. "We go out every day and I've met so many new friends."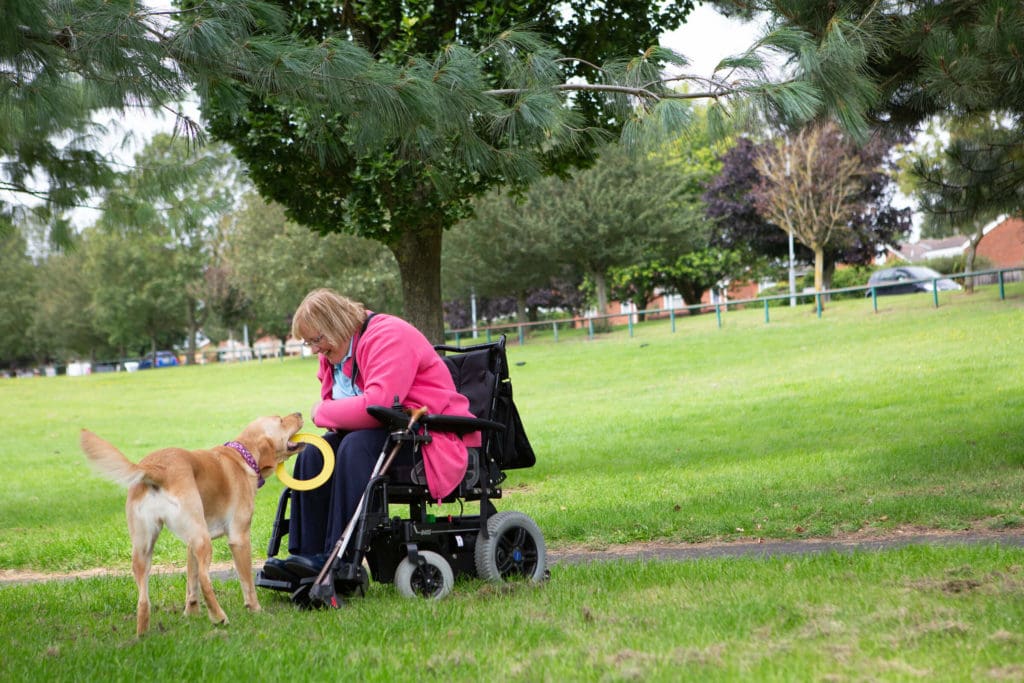 Luna is also a very clever girl. Allison explains that quite without prompting, one day Luna picked up some dirty clothes and gently dropped them into the laundry hamper. "She's done the same with the post, too, so I wouldn't be surprised if one day, she joins in with me when I'm playing the piano!" laughs Allison.
"She's brought my confidence out of its hiding place and from spending days indoors in my pyjamas, I'm now planning days out for the pair of us."
Most of all though, Luna brightens Allison's mood. "She makes me laugh every day," says Allison.