The calculators have been hard at work and the sums have now been checked, revealing that the Dogs for Good Supporter Groups have raised a whopping £1.5 million for the charity over the last 20 years! This in turn has helped to train dogs which go onto help people with disabilities overcome specific challenges and enrich and improve lives and communities.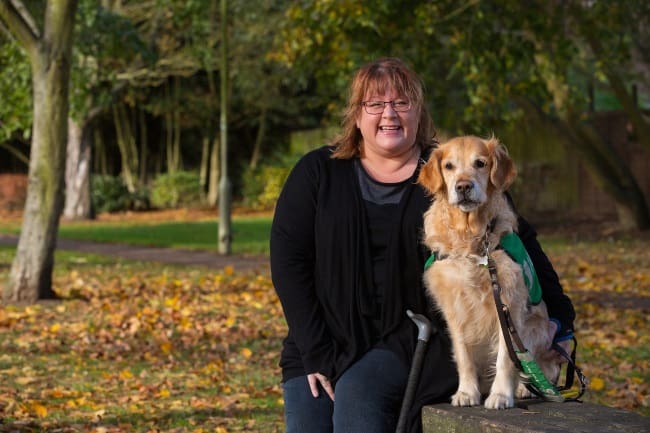 The 20-strong Banbury supporter group includes three Dogs for Good clients – one of whom is Vickie with gorgeous golden retriever, Tula. "With Tula by my side I get the assistance I need, I no longer need carers because Tula can help me with all the physical tasks that I needed the carers for," explains ex-nurse, Vickie. "That's been so positive – I have my independence and my confidence back," she explains.
"I love being part of the Banbury Supporter Group and helping to raise money for Dogs for Good – it's my way of giving back and it's also a lot of fun!"
Helping us continue our life changing work
The supporter groups nationwide have attended and put on a variety of fundraising activities, including craft fairs, dog shows, festival attendances, local supermarket collections and giving talks to schools and community groups.
"This truly is an enormous amount of money and means so much to the charity," says Dogs for Good's Chief Executive, Peter Gorbing. "We greatly appreciate the long hours – in all kinds of weather- positivity and dedication that has gone into raising a sum of this magnitude over the years."
Dogs for Good relies on donations, fundraising and volunteers to continue its pioneering work so anyone who'd like to get involved is assured a warm welcome – speak to the Community Fundraising team on 01295 262600 (select Option #4), visit the volunteering area of our website or click here to donate.
Help people with disabilities overcome specific challenges
Dogs for Good's assistance dogs support adults and children with a range of disabilities and also autistic children, providing practical support, increasing confidence and enabling greater independence.
The charity also trains activity and therapy dogs to work with specialist handlers in communities and schools and its Family Dog team gives specialist advice and support to help people get the most out of their relationship with their pet dog.