Golden retriever Emma and 'little diamond' Milli (eight) have today been confirmed as one of five finalists in this year's prestigious Kennel Club Friends for Life competition. The winner will be announced in the main arena at Crufts on Sunday, March 10th. Emma and Milli made it through as the judges' favourite for the hotly-contested 'Hero Assistance Dog' category.
The Friends for Life overall winner will be decided by a public vote so you can take part. Simply visit www.crufts.org.uk and you can see all the finalists. We hope you'll vote for Emma and Milli.
Assistance Dog Emma and Milli are Friends for Life
Milli was born with Down's syndrome and also suffers with a very serious heart condition. She has already undergone two open heart surgeries, the first one was when she was just four months old. It's no surprise that her dad, Steve, calls her his 'little diamond'.
Milli's range of conditions means that she suffers with low muscle tone, anxiety and breathlessness. This prompted her mum and dad to see what help was available for children with disabilities. They came across Dogs for Good and learned that we were the first UK assistance dog organisation to provide dogs for children with disabilities. They were delighted when we matched Millie with Emma, a gorgeous golden retriever, last year.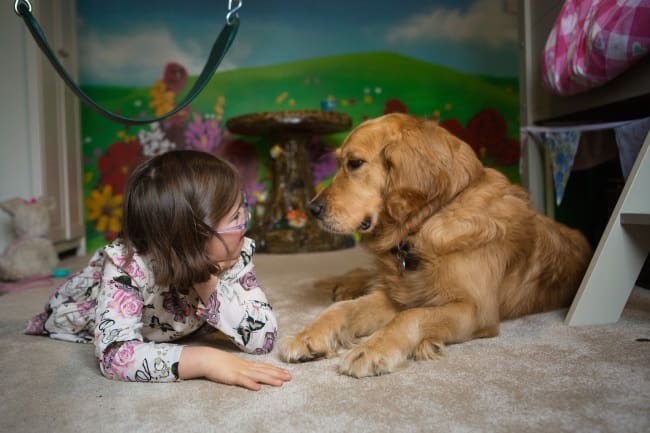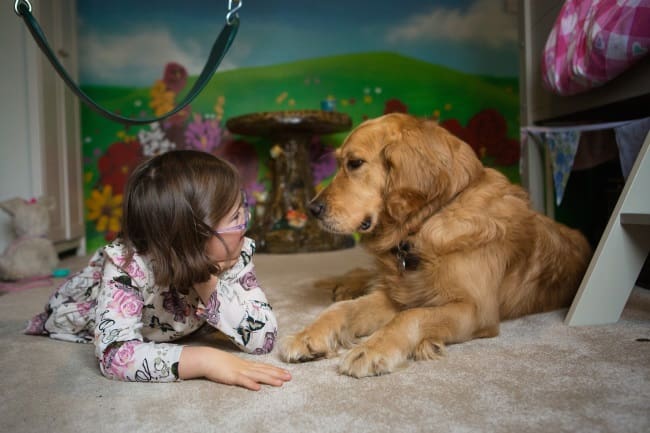 Milli's best friend
Emma's specialist assistance dog training means that she is able to carry out a series of helpful tasks for her beloved friend. She does things like retrieving Milli's medicated drinks for her when she's lost them and delivering soothing 'head rests'. These head rests help Milli when she gets out of breath and anxious. Currently, Emma is learning to help Milli on with her coat!
Most of all though, Emma is Milli's best friend and has improved her confidence and overall happiness.  "It's almost like Emma's turned a light on for Milli and given her the confidence to shine as brightly out in the wider world as she does at home," says Steve. "At her sister's recent Pony Club Awards Ceremony, I was amazed to see Milli chatting to people and introducing her to 'my Emma'. Prior to getting Emma, she would have been very quiet and not wanted to interact with anyone at all."
Celebrating the unique relationships people have with dogs
The annual Friends for Life competition at Crufts celebrates the unique relationship people have with their dogs. It looks at the important role man's best friend plays throughout our lives and the support they give us in the face of adversity.
Peter Gorbing, Chief Executive of Dogs for Good says: "All of us at Dogs for Good are enormously proud of Emma and Milli for getting this far in the Kennel Club Friends for Life competition. We'll all have fingers crossed that they'll be voted the overall winner on the big day but even if they don't, they'll continue to be a winning combination as far as we're concerned."
The winner of the Friends for Life competition will receive £5,000 from the Kennel Club Charitable Trust. They will give this to their chosen dog charity. The other finalists will receive £1,000 for their chosen dog charity.
Vote for Emma and Milli
Please help us by voting for Milli and Emma. Just visit www.crufts.org.uk and click the button.