It's Digby's last day as the This Morning puppy and in one year, he's made a lasting impression, becoming one of the best known and best loved dogs on TV. He's now got a restful summer to look forward to completing his socialisation before starting his official assistance dog training in the autumn.
We thought we'd look back and share with you Digby's 'best bits' from his very first appearance on ITV This Morning. See Digby's debut on the show:
WE 💖 OUR NEW PUP – here's the moment @Schofe​ and @hollywills​ met our @TMPuppy for the first time! 🐶 pic.twitter.com/4BkR4PW0so

— This Morning (@thismorning) September 4, 2017
How much has Digby changed over the last 12 months?
It's hard to believe he was ever this small… #TMPuppy #ThrowbackThursday pic.twitter.com/KBwmf2JlGE

— Digby (@TMPuppy) October 12, 2017
We all know that Digby's grown into a big, handsome dog – in fairness, he was a bit of a whopper to start with – but just how much has he grown since he started on the show in September?
Weight in September 2017: 10kg Weight now: 32kg
Height in September 2017: 43cm Height now: 64cm to the shoulder
Who has Digby met?
Digby is quite the celebrity dog having met hundreds of stars since he first appeared on the show. From royalty to soap stars, musicians to chefs, film stars to sports stars, comedians and the cast of Strictly Come Dancing, Love Island and Dancing on Ice, Digby has won the hearts of A-listers and offered his paw to hundreds of notables. Here's a list of just some of them …
Paul O Grady, Jenson Button, Zoe Ball, Ben Fogel, Paddy McGuinness, Keith Lemon, Bear Grylls, Martin Kemp, Geri Halliwell, Freddie Flintoff, Jake Quickendon, Miriam Margolyes, Brendan O'Carroll, Mark Jordan , Fred Sirieix, Shirley Ballas, Michael McIntyre and the Cast of Chicago. One of the absolute highlights was when he met HRH The Prince of Wales… but more about that later!
Strangest guests …
Along with A-listers, Digby has met a few odd guests to the show which all helped him with his socialisation and training. He remained cool, calm and utterly professional when confronted by a huge animatronic crocodile, a few dragons and Paddington Bear!
Digby reacted to the crocodile in the most Digby kind of way… #alwayslookingforfood😂💖 #TMPuppy pic.twitter.com/JYVrd5w9yb

— Digby (@TMPuppy) September 25, 2017
Who are Digby's BFFs?
Digby's a big fan of some of the regulars on the show. He's certainly going to miss them all, especially his BFFs, Toff, Alison Hammond, Gok Wan, Phil Vickery, Gino D'Acampo,John Terode and Dr Ranj and Dr Zoe!
Look who Digby managed to track down, it's only Queen of the @imacelebrity Jungle, @ToffTalks! #NTAs @thismorning pic.twitter.com/9vBtaG0HfH

— Digby (@TMPuppy) January 23, 2018
Behind the scenes, he'll also miss Fleur, the green room hostess who looks after him so well and Penny the ITV counsellor as she always has his favourite treats and spoils him rotten!
And of course, he'll miss all the regulars on set. Phil and Holly have had a big hand in training him; rewarding him for good behaviour with a piece of cheese or kibble. Digby's pretty chilled these days but when he was younger, he did like to join in the conversation and get his point across with a few woofs. The team worked with Dogs for Good to help him learn to settle – it took a bit of time, but Digby soon learnt that for the most part, barking doesn't get him what he wants!
Read our blog on dealing with unwanted behaviours
The moment he made the 10 o'clock news
HRH The Prince of Wales and the Duchess of Cornwall paid a visit to the ITV studio in February this year which caused a great deal of fun and, quite literally, games! Having waited patiently for some time, Digby decided to inject some puppy fun into the royal proceedings; he pinched a mic belonging to the ITV News Royal Correspondent, Chris Ship and then presented it to Prince Charles. His Royal Highness couldn't resist and there then ensued a right royal game of tug between the two and Prince Charles was quite impressed with Digby's 'retrieve' skills! As ever, Digby definitely stole the show and this is surely his most famous moment. Chris Ship remarked later on Twitter that the device was 'a little moist and damp' after being returned to him!
When His Royal Highness The Prince of Wales is visiting the studio, and Digby thinks playing fetch is a good idea… 😂 #ThisMorning @ClarenceHouse @DogsForGoodUK pic.twitter.com/9SWEPUnoBN

— Digby (@TMPuppy) January 31, 2018
And finally, what does Digby's socialiser, Helen, make of him?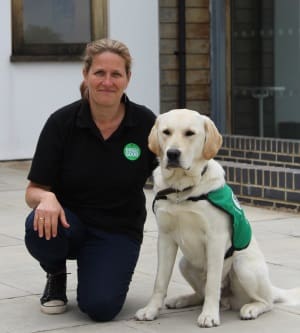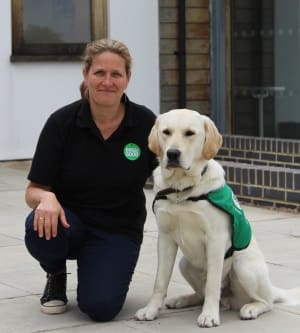 "He makes me proud every day he goes to the studio, taking everything in his stride from different animals to young children," says Helen.
Well done, Digby, everyone at Dogs for Good is really proud of you, too and we look forward to following you as you continue your training, go on to become a fully-fledged Assistance Dog and then go on to make a life-changing difference.