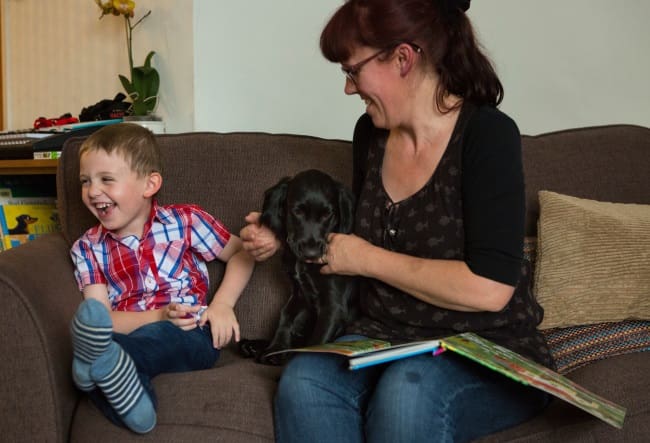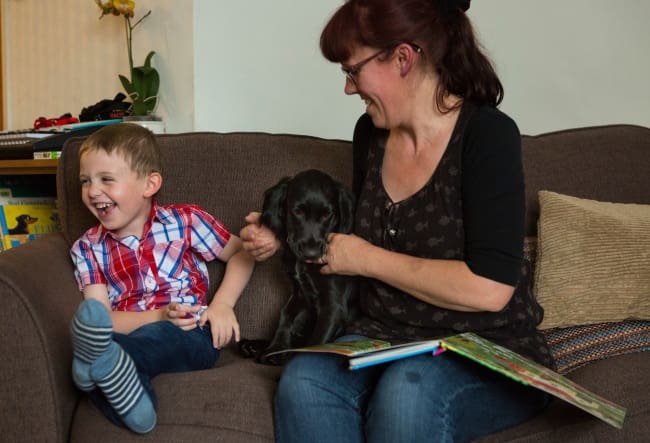 Kath and her family had always wanted to get a dog, but as her son Mitchell has an autism diagnosis, Kath felt very keenly that they needed to 'get it right'.
"We needed a well-trained, clever dog that would provide Mitchell with a friend and companion", but Kath was concerned that she and her husband didn't have the necessary knowledge to even start the search for the right dog, never mind train one.
She found out about Dogs for Good's Family Dog workshops and after attending them felt confident to start their search for a puppy. Fast forward to June 2017 and working cocker spaniel Maggie joined the family.
A special bond
From the very first few weeks, Maggie astounded them all. The family sitting room has a particular armchair that Mitchell had adopted as his own. "The armchair is his own special space and while he'd always sit to one side and leave a space on the chair, he wasn't really comfortable with anyone joining him there," says Kath.
"Once we got Maggie, she quickly moved into that vacant spot and he's happy to sit there stroking her. That was definitely a lump in the throat moment, because it felt like he'd been keeping a place free for her."
Reducing anxiety
Mitchell has joint laxity and while he's walking well now, prior to getting Maggie, he was still very anxious about different surfaces – especially soft surfaces – as well as steps and stairs. "Enter Maggie and exit anxiety," says Kath. "She diverts his attention and he doesn't mind a change in surface at all now, which is amazing."
Walking in the woods, parks and open spaces and even to some extent, the family's back garden, also caused anxiety for Mitchell. "Out on walks, he'd always want to be carried or at the very least, he would hold onto our hands and be stuck to our sides," Kath explains. "Now he runs off ahead of us with Maggie, without a backward glance! He loves going to new places to take Maggie and has even learned to throw a ball for her."
Bringing confidence
In terms of social interaction, Mitchell had struggled with initiating play and while he was interested in other children, he just didn't know what to do. "Now he has Maggie, he's much braver and more confident – he's learned to initiate play with her and is starting to translate this into his relationships with classmates at the brilliant special school he attends."
Improved communication
A significant change has been in Mitchell's communication skills. "He's using a lot more language now and is getting his head round social greetings. His Dad James & I have always had to prompt him to say 'hello' to us when either of us comes home from work or wherever. But Maggie comes on the school run with me and from day one, Mitchell has climbed into the car and unprompted, said 'Hello, Maggie'. We're a bit too thrilled to be put out by that!" laughs Kath.
The bathroom can also be a tricky place for Mitchell. However, bath time is now a source of great fun because Maggie comes too and dangles her paws over the bath. "Mitchell is beside himself with laughter and I know it's only a matter of time before that puppy gets in there with him!" says Kath.
Benefitting the whole family
Maggie has also been very therapeutic for Kath herself. "I used to be a person who walked everywhere but I had become sluggish and unfit. Now I've got Maggie, we go for hour-long morning walks together and I've even roped in some of my mum chums to come with us. Instead of going for coffee and cake, we get out into the fresh air and laugh at my bouncy dog! You can't help but smile at her…"
"Attending the Family Dog workshops is definitely one of best things I could ever have done for my family."
Family Dog Workshops
Find out more about our Family Dog Workshops and book 2019 dates online.