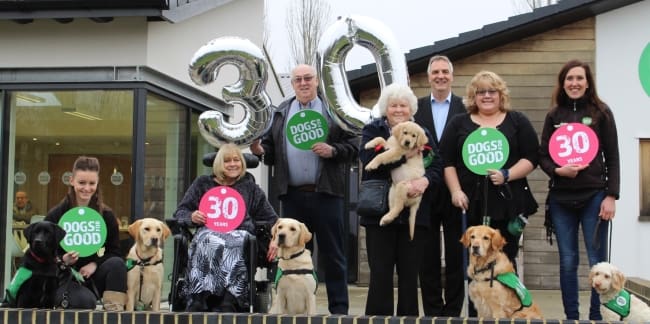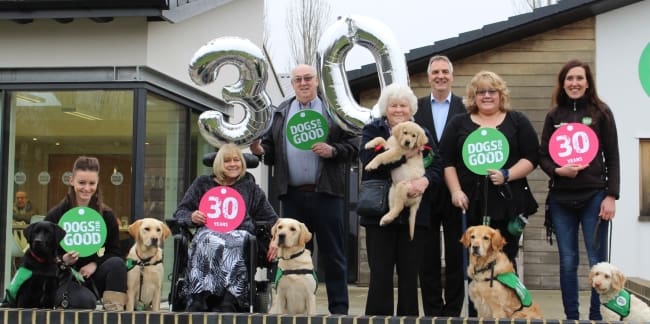 We're celebrating 30 years of changing lives and there are lots of ways you can support for us in our special anniversary year. Here's our top ten 30 themed fundraising ideas:
Give it up for 30 – give up something for 30 days and ask friends and family to sponsor you
Take it up for 30 – take up 30 new things this year, it could be things you've always wanted to learn and get sponsored for each one you complete
30 in 30 – team up with colleagues and raise £30 in 30 minutes
Have a 1980's dress up day at work – dress like they did in 1988 when Dogs for Good was founded
Host a 1930's themed event complete with jazz and cocktails!
Teach your dog 30 new tricks this year and get sponsored for each one e.g. roll over, wait, fetch their favourite toy etc.
30 miles in 30 days – swim it, walk it, run it – that's just a mile per day!
Sign up for a challenge event and get 30 people to sponsor you
Bake 30 cakes and sell them to friends, family or colleagues
Sponsored 30 (or 300) minutes silence – could be a good one for the kids!
We are proud of all we've achieved over the past 30 years and still have so much more potential to explore in all the good things that happen when we bring people and dogs together.
Support us in 2018 and make our 30th Anniversary year one to remember!