Since being finalists in the 2017 Friends for Life award at Crufts, Joel's mum Janet says that Joel's bond with Caddie has grown even bigger, but he's also grown in confidence. Mostly, he has gained a voice – not only for Caddie and Dogs for Good but for himself, for autism and for courage through adversity which he achieved by stepping out, nominating Caddie in 'Friends for Life' and for trusting himself.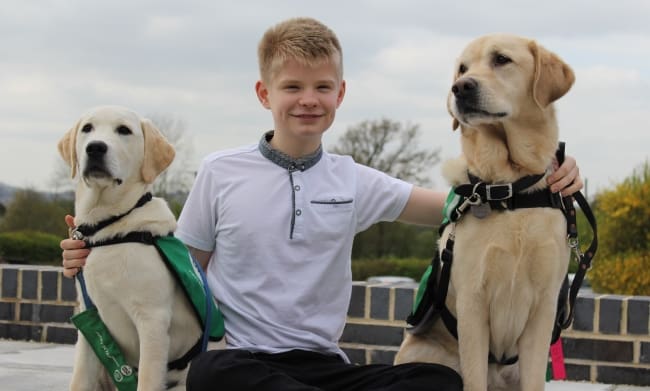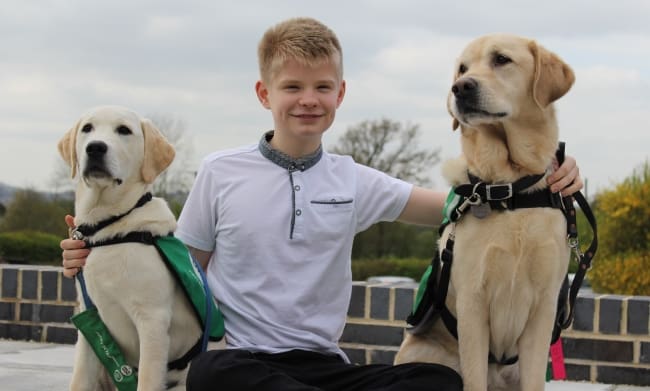 "When Joel nominated Caddie he was a shy, closed in individual but he really wanted to say thank you to Caddie; to let the world know how Caddie had opened the world for him. He was happy just to enter and had a big smile on his face as I hit the 'send' button," recalls Janet. "We never dreamed he would get through to the finals but he did…. and in disbelief, shock and happiness we began our journey with Friends for Life".
As the competition loomed, Joel got more and more excited – and nervous.  He looked at it as his job to spread the word and thank Caddie and dubbed him his Guardian Angel.
With Caddie firmly by his side, Joel faced crowds, bright lights and loud noises.  He faced hundreds of faces, he faced people and he faced his fears. "His sensory system must have been on overload but he faced all this to tell the world how special his Guardian Angel was and how Caddie had given him a life. He wanted Caddie to be recognis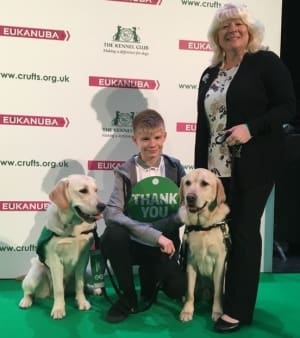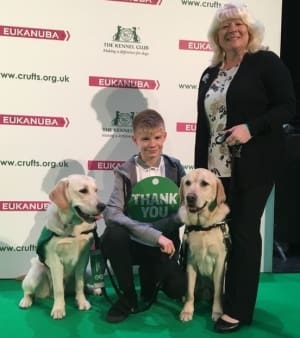 ed," says Janet.
Despite not winning Friends for Life, what happened next made up for any disappointment that Joel felt. "Overnight, Joel and Caddie had stolen the nation's heart and donations were flooding into Dogs for Good."
In total, Joel raised an incredible £32,000 for Dogs for Good.
Among many other things, Joel has filmed and appeared on Songs of Praise, helped raise awareness of autism assistance dogs in Germany and taken great joy in naming a new puppy called Alvin for Dogs for Good.
As a direct result of what he has achieved over the last year, Joel has confidence and a voice. "He's still Joel with all his disabilities, but he's grown into a brilliant young man who has learned to trust himself and above all, accept who he is and like himself."