A charity that makes life-changing differences for people with disabilities receives a £1,000 donation from a south midlands housebuilder.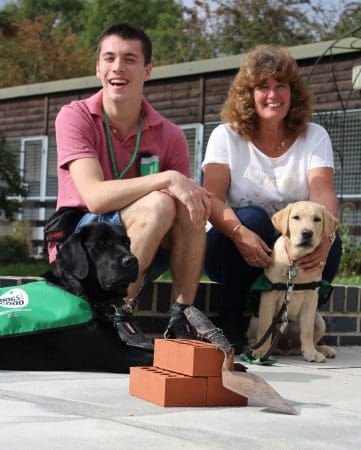 Dogs for Good received the donation from Persimmon Homes South Midlands as part of their national Community Champion scheme – an initiative that gives away up to £2,000 to two charities each month, in each of its 29 regions across the UK.
Based in Banbury, Dogs for Good looks for innovative ways to transform lives by bringing dogs and people together. Their assistance dogs support adults and children with a range of disabilities and also autistic children. They train and support community dogs and their specialist handlers to work in communities and schools, allowing one dog to help lots of different people. The charity also has a family dog service which gives advice and support to help people get the most out of their relationship with their pet dog.
Cathryn Simpson, corporate partnerships manager, at Dogs for Good, said: "We'd like to thank Persimmon Homes South Midlands for their kind donation. They are now a Puppy Partner to Gibson, and will support his journey from learner pup to life-changing dog.
"Our dogs make a real difference helping to increase independence, improve self-confidence and reduce social isolation and we want to help as many people as possible but we rely purely on vital donations like this as we receive no government funding."
Carol Selway, sales director for Persimmon Homes South Midlands, said: "We're proud to be supporting a charity that enriches so many people lives and gives both children and adults their own independence.
"The services that Dogs for Good provides are incredible and I can't think of a more worthy Community Champion winner.
"We hope this donation will help continue all the good the work the charity does and further improve lives for generations to come."
Photo: Volunteer Annie with puppy in training Alvin, and Joel with his assistance dog Harry.