The amazing team here at Dogs for Good makes our life-changing work possible. We'll be introducing you to some of them over the coming weeks:
Name?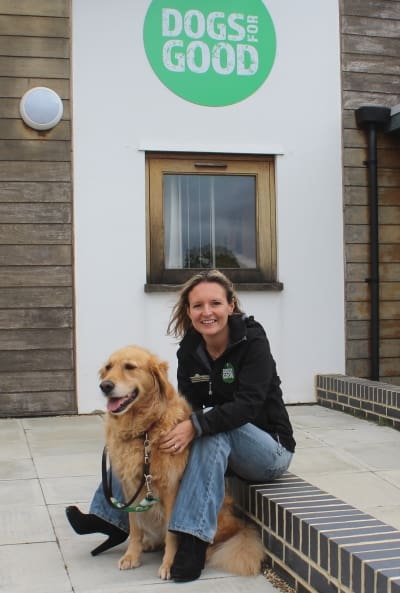 Alli
What's your role at Dogs for Good?
Trusts Manager
What does that involve?
My role involves researching grant making Trusts and Foundations, to see whether the charity's activities fits within their giving objectives.  If they do then I create concise and informative applications to send in the hope of receiving funding.  I also manage relationships with a large number of Trusts that already donate, ensuring they are kept up to date with the work of the charity.
What's the best thing about your job?
I think the best thing about my job is building relationships with funders and securing grants to fund our services. It's always lovely to see a grant come in!  I'm also on the demo team, so enjoy getting the opportunity to work with our demo dogs at various events.
What did you do before this role?
I was the community and events fundraiser at the Jennifer Trust for Spinal Muscular Atrophy.  I organised events such as abseils, fire and ice walks, and cycle rides; and was also responsible for developing their tribute fundraising and applying to smaller Charitable Trusts and Foundations.
Do you have your own dog?
We have two German Wire-Haired Pointers, Hula and Nalu.  My husband competes in agility competitions with them.
What's your favourite dog walk?
On a beach, preferably in Cornwall, though any good beach will do!
Do you have any hobbies?
Photography, when I get time.  I enjoy taking a lot of the puppy photos here at the charity.
What's your proudest achievement?
I think I'd have to split this in two! Personal and professional.
Personal; getting married and having my gorgeous son.
Professional; securing us as charity partner of the Hilton in the Community Foundation Ball in 2011 and raising £162,074.80, as well as successfully securing funding from BBC Children in Need and seeing our work featured during appeal night – twice!