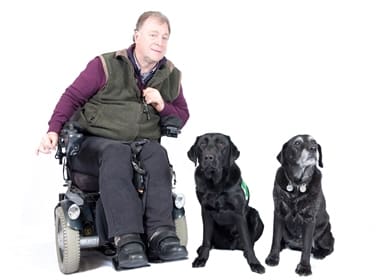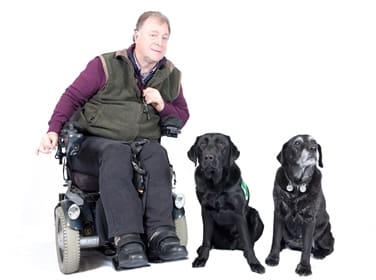 Ken and assistance dog Piper are the latest Dogs for Good 'Perfect Partners' in Nottinghamshire. After a tragic accident in 1997 falling from a ladder, Ken became a Quadriplegic at C6 level, paralysed from his upper chest down. But in 2006 assistance dog Petra arrived and worked indefatigably with Ken, giving him independence, confidence and companionship. Petra retired quite recently and Ken explains what it's like to be partnered by the charity with a successor dog.
"I feel so fortunate that I now have a successor dog to take over the tasks that Petra did so proficiently for nearly 10 years. She remains at home with us and is now my wife Helen's companion."
"My new dog Piper is very handsome. He's a different character to Petra, but every bit as clever: opening and closing doors and drawers, helping me remove my coat, pulling a towel off a radiator and retrieving all the everyday articles I regularly drop. I have no finger movement so Piper picks up pens, toothbrush, magazines, keys, hat and remote controls. When Spring arrives Piper, like Petra before him, will become my assistant gardener retrieving a trowel or hand fork and collecting empty watering cans and carrying them to my water butts. He will also accompany me and give me the independence to carry on the lectures I give to NHS students on ' Living with a Spinal Cord Injury' and fundraising talks in Nottinghamshire and Derbyshire for Dogs for Good."
Dogs for Good trains assistance dogs to support physically disabled children and adults and autistic children, providing practical assistance leading to greater independence. Community dogs and their handlers support adults with autism and children with special educational needs to help overcome challenges including road safety awareness and assist in therapy sessions and supporting learning in the classroom. For families with a child with autism the charity also offers workshops, practical demonstrations and online training to help parents make the most of potential support from working with a pet dog. The impact of specially-trained dogs on people with disabilities can be life-transforming offering practical support and making a positive impact on a person's confidence, self-esteem and quality of life.
Thanks to Puppy Partners, Piper Scaffolding for supporting the costs of training Piper.